Ubiquitination
Living reference work entry
DOI:
https://doi.org/
10.1007/978-3-642-27841-9_6087-2
Definition
It is the covalent modification of a protein by conjugation to ubiquitin (Fig.
1
). Ubiquitin is a small, 76-residue protein found in all eukaryotes. Conjugates are formed through the ligation of the C-terminus of ubiquitin to the ε-amino groups of protein lysine residues. The major, but not sole, function of ubiquitination is to target proteins for degradation by the
proteasome
. A large number of proteins are substrates for this regulatory pathway. Efficient targeting of proteins for degradation usually involves formation of a multiubiquitin chain on the target protein. Such chains are characterized by specific ubiquitin-ubiquitin linkages.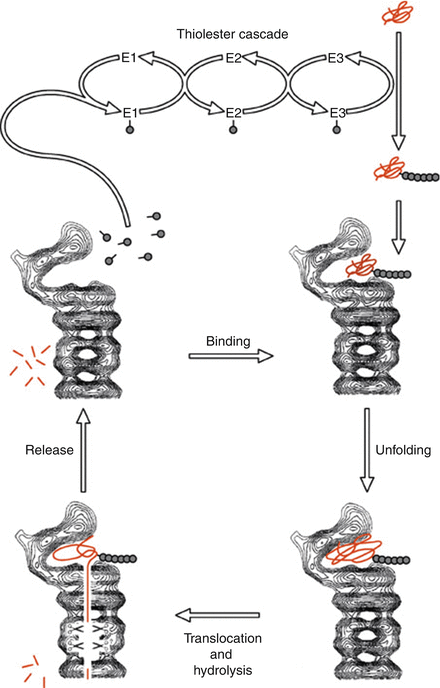 Keywords
Vascular Endothelial Growth Factor 
Acute Promyelocytic Leukemia 
Mantle Cell Lymphoma 
Fanconi Anemia 
Arsenic Trioxide 
These keywords were added by machine and not by the authors. This process is experimental and the keywords may be updated as the learning algorithm improves.
Copyright information
© Springer-Verlag Berlin Heidelberg 2014