BCR-ABL1
Living reference work entry
DOI:
https://doi.org/
10.1007/978-3-642-27841-9_571-3
Definition
BCR-ABL1 is a hybrid (fusion or chimeric) gene that arises when genomic DNA of the BCR gene on chromosome 22 and of the ABL1 gene on chromosome 9 breaks and recombines. The BCR-ABL1 hybrid gene is transcribed to produce a hybrid mRNA that is subsequently translated into a functional BCR-ABL1 protein. The BCR-ABL1 mutation causes and is diagnostic of human chronic myeloid leukemia (CML) and some forms of acute leukemia, particularly acute lymphoblastic leukemia (ALL).
Characteristics
A Somatic Mutation of Bone Marrow Progenitor Cells
The
BCR-ABL1
mutation is somatically acquired. Recombination between the
BCR
and
ABL1
genes occurs in a self-renewing hematopoietic stem cell of the bone marrow and usually results in the microscopically visible chromosome translocation t(9;22)(q34.1;q11.2) (Fig.
1
).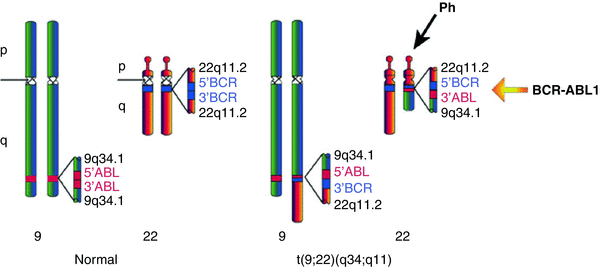 Keywords
Chronic Myeloid Leukemia 
Chronic Myeloid Leukemia Patient 
Blast Crisis 
Kinase Domain Mutation 
Chronic Myeloid Leukemia Case 
These keywords were added by machine and not by the authors. This process is experimental and the keywords may be updated as the learning algorithm improves.
Copyright information
© Springer-Verlag Berlin Heidelberg 2015