Taxol
Living reference work entry
DOI:
https://doi.org/
10.1007/978-3-642-27841-9_5690-2
Definition
Taxol (paclitaxel) was first isolated in 1971 from a crude extract of
Taxus brevifolia
, a scarce, slow-growing yew plant found in the forests of the Pacific Northwest. It is a diterpenoid containing the characteristic taxane ring (Fig.
1
). Total chemical synthesis of this compound was achieved in 1994, opening the way for the production of various analogues. Currently, taxol is commercially prepared by hemisynthesis, in which a synthetic side chain is attached to natural products isolated from the needles of
Taxus
plants. Enzymatic conversion of various taxanes to 10-deacetylbaccatin III (a precursor for taxol hemisynthesis) has been reported.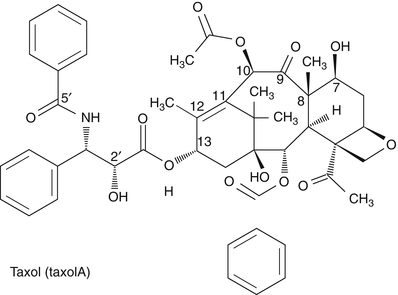 Keywords
Vinca Alkaloid 
Taxane Class 
Signal Transduction Machinery 
Total Chemical Synthesis 
Sorangium Cellulosum 
These keywords were added by machine and not by the authors. This process is experimental and the keywords may be updated as the learning algorithm improves.
Copyright information
© Springer-Verlag Berlin Heidelberg 2015