SV40
Living reference work entry
DOI:
https://doi.org/
10.1007/978-3-642-27841-9_5610-2
Definition
A DNA tumor virus (genus
Polyomavirus
) was found to be a contaminant of Salk and Sabin polio vaccines (1955–1961) that propagates naturally in kidney cell lines of Asian macaque species, specifically the rhesus and African green monkey. SV40 in these species, and related primates, produces no cytopathic effects upon the animals, but the virus injected into hamsters and other rodents causes ependymomas, lymphomas, osteosarcomas, sarcomas, and mesotheliomas. Subsequent research has shown a possible correlation between SV40 (Fig.
1
) and human mesotheliomas.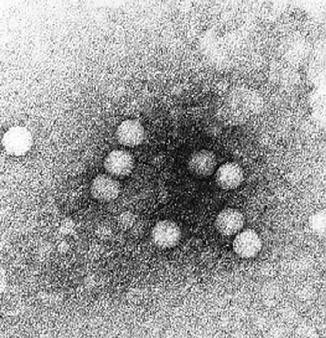 Keywords
Mesothelial Cell 
Human Mesothelial Cell 
Monkey Kidney Cell Line 
SV40 Genome 
Rhesus Monkey Kidney Cell 
These keywords were added by machine and not by the authors. This process is experimental and the keywords may be updated as the learning algorithm improves.
Copyright information
© Springer-Verlag Berlin Heidelberg 2015