STI-571
Living reference work entry
DOI:
https://doi.org/
10.1007/978-3-642-27841-9_5510-2
Characteristics
Physicochemical Properties
STI-571 is a small compound belonging to the phenylaminopyrimidine class of compounds (Fig.
1
). It is chemically designed as 4-[(4-methyl-1-piperazinyl)methyl]-
N
-[[[4-(3-pyridinyl)-2-pyrimidinyl]amino]-phenyl]benzamidine methanesulfonate, with a molecular formula of C
29
H
31
N
7
O·CH
4
SO
3
. Its molecular weight is 589.72.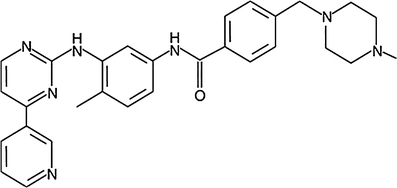 Keywords
Chronic Myeloid Leukemia 
Gastrointestinal Stromal Tumor 
Blast Crisis 
Chronic Myeloid Leukemia Cell 
Central Nervous System Relapse 
These keywords were added by machine and not by the authors. This process is experimental and the keywords may be updated as the learning algorithm improves.
Copyright information
© Springer-Verlag Berlin Heidelberg 2014