Sphingolipid Metabolism
Living reference work entry
DOI:
https://doi.org/
10.1007/978-3-642-27841-9_5438-5
Definition
Sphingolipids (SLDs) contain sphingosine (Sph) or a similar moiety. Sphingosine (Fig.
1a
) is D-erythro-
trans
-4-octadecene-2-amino-1,3-diol; R
1
is typically a C
13
alkyl chain.
Ceramide
or Cer (Fig.
1b
) is a fatty acid amide of sphingosine that plays a pivotal role in cell growth and death, in which R
2
symbolizes a saturated or monoenoic fatty acid containing 16–32 or more carbon atoms. Some fatty acids have an OH at carbon-2 or at the end carbon. Some ceramides contain phytosphingosine instead of Sph; here the double bond is replaced by an OH at C-4.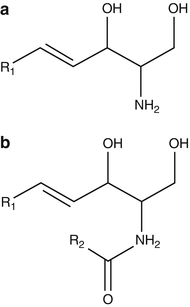 Keywords
Gauche Disease 
Antineoplastic Drug 
Allylic Alcohol 
Buthionine Sulfoximine 
Acidic SMase 
These keywords were added by machine and not by the authors. This process is experimental and the keywords may be updated as the learning algorithm improves.
Copyright information
© Springer-Verlag Berlin Heidelberg 2014