Slit
Living reference work entry
DOI:
https://doi.org/
10.1007/978-3-642-27841-9_5351-2
Definition
The Slit family of secreted proteins has been shown to function in axon guidance and neuronal migration. There are three Slit proteins in mammals, and while Slit1 expression is mostly restricted to the nervous system, Slit2 and Slit3 are also expressed in other organs.
Characteristics
A typical Slit protein contains an N-terminal signal peptide, four leucine-rich repeats (LRRs), seven (in
Drosophila
) or nine (in vertebrates) EGF repeats, a laminin G domain, and a C-terminal cysteine knot (Fig.
1
). The receptor for Slit is the transmembrane protein Robo (Roundabout), and four
ROBO
genes have been identified. Typically, Robo proteins, including Robo1, consist of five extracellular immunoglobulin (Ig) domains, three fibronectin repeats, and a conserved intracellular region of four cytoplasmic motifs (Fig.
1
).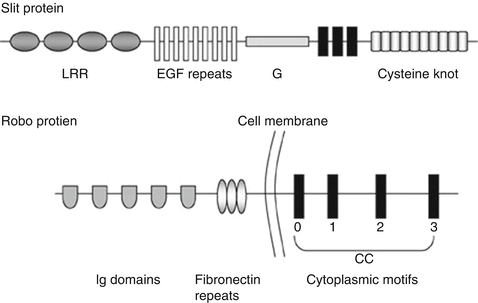 Keywords
Growth Cone 
Axon Guidance 
Medulloblastoma Cell 
External Granular Layer 
Commissural Fiber 
These keywords were added by machine and not by the authors. This process is experimental and the keywords may be updated as the learning algorithm improves.
Copyright information
© Springer-Verlag Berlin Heidelberg 2015