Protease-Activated Receptor Family
Living reference work entry
DOI:
https://doi.org/
10.1007/978-3-642-27841-9_4783-3
Definition
The protease-activated receptors (PARs) are a group of seven transmembrane G protein-coupled receptors with a unique mechanism of activation. Most receptors are activated when the ligand binds to the ligand binding domain of that receptor. However, the different serine protease ligands that activate PAR will cleave the N-terminus of the receptor. This results in the formation of a new N-terminus peptide which acts as a tethered ligand that will now bind to the activation site of the receptor and cause irreversible activation of PAR (Fig.
1
).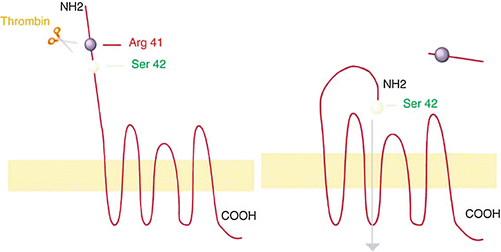 Keywords
Benign Prostatic Hyperplasia 
Pancreatic Cancer Cell 
Pancreatic Cancer Tissue 
Thrombin Receptor 
Pancreatic Ductal Carcinoma 
These keywords were added by machine and not by the authors. This process is experimental and the keywords may be updated as the learning algorithm improves.
Copyright information
© Springer-Verlag Berlin Heidelberg 2014