Paclitaxel
Living reference work entry
DOI:
https://doi.org/
10.1007/978-3-642-27841-9_4344-2
Definition
Paclitaxel is an anticancer agent derived from the North America Pacific yew tree (Taxus brevifolia) that is used in the treatment of a number of common malignancies including lung, ovarian, and breast cancer.
Characteristics
Paclitaxel is a cancer chemotherapeutic agent that is widely used for several types of malignancies (Fig.
1a, b
). It is a natural product produced from the Pacific yew tree. While first isolated from the bark of the Pacific yew, it is now commonly synthesized from a compound obtained from yew needles or cell culture systems.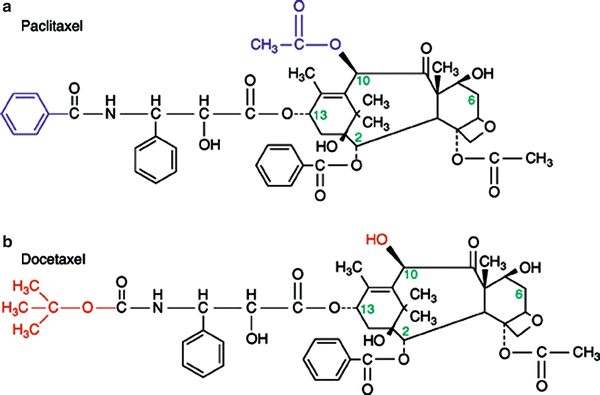 Keywords
Tubulin Polymerization 
Guanosine Triphosphate 
Tubulin Dimer 
Taxane Class 
Taxus Brevifolia 
These keywords were added by machine and not by the authors. This process is experimental and the keywords may be updated as the learning algorithm improves.
Copyright information
© Springer-Verlag Berlin Heidelberg 2014