MYB
Living reference work entry
DOI:
https://doi.org/
10.1007/978-3-642-27841-9_3918-2
Definition
MYB is a family of genes related to the C-MYB proto-oncogene. The name of this gene comes from myeloblastosis, the type of leukemia caused by the V-MYB viral oncogene in chickens. All vertebrates contain three related MYB genes: C-MYB (MYB), A-MYB (MYBL1), and B-MYB (MYBL2). The fruit fly and sea urchin have only one closely related MYB gene, whereas the nematode
C. elegans
appears to have lost the MYB gene during evolution. Other more distantly related MYB-like genes are present in animals, plants, and fungi (Fig.
1
).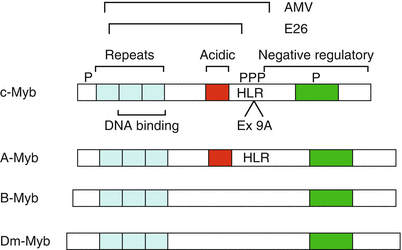 Keywords
Adenoid Cystic Carcinoma 
Tumor Suppressor Gene Product 
Immature Blood Cell 
Large Multiprotein Complex 
Heptad Leucine Repeat 
These keywords were added by machine and not by the authors. This process is experimental and the keywords may be updated as the learning algorithm improves.
Copyright information
© Springer-Verlag Berlin Heidelberg 2015