Microsatellite Instability
Living reference work entry
DOI:
https://doi.org/
10.1007/978-3-642-27841-9_3731-2
Definition
Microsatellite instability (MSI) is the accumulation of novel microsatellite alleles in genomes (from bacteria to human) due to defect in mismatch repair.
Microsatellites are site specific DNA markers with high abundance throughout the genome. They consist of short repetitive motifs of 1–6 nucleotides in length that are tandemly repeated 10–60 times and flanked by unique sequences (Fig.
1
).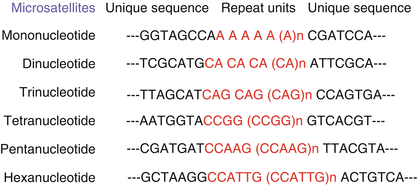 Keywords
Endometrial Cancer 
Lynch Syndrome 
Mismatch Repair 
Mismatch Repair Gene 
Mismatch Repair System 
These keywords were added by machine and not by the authors. This process is experimental and the keywords may be updated as the learning algorithm improves.
Copyright information
© Springer-Verlag Berlin Heidelberg 2015