Lysophosphatidylcholine
Living reference work entry
DOI:
https://doi.org/
10.1007/978-3-642-27841-9_3471-2
Definition
Lysophosphatidylcholine (LPC) is a major plasma lipid constituent that is produced from phosphatidylcholine (PC).
Characteristics
LPC is produced from PC under a variety of physiological and pathological conditions. LPC is present at high levels (about 100 μM) in plasma under normal conditions and exists mainly in albumin- or lipoprotein-bound forms. The biochemical conversion from PC to LPC is mediated by phospholipase A1 or
phospholipase A2
. Sequentially, LPC is converted to lysophosphatidate (LPA) by lysophospholipase D (autotaxin) (Fig.
1
).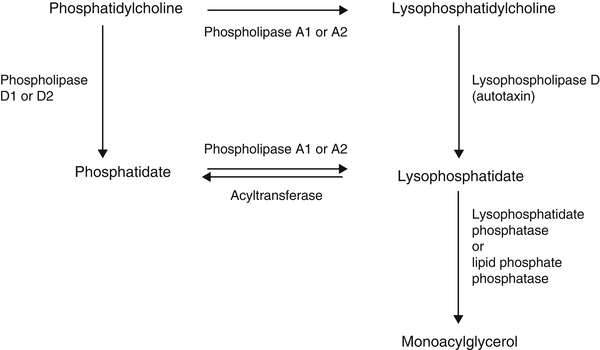 Keywords
Multiple Myeloma 
Biochemical Conversion 
Biliary Tract Carcinoma 
Serum Response Element 
Induce Cell Migration 
These keywords were added by machine and not by the authors. This process is experimental and the keywords may be updated as the learning algorithm improves.
Copyright information
© Springer-Verlag Berlin Heidelberg 2014