Invasion
Living reference work entry
DOI:
https://doi.org/
10.1007/978-3-642-27841-9_3133-2
Definition
Is a process in malignant cells consisting of penetration of and movement through surrounding tissues.
Characteristics
Following an initial period of cell proliferation at the tissue site of origin, malignant cells acquire the capacity to undergo invasion of the surrounding tissues. Some malignant neoplasms undergo extensive local invasion without metastasizing, but invasion is a prerequisite for the development of metastasis.
Although the process is not the same for all types of malignancies, the invasion of epithelial-derived malignant cells (the most common type) involves the following steps (Fig.
1
):
Detachment from adjacent cells and underlying basement membrane

Disruption and degradation of surrounding matrix

Adhesion to surrounding matrix components

Migration through the adjacent tissue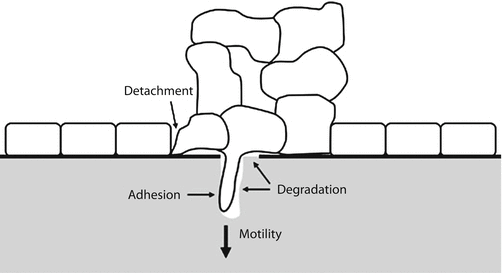 Keywords
Tumor Cell Invasion 
Adhesion Complex 
Connective Tissue Matrix 
Surrounding Connective Tissue 
Connective Tissue Component 
These keywords were added by machine and not by the authors. This process is experimental and the keywords may be updated as the learning algorithm improves.
Copyright information
© Springer-Verlag Berlin Heidelberg 2015