Indirubin and Indirubin Derivatives
Living reference work entry
DOI:
https://doi.org/
10.1007/978-3-642-27841-9_3032-2
Definition
Indirubin is the parent compound of a spectrum of 2′,3-bisindoles synthesized to improve the biological activity of this natural 2′,3-bisindole lead structure. Indirubin and its isomers indigo and isoindigo are composed of two indolinone ring systems, linked through a double bond to make up 2,2′-(indigo), 3,2′-(indirubin) and 3,3′ (isoindigo) bisindoles, respectively (Fig.
1
).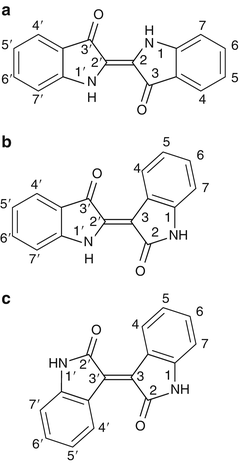 Keywords
Chinese Scientist 
Inhibit Receptor Tyrosine Kinase 
Kinase Inhibitory Activity 
Traditional Chinese Medication 
Natural Indigo 
These keywords were added by machine and not by the authors. This process is experimental and the keywords may be updated as the learning algorithm improves.
Copyright information
© Springer-Verlag Berlin Heidelberg 2015