Hepatitis C Virus
Living reference work entry
DOI:
https://doi.org/
10.1007/978-3-642-27841-9_2661-2
Characteristics
The size of this enveloped virus is ∼60 nm. Its nucleocapsid contains a single-stranded RNA genome of ∼9.6 kb genome (Fig.
1
) of plus(+) strand polarity that carries a single open reading frame. At least six major genotypes (1–6) with up to three subtypes (a to c) exist, which differ not only in their nucleic acid sequence but also in their pathophysiological properties. All structural and nonstructural viral proteins are processed from a polyprotein precursor of 3010–3033 amino acids in the cytoplasm or endoplasmic reticulum of the infected cell.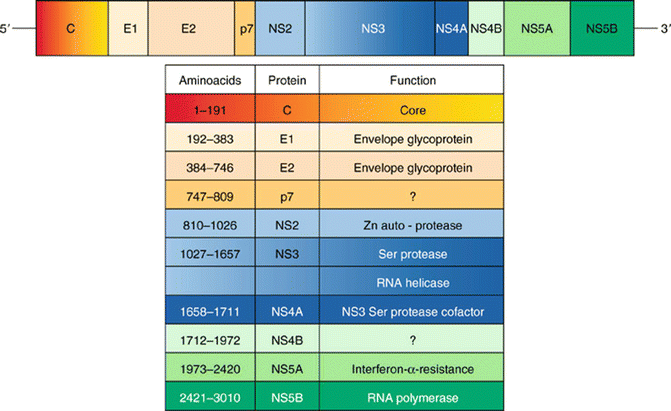 Keywords
Soft Agar Growth 
Intravenous Drug Addiction 
High Chronicity Rate 
Hepatocyte Transformation 
Patient Develop Liver Cirrhosis 
These keywords were added by machine and not by the authors. This process is experimental and the keywords may be updated as the learning algorithm improves.
References
Moriya K, Fujie H, Fukuda K et al (1998) The core protein of hepatitis C virus induces hepatocellular carcinoma in transgenic mice. Nat Med 4:1065–1067

CrossRef

PubMed

Google Scholar

Wedemeyer H, Caselmann WH, Manns MP (1998) Combination therapy of chronic hepatitis C – an important step but not the final goal. J Hepatol 29:1010–1014

CrossRef

PubMed

Google Scholar
Copyright information
© Springer-Verlag Berlin Heidelberg 2015