Fragile Sites
Living reference work entry
DOI:
https://doi.org/
10.1007/978-3-642-27841-9_2262-3
Definition
Fragile sites are specific chromosomal loci that are especially prone to forming gaps and breaks on metaphase chromosomes under conditions of replication stress (Fig.
1
).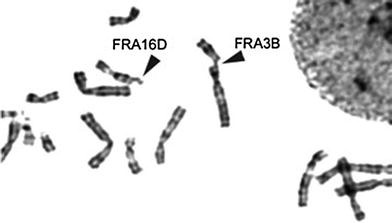 Keywords
Metaphase Chromosome 
Fragile Site 
Replication Stress 
Common Fragile Site 
FHIT Gene 
These keywords were added by machine and not by the authors. This process is experimental and the keywords may be updated as the learning algorithm improves.
Copyright information
© Springer-Verlag Berlin Heidelberg 2015