Epithelial Tumorigenesis
Living reference work entry
DOI:
https://doi.org/
10.1007/978-3-642-27841-9_1961-11
Definition
Epithelial tumorigenesis relates to the process of developing and/or progressing of a tumor, originating from epithelial cells. Malignant tumors of this origin are known as
carcinoma
, whereas malignant tumors derived from cells of the connective tissue are known as sarcoma (Fig.
1
).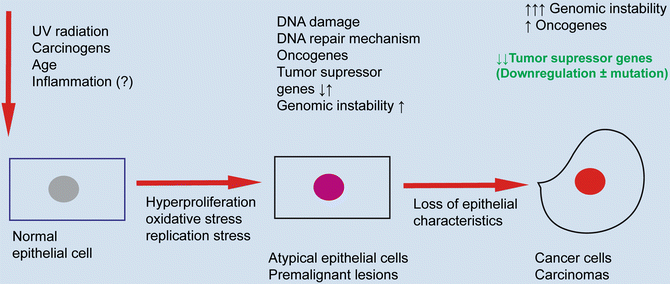 Keywords
Cancer Stem Cell 
Epithelial Mesenchymal Transition 
Lynch Syndrome 
Transitional Cell Carcinoma 
Epithelial Cancer 
These keywords were added by machine and not by the authors. This process is experimental and the keywords may be updated as the learning algorithm improves.
Copyright information
© Springer-Verlag Berlin Heidelberg 2014