Desmoplasia
Living reference work entry
DOI:
https://doi.org/
10.1007/978-3-642-27841-9_1580-2
Definition
Desmoplasia is the formation of fibrous connective tissue by proliferation of fibroblasts. Desmoplasia is a key component of solid tumor stroma (Fig.
1
).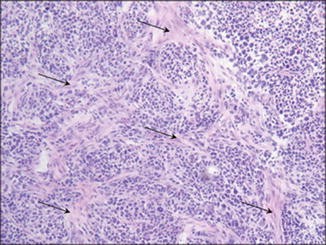 Keywords
Hepatocyte Growth Factor 
Focal Adhesion Kinase 
Fibrous Connective Tissue 
Fibroblast Activation Protein 
Extracellular Matrix Remodel 
These keywords were added by machine and not by the authors. This process is experimental and the keywords may be updated as the learning algorithm improves.
Copyright information
© Springer-Verlag Berlin Heidelberg 2014