Desmoglein-2
Living reference work entry
DOI:
https://doi.org/
10.1007/978-3-642-27841-9_1577-2
Definition
Dsg2 is one of the calcium-binding transmembrane glycoprotein components of the cell-cell adhesion molecules of the desmosomes. Dsg2 is one of the cadherin cell adhesion molecule superfamily in vertebrate epithelial cells.
Characteristics
Cell Junctions
Epithelial cell-cell junctions consist of four junctions:
tight junctions
,
adherens junctions
,
desmosomes
, and
gap junctions
(Fig.
1
). Two adhering-type junctions, the adherens junctions and the desmosomes, are responsible for strong cell-cell adhesion. Each of these junctions consists of a transmembrane cadherin and a complex cytoplasmic plaque that serve to link cadherin to actin microfilaments or the intermediate filament cytoskeleton.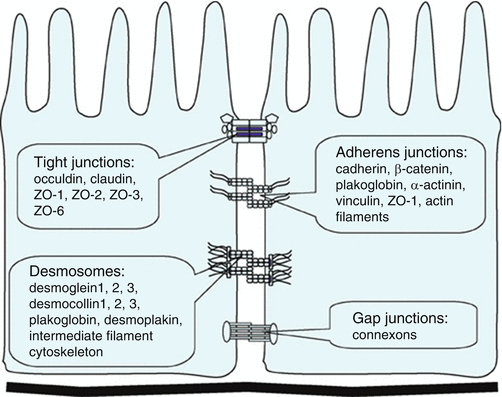 Copyright information
© Springer-Verlag Berlin Heidelberg 2015