Conjugated Linolenic Acids
Living reference work entry
DOI:
https://doi.org/
10.1007/978-3-642-27841-9_1314-2
Definition
Conjugated linolenic acid (CLN) is a general term for the geometrical and positional isomers of octadecatrienoic (18:3) acid with three conjugated double bonds. Conjugated linolenic acids occur in several terrestrial plants (mainly seed oils). They include α-eleostearic acid (9
cis
(c),11
trans
(t),13t-18:3), catalpic acid (9t,11t,13c-18:3), punicic acid (9c,11t,13c-18:3), calendic acid (8t,10t,12c-18:3), and jacaric acid (8c,10t,12c-18:3) (Fig.
1
). High contents of calendic acid, punicic acid, and α-eleostearic acid are found in seed oils of pot marigold, pomegranate, and tung/bitter gourd, respectively.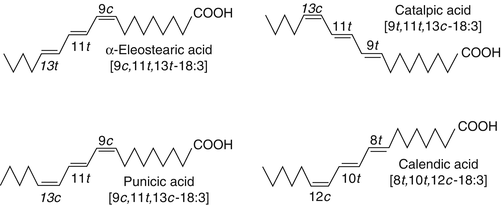 Keywords
Aberrant Crypt Focus 
Monocytic Leukemia 
Dietary Feeding 
Pomegranate Seed 
Punicic Acid 
These keywords were added by machine and not by the authors. This process is experimental and the keywords may be updated as the learning algorithm improves.
Copyright information
© Springer-Verlag Berlin Heidelberg 2015