Cladribine
Living reference work entry
DOI:
https://doi.org/
10.1007/978-3-642-27841-9_1198-3
Definition
Cladribine is a purine nucleoside analog (PNA) synthesized by a simple substitution of a chlorine atom with a hydrogen atom at the position 2 of the purine ring of deoxyadenosine and resistant to deamination by adenosine deaminase (ADA) (Fig.
1
).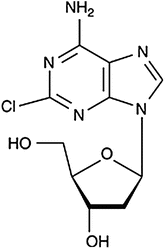 Keywords
Acute Myeloid Leukemia 
Chronic Lymphocytic Leukemia 
Mantle Cell Lymphoma 
Mycosis Fungoides 
Hairy Cell Leukemia 
These keywords were added by machine and not by the authors. This process is experimental and the keywords may be updated as the learning algorithm improves.
Copyright information
© Springer-Verlag Berlin Heidelberg 2014