Chromophore-Assisted Laser Inactivation
Living reference work entry
DOI:
https://doi.org/
10.1007/978-3-642-27841-9_1137-2
Definition
Technology to address protein function in situ. CALI uses laser light of 620 nm, targeted via specific malachite green-labeled non-function-blocking antibodies, which generate short-lived protein-damaging free radicals (Fig.
1
). This wavelength is not absorbed by cells, such that nonspecific light damage does not occur. The short lifetime of the free radicals generated restricts the damage largely to the bound antigen (∼15 Å) such that even neighboring proteins are not significantly affected. Micro-CALI focuses the laser light through microscope optics such that proteins within a 10 μ spot may be inactivated.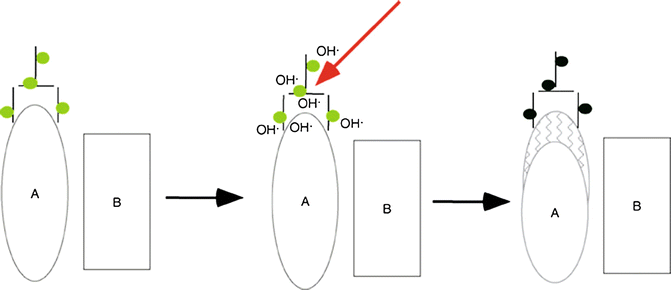 Keywords
High Resolution Mass Spectrometry 
Target Validation 
Functional Inactivation 
Myosin Versus 
Nerve Growth Cone 
These keywords were added by machine and not by the authors. This process is experimental and the keywords may be updated as the learning algorithm improves.
References
See Also
(2012) High Throughput Screens. In: Schwab M (ed) Encyclopedia of Cancer, 3rd edn. Springer Berlin Heidelberg, p 1695. doi: 10.1007/978-3-642-16483-5_2732

Google Scholar

(2012) Laser. In: Schwab M (ed) Encyclopedia of Cancer, 3rd edn. Springer Berlin Heidelberg, p 1984. doi: 10.1007/978-3-642-16483-5_3284

Google Scholar

(2012) Proteome. In: Schwab M (ed) Encyclopedia of Cancer, 3rd edn. Springer Berlin Heidelberg, p 3100. doi: 10.1007/978-3-642-16483-5_4819

Google Scholar
Copyright information
© Springer-Verlag Berlin Heidelberg 2014