Unidentified Infrared Emission Bands
Living reference work entry
DOI:
https://doi.org/
10.1007/978-3-642-27833-4_5077-4
Definition
The term unidentified infrared emission (UIE) bands refers to a family of emission features observed in a variety of astronomical sources, including the aromatic features at 3.3, 6.2, 7.7, 8.6, and 11.3 μm; aliphatic features at 3.4 and 6.9 μm; and broad emission plateaus at 8, 12, and 17 μm, as well as a host of weaker features that are too broad to be atomic or molecular lines.
History
A family of strong infrared emission bands at 3.3, 6.2, 7.7, 8.6, 11.3, and 12.7 μm were first detected in the young carbon-rich planetary nebula NGC 7027 (Gillett et al.
1973
; Russell et al.
1977
) (Fig.
1
) and in the reflection nebula HD 44179 (Russell et al.
1978
). Since the initial discovery, these features are now widely observed in
HII regions
, reflection nebulae, planetary nebulae,
protoplanetary nebulae
, and the diffuse
interstellar medium
of our own and other galaxies.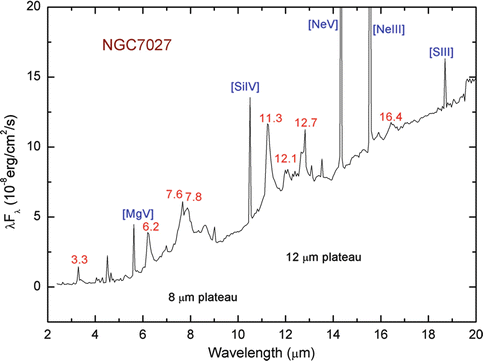 Keywords
Polycyclic Aromatic Hydrocarbon 
Emission Feature 
Central Star 
Planetary Nebula 
Young Stellar Object 
These keywords were added by machine and not by the authors. This process is experimental and the keywords may be updated as the learning algorithm improves.
References and Further Reading
Copyright information
© Springer-Verlag Berlin Heidelberg 2014