Phase Transition
Living reference work entry
DOI:
https://doi.org/
10.1007/978-3-642-27833-4_4020-3
Definition
Matter in the universe generally exists in one of four phases (states in which matter has essentially uniform physical properties): plasma, gas, liquid, and solid. The transition between each phase has an associated name (Fig.
1
). Transitions can also occur within the solid phase.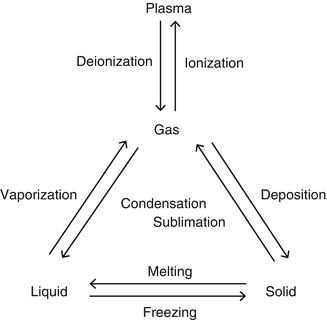 Keywords
Phase Transition 
Free Energy 
Liquid Phase 
Constant Temperature 
Latent Heat 
These keywords were added by machine and not by the authors. This process is experimental and the keywords may be updated as the learning algorithm improves.
References and Further Reading
McQuarrie DA, Simon JD (1997) Physical chemistry: a molecular approach. University Science, Sausalito

Google Scholar
Copyright information
© Springer-Verlag Berlin Heidelberg 2014