Proton Motive Force
Living reference work entry
DOI:
https://doi.org/
10.1007/978-3-642-27833-4_141-2
Definition
Proton motive force (PMF) is the force that promotes the movement of protons across membranes downhill the electrochemical potential.
Overview
A difference of solute concentration between two compartments separated by a biological membrane generates a tendency to equilibrium, which, in the case of protons, is called proton motive force (PMF). This is measured in terms of the potential energy resulting from the difference in concentration between the two compartments. With a charged solute, the potential has two components: the chemical (concentration) and the electrical potentials (Fig.
1
); thus, it is named electrochemical potential.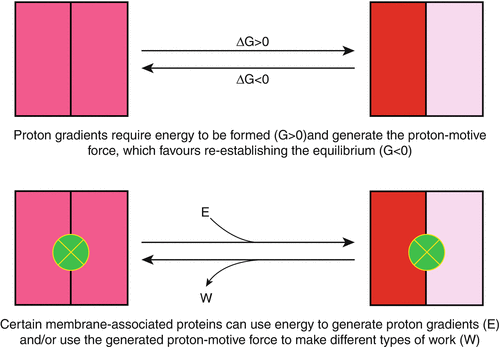 Keywords
ATP synthase 
LUCA 
Proton gradient 
Sodium motive force 
References and Further Reading
Copyright information
© Springer-Verlag Berlin Heidelberg 2014