Dientamoeba fragilis
Living reference work entry
DOI:
https://doi.org/
10.1007/978-3-642-27769-6_880-2
Name
Greek: di = double, twofold; entos = inside; amoibe = changing shape; Latin: fragilis = fragile.
Geographic Distributions/Epidemiology
Worldwide distributed. Prevalence rates between 0.4 % and 42 % have been reported in several worldwide investigations (e.g. 9.4 % USA; 16 % British Isles).
Morphology/Life Cycle
The amoeboid trophozoites of
D. fragilis
live in the intestinal tractus (mainly colon) of humans and primates, reach a size of 3–12 μm and contain often two nuclei (Fig.
1
). This is apparently the stage prior to division. The nuclei contain of condensations. In feces and in the terminal regions often 10 μm sized, thin-walled, spherical cysts occur (Fig.
2
). At the beginning of their discovery history
Dientamoeba
was classified as a non-pathogenic commensal. However, the recent molecular biological studies showed that they are closely related to
Trichomonas
species and that they have a considerable pathogenic potential.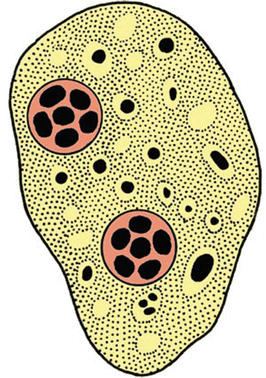 Keywords
Drinking Water 
Irritable Bowel Syndrome 
Intestinal Tractus 
Terminal Region 
Pathogenic Potential 
These keywords were added by machine and not by the authors. This process is experimental and the keywords may be updated as the learning algorithm improves.
Copyright information
© Springer-Verlag Berlin Heidelberg 2015