Hymenelopis nana
Living reference work entry
DOI:
https://doi.org/
10.1007/978-3-642-27769-6_3953-1
Name
Greek: hymen = thin portion of skin; lepis = scale. Latin: nanus = dwarf. English: dwarf tapeworm.
Geographic Distribution/Epidemiology
Worldwide, especially in the subtropics and tropics, about 80 millions of humans are infected. It is probably the most common tapeworm of humans (especially of children).
Morphology/Life Cycle
H. nana
parasitizes in humans, mice, and rats and reaches mostly only a length of 5 cm and a width of 1–2 mm (Figs.
1
and
2
). The scolex has a diameter of 0.3 mm, is provided with four suckers, and bears a protrudable spherical rostellum, which is armed by 20–24 hooks (Fig.
2
), which are tiny, reaching a length of 140–180 μm. Mature proglottids are often already destroyed in the intestine of their hosts, so that the characteristic eggs (40–60 μm × 30–50 μm) are mostly found in the feces (Fig.
2
). The further life cycle is diagrammatically depicted in Fig.
1
.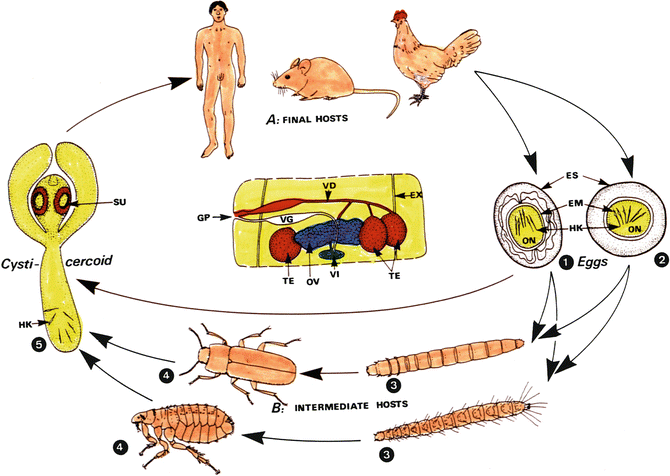 Keywords
Oral Uptake 
Healthy Person 
Microscopical Determination 
Abdominal Cramp 
Blood Eosinophilia 
These keywords were added by machine and not by the authors. This process is experimental and the keywords may be updated as the learning algorithm improves.
Copyright information
© Springer-Verlag Berlin Heidelberg 2015