Malaria, Monocyte/Macrophage Activities
Living reference work entry
DOI:
https://doi.org/
10.1007/978-3-642-27769-6_3492-1
Immunopathology in Malaria
Many clinical consequences of malaria have been attributed to immunopathology. Inflammation is necessary to limit and resolve an infection, yet dysregulated and excessive inflammatory reactions can lead to extensive host damage, sometimes greater than that caused by infection alone. Monocytes/macrophages and their inflammatory products have been implicated in malaria pathogenesis, leading to clinical disease (Fig.
1
).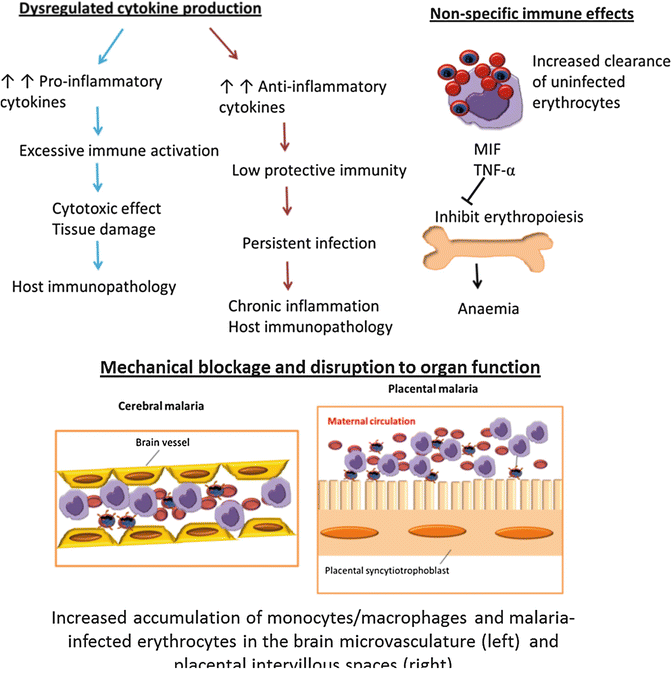 Keywords
Cerebral Malaria 
Infected Erythrocyte 
IL12B Gene 
Severe Malarial Anemia 
Intervillous Space 
These keywords were added by machine and not by the authors. This process is experimental and the keywords may be updated as the learning algorithm improves.
References
Further Reading
Idro R, Jenkins NE, Newton CRJC (2005) Pathogenesis, clinical features, and neurological outcome of cerebral malaria. Lancet Neurol 4:827–840

CrossRef

PubMed

Google Scholar
Copyright information
© Springer-Verlag Berlin Heidelberg 2016