Apicoplast
Living reference work entry
DOI:
https://doi.org/
10.1007/978-3-642-27769-6_242-2
This term describes an ovoid organelle that is found just prior to the anterior end of the nucleus of motile stages of Apicomplexa (Sporozoa) such as
merozoites
, sporozoites, tachyzoites, bradyzoites, cystozoites, etc. In early times of electron microscopy, it was described as
thick
walled vesicle with an unknown function in stages of e.g.,
Toxoplasma gondii
, Sarcocystis
species,
Eimeria
species,
Isospora
species,
Plasmodium
species, etc. Today, high-resolution electron microscopy shows that this organelle possesses four membranes, which apparently originate from a penetrated red algal (prokaryotic) organism being "parasitized" by a chloroplast which formerly had also been a separate organism (Fig.
1
). Finally, this red algae was engulfed by an autotrophic protist, the progeny of which later developed by coevolution into the parasite species of our days.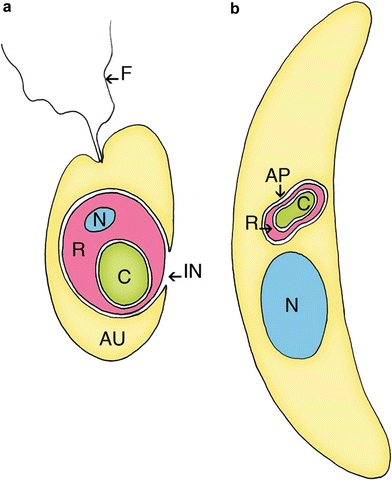 Keywords
Walled Vesicle 
Parasite Species 
Cell Stage 
Nuclear Division 
Plasmodium Species 
These keywords were added by machine and not by the authors. This process is experimental and the keywords may be updated as the learning algorithm improves.
Copyright information
© Springer-Verlag Berlin Heidelberg 2015