M.I.F.C.
Living reference work entry
DOI:
https://doi.org/
10.1007/978-3-642-27769-6_1808-2
Merthiolate-iodine-formaldehyde concentration (Fig.
1
), method to concentrate parasitic stages (protozoans/worm eggs) from fecal samples using two solutions: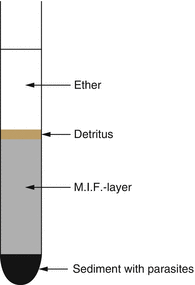 Keywords
Light Microscopy 
Fecal Sample 
Parasitic Stage 
Iodine Potassium 
Cold Ether 
These keywords were added by machine and not by the authors. This process is experimental and the keywords may be updated as the learning algorithm improves.
Copyright information
© Springer-Verlag Berlin Heidelberg 2015