Koch, Robert (1843–1910)
Living reference work entry
Latest version View entry history
DOI:
https://doi.org/
10.1007/978-3-642-27769-6_1681-3
German physician (Figs.
1
,
2
,
3
, and
4
), who received 1905 the Nobel Prize in Medicine or Physiology for the discovery of the agent of tuberculosis in the year 1882. He was the first to describe the anthrax bacterium (
Bacillus anthracis
) (
1876
) and the tubercle bacillus (
1882
) and to demonstrate in 1884 the agent of the cholera (
Vibrio cholerae
). He and his coworkers also contributed important knowledge on trypanosomiasis and to babesiosis as well as
theileriasis
. He ameliorated techniques for microscopy of bacteria and made first photos of those "New World agents" being supported by the famous German microscopy developers Ernst Abbé (1840–1905) and Carl Zeiss (1810–1888). He formulated the famous still today valid postulations, which have to be fulfilled for a full description of an agent of disease: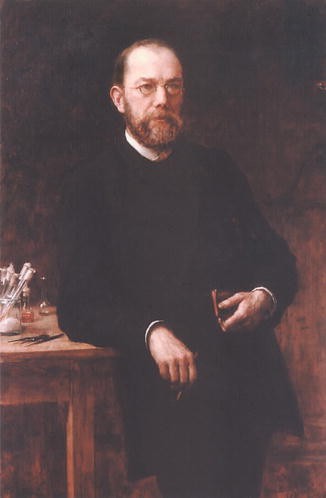 Keywords
Infectious Disease 
Experimental Animal 
Chemical Compound 
Pure Culture 
Nobel Prize 
These keywords were added by machine and not by the authors. This process is experimental and the keywords may be updated as the learning algorithm improves.
References
Koch R (1876) Die Aetiologie der Milzbrand-Krankheit, begründet auf die Entwicklungsgeschichte des

Bacillus anthracis

. Beiträge zur Biologie der Pflanzen 2:277–310

Google Scholar

Koch R (1882) Ueber die Aetiologie der Tuberculose. Verhandl. Congress Innere Medicin; J.F. Bergmann, Wiesbaden

Google Scholar
Copyright information
© Springer-Verlag Berlin Heidelberg 2015