HCN Channels: Biophysics and Functional Relevance
Reference work entry
DOI:
https://doi.org/
10.1007/978-3-642-16712-6_652
Definition
Hyperpolarization-activated Cyclic Nucleotide-gated channels (HCN) are ion channels largely expressed in excitable tissues. In the heart, they generate the spontaneous electrical oscillations of pacemaker cells, while in neurons they are involved in the control of cell excitability.
Basic Characteristics
Cardiac Pacemaking: Properties and Functions of the Pacemaker "Funny" (If) Current
The heart of a healthy person beats on average 2.5 billion times in a lifetime at a frequency ranging from ∼40 bpm (beats per minute, sleep) to ∼220 bpm (maximal exercise).
This performance is generated by the activity of spontaneously beating (pacemaker) cells of the sinoatrial node (SAN). The ability to generate repetitive activity is evident from the electrical behavior of single SAN cells (Fig.
1
, upper right).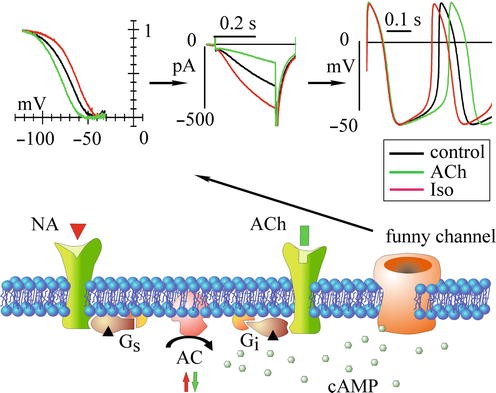 Copyright information
© European Biophysical Societies' Association (EBSA) 2013