Birth-related injury is broadly defined as a physical injury sustained by a newborn during the process of birth. This definition places no blame or fault, but recognizes that in many cases, such injuries are unpredictable and perhaps have unavoidable outcomes. Estimates from the USA are that approximately 2.6% of births will end with some kind of injury. The severity of birth-related injury varies greatly from the minor and temporary, such as ecchymosis, swelling, or superficial lacerations, to the more serious longer lasting conditions such as brachial plexus injury, and even a fatal outcome. This chapter will describe those conditions that are most likely the result of mechanical forces on the newborn through the birth process.
Incidence
In many countries, the rate of birth-related injury has markedly decreased due to improved prenatal care, greater use of imaging, and presence of skilled attendants at deliveries with the tools necessary for intervention (both obstetrical and...
Keywords
Facial Nerve Palsy

Humeral Fracture

Clavicle Fracture

Brachial Plexus Injury

Shoulder Dystocia
These keywords were added by machine and not by the authors. This process is experimental and the keywords may be updated as the learning algorithm improves.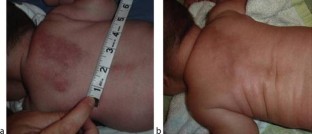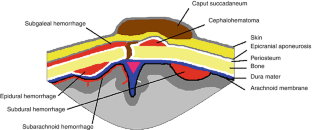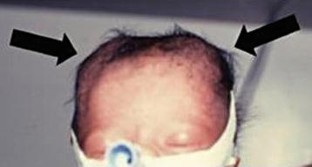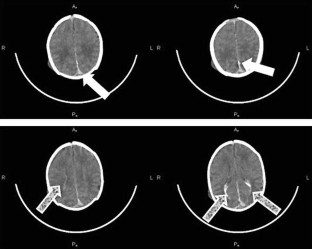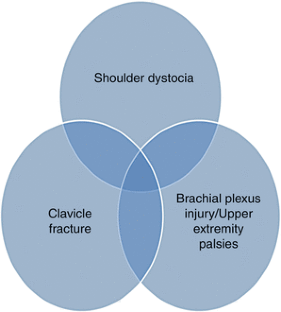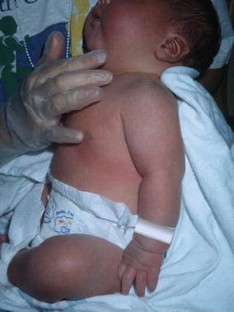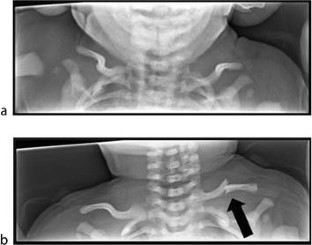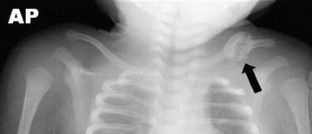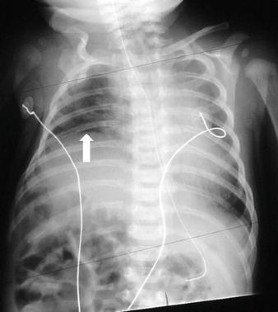 References
Adams-Chapman I, Stoll BJ (2008) Nervous system disorders. In: Kliegman RM (ed) Nelson textbook of pediatrics, 18th edn. Saunders Elsevier, Philadelphia

Al Tawil K, Saleem N, Kadri H et al (2010) Traumatic facial nerve palsy in newborns: is it always iatrogenic? Am J Perinatol 27(9):711–713

Aljaser FMD, Weinstein MMD (2008) A 1-week-old newborn with hypercalcemia and palpable nodules: subcutaneous fat necrosis. CMAJ 178(13):1653–1654

Al-Qattan MM, Clarke HM, Curtis CG (1998) The prognostic value of concurrent phrenic nerve palsy in newborn children with Erb's palsy. J Hand Surg J Br Soc Surg Hand 23(2):225

Al-Qattan MM, El-Sayed AAF, Al-Zahrani AY et al (2009) Narakas classification of the obstetric brachial plexus revisited. J Hand Surg Eur 34E(6):788–791

Andersen J, Watt J, Olson J et al (2006) Perinatal brachial plexus palsy. Paediatr Child Health 11(2):93–100

Awari BH, Al-Habdan I, Sadat-Ali M et al (2003) Birth associated trauma. Saudi Med J 24(6):672–674

Backe B, Magnussen EB, Johansen OJ et al (2008) Obstetric brachial plexus palsy: A birth injury not explained by the known risk factors. Acta Obstet Et Gynecol Scand 87(10):1027–1032

Benjamin K (2005a) Part 1. Injuries to the brachial plexus: mechanisms of injury and identification of risk factors. Adv Neonatal Care 5(4):181–189

Benjamin K (2005b) Part 2. Distinguishing physical characteristics and management of brachial plexus injuries. Adv Neonatal Care 5(5):240–251

Bhatia R, Deka R, Kacker S (1987a) Aetiology of deviated nasal septum in the newborn. Indian J Otolaryngol Head Neck Surg 39(1):14–17

Bhatia R, Deka R, Kacker S (1987b) Diagnosis of septal deformities in newborns. Indian J Otolaryngol Head Neck Surg 39(1):18–19

Bhattacharjee A, Uddin S, Purkaystha P (2005) Deviated nasal septum in the newborn—A 1-year study. Indian J Otolaryngol Head Neck Surg 57(4):304–308

Borna H, Rad SM, Borna S et al (2010) Incidence of and risk factors for birth trauma in Iran. Taiwan J Obstet Gynecol 49(2):170–173

Bruns AD (2009) Congenital facial paralysis. http://emedicine.medscape.com/article/878464-print. Accessed 16 Oct 2009

Chauhan SP, Rose CH, Gherman RB et al (2005) Brachial plexus injury: A 23-year experience from a tertiary center. Am J Obstet Gynecol 192(6):1795–1800

Dahlin L, Erichs K, Andersson C et al (2007) Incidence of early posterior shoulder dislocation in brachial plexus birth palsy. J Brachial Plexus Peripher Nerve Inj 2(1):24

Doumouchtsis SK, Arulkumaran S (2009) Are all brachial plexus injuries caused by shoulder dystocia? Obstet Gynecol Surv 64(9):615–623

Drosler SE, Klazinga NS, Romano PS et al (2009) Application of patient safety indicators internationally: a pilot study among seven countries. Int J Qual Health Care 21(4):272–278

Duval M, Daniel SJ (2009) Facial nerve palsy in neonates secondary to forceps use. Arch Otolaryngol Head Neck Surg 135(7):634–636

Farooque A, Moss C, Zehnder D et al (2009) Expression of 25-hydroxyvitamin D3-1alpha-hydroxylase in subcutaneous fat necrosis. Br J Dermatol 160(2):423–425

Foad SL, Mehlman CT, Ying J (2008) The epidemiology of neonatal brachial plexus palsy in the United States. J Bone Joint Surg Am 90(6):1258–1264

Foad SL, Mehlman CT, Foad MB et al (2009) Prognosis following neonatal brachial plexus palsy: an evidence-based review. J Child Orthop 3(6):459–463

Gilbert WM, Nesbitt TS, Danielsen B (1999) Associated factors in 1611 cases of brachial plexus injury. Obstet Gynecol 93(4):536–540

Gupta M, Kumar P (2007) Reversible congenital facial nerve palsy: an uncommon cause of asymmetric crying facies in the newborn. http://www.ispub.com/journal/the_internet_journal_of_pediatrics_and_neonatology/volume_7_number_1_12/article_printable/reversible_congenital_facial_nerve_palsy_an_uncommon_cause_of_asymmetric_crying_facies_in_the_newborn.html. Accessed 7 Jan 2011

Hale HB, Bae DS, Waters PM (2010) Current concepts in the management of brachial plexus birth palsy. J Hand Surg 35(2):322–331

House JW, Brackmann DE (1985) Facial nerve grading system. Otolaryngol Head Neck Surg 93(2):146–147

Hughes CA, Harley EH, Milmoe G et al (1999) Birth trauma in the head and neck. Arch Otolaryngol Head Neck Surg 125(2):193–199

Jain IS, Singh YP, Grupta SL et al (1980) Ocular hazards during birth. J Pediatr Ophthalmol Strabismus 17(1):14–16

Jeppesen F, Windfeld I (1972) Dislocation of the nasal septal cartilage in the newborn: aetiology, spontaneous course and treatment. Acta Obstet Et Gynecol Scand 51(1):5–15

Joseph PR, Rosenfeld W (1990) Clavicular fractures in neonates. Am J Dis Child 144(2):165–167

Katzman GH (1992) Pathophysiology of neonatal subconjunctival hemorrhage. Clin Pediatr Phila 31(3):149–152

Kay SP (1998) Obstetrical brachial palsy. Br J Plast Surg 51(1):43–50

Korantzis A, Cardamakis E, Chelidonis E et al (1992) Nasal septum deformity in the newborn infant during labour. Eur J Obstet Gynecol Reprod Biol 44(1):41–46

Laroia N (2008) Birth trauma. http://emedicine.medscape.com/article/980112-print. Accessed 13 Mar 2009

Lerner HM, Salamon E (2008) Permanent brachial plexus injury following vaginal delivery without physician traction or shoulder dystocia. Am J Obstet Gynecol 198(3):e7–e8

Leung GM, Ho LM, Tin KY et al (2007) Health care consequences of cesarean birth during the first 18 months of life. Epidemiology 18(4):479–484

McKee-Garrett TM (2010) Birth injuries. http://www.uptodate.com/online/content/topic.do?topicKey=neonatol/34234&view=print. Accessed 19 Oct 2010

Metzenbaum M (1932) Asymmetry of the nares: a positive diagnostic sign or entity establishing anatomic displacement of lower end of cartilaginous nasal septum. Arch Otolaryngol 16(5):690–697

Moczygemba CK, Paramsothy P, Meikle S et al (2010) Route of delivery and neonatal birth trauma. Am J Obstet Gynecol 202(4):361.e361–361.e366

Mosavat SA, Zamani M (2008) The incidence of birth trauma among live born term neonates at a referral hospital in Rafsanjan, Iran. J Matern Fetal Neonatal Med 21(5):337–339

Narakas A (1986) Injuries to the brachial plexus. In: Bora F Jr (ed) The pediatric upper extremity: diagnosis and management. WB Saunders, Philadelphia, pp 247–258

Narchi H, Kulaylat NA, Ekuma-Nkama E (1996) Clavicle fracture and brachial plexus palsy in the newborn: risk factors and outcome. Ann Saudi Med 16(6):707–710

Ng PC, Siu YK, Lewindon PJ (1995) Subaponeurotic haemorrhage in the 1990s: a 3-year surveillance. Acta Paediatr 84(9):1065–1069

Parker LA (2005) Part 1: Early recognition and treatment of birth trauma: injuries to the head and face. Adv Neonatal Care 5(6):288–297, quiz 298–300

Parker LA (2006) Part 2: Birth trauma: injuries to the intraabdominal organs, peripheral nerves, and skeletal system. Adv Neonatal Care 6(1):7–14

Parvathidevi GK, Vijayashankar MR, Belagavi CS et al (2005) Cytological diagnosis of subcutaneous fat necrosis of newborn: a case report. Dermatol Online J 11(3):20

Piatt JH Jr (2005) Birth injuries of the brachial plexus. Clin Perinatol 32(1):39–59, v–vi

Poyhia TH, Lamminen AE, Peltonen JI et al (2010) Brachial plexus birth injury: US screening for glenohumeral joint instability. Radiology 254(1):253–260

Pressler JL (2008) Classification of major newborn birth injuries. J Perinat Neonatal Nurs 22(1):60–67

Pride H (2009) Subcutaneous fat necrosis of the newborn. http://emedicine.medscape.com/article/1081910-print. Accessed 7 Oct 2009

Robinson RJ, Rossiter MA (1968) Massive subaponeurotic haemorrhage in babies of African origin. Arch Dis Child 43(232):684–687

Salonen IS, Uusitalo R (1990) Birth injuries: incidence and predisposing factors. Z Kinderchir 45(3):133–135

Sauber-Schatz EK, Markovic N, Weiss HB et al (2010) Descriptive epidemiology of birth trauma in the United States in 2003. Paediatr Perinat Epidemiol 24(2):116–124

Joint Commission on Accreditation of Healthcare Organizations (2004) Sentinel Event Issue 30: Preventing infant death and injury during delivery (report)

Sheikh A (2006) Scalp hematomas.jpg. Wikimedia Commons

Shenaq SM, Berzin E, Lee R et al (1998) Brachial plexus birth injuries and current management. Clin Plast Surg 25(4):527–536

Sivan Y, Galvis A (1990) Early diaphragmatic paralysis. Clin Pediatr 29(3):169–171

Stellwagen L, Hubbard E, Chambers C et al (2008) Torticollis, facial asymmetry and plagiocephaly in normal newborns. Arch Dis Child 93(10):827–831

Sule SS, Onayade AA (2006) Community-based antenatal and perinatal interventions and newborn survival. Niger J Med 15(2):108–114

Sunderland SS (1990) The anatomy and physiology of nerve injury. Muscle & Nerve 13:771–784. doi:10.1002/mus.880130903

Tomashek KM, Hsia J, Iyasu S (2003) Trends in postneonatal mortality attributable to injury, United States, 1988–1998. Pediatrics 111(5 Part 2):1219–1225

Tran JT, Sheth AP (2003) Complications of subcutaneous fat necrosis of the newborn: a case report and review of the literature. Pediatr Dermatol 20(3):257–261

Uhing MR (2005) Management of birth injuries. Clin Perinatol 32(1):19–38, v

Uygur K, Yariktas M, Tuz M et al (2002) The incidence of septal deviation in newborns. Kulak Burun Bogaz Ihtis Derg 9(2):117–120

van Rijn R, Bilo R, Robben S (2009) Birth-related mid-posterior rib fractures in neonates: a report of three cases (and a possible fourth case) and a review of the literature. Pediatr Radiol 39(1):30–34

van Vlimmeren LA, van der Graaf Y, Boere-Boonekamp MM et al (2007) Risk factors for deformational plagiocephaly at birth and at 7 weeks of age: a prospective cohort study. Pediatrics 119(2):e408–418

Volpe J (1995) Injuries of extracranial, cranial, spinal cord, and peripheral nervous system structures. In: Volpe J (ed) Neurology of the newborn, 3rd edn. WB Saunders, Philadelphia, pp 769–792

Waters PM (2005) Update on management of pediatric brachial plexus palsy. J Pediatr Orthop 25(1):116–126

Zafeiriou DI, Psychogiou K (2008) Obstetrical brachial plexus palsy. Pediatr Neurol 38(4):235–242

Zeck W, Haas J, Rossegger H et al (2007) Does a change in obstetric management influence the incidence of traumatic birth lesions in mature, otherwise healthy newborn infants? J Obstet Gynaecol Res 33(4):475–479
Copyright information
© 2012 Springer-Verlag Berlin Heidelberg
About this entry
Cite this entry
VanVleet, M.W. (2012). Birth-Related Injury. In: Elzouki, A.Y., Harfi, H.A., Nazer, H.M., Stapleton, F.B., Oh, W., Whitley, R.J. (eds) Textbook of Clinical Pediatrics. Springer, Berlin, Heidelberg. https://doi.org/10.1007/978-3-642-02202-9_12
DOI: https://doi.org/10.1007/978-3-642-02202-9_12

Publisher Name: Springer, Berlin, Heidelberg

Print ISBN: 978-3-642-02201-2

Online ISBN: 978-3-642-02202-9

eBook Packages: MedicineReference Module Medicine