Abstract

Wet work includes activities where the workers:

Have their hands in a wet environment regularly for more than 2 h/day.

Must wash their hands frequently (e.g., 20 or more times per day) or intensively.

Wear waterproof gloves; the time of wearing such gloves is added to the time in a wet environment if no effective measures are taken to regenerate the skin.

The irritant factors within the generalized concept of wet work are water, detergents, water-soluble irritants and soils that are specific for the various occupations, and the mechanical factor (e.g., rubbing while cleaning or hand-washing).

Water and occlusion are themselves weak irritants but exert a tandem action to potentate the irritant effects of detergents and other factors.

Effective preventive measures can be implemented against the irritant effects of wet work.
Keywords
Stratum Corneum

Irritant Effect

Hand Eczema

Mechanical Irritation

Occupational Contact Dermatitis
These keywords were added by machine and not by the authors. This process is experimental and the keywords may be updated as the learning algorithm improves.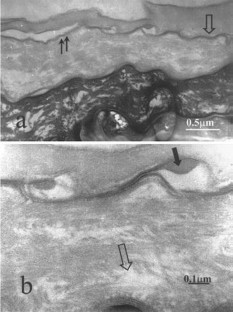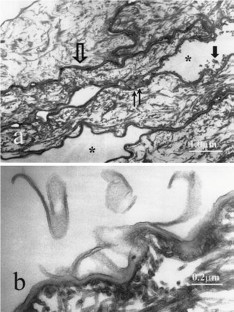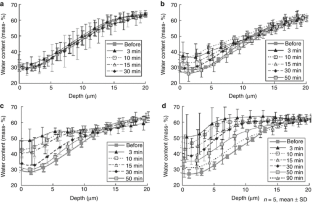 References
Anveden Berglind I, Alderling M et al (2009) Occupational skin exposure to water: a population-based study. Br J Dermatol 160(3):616–621

Anveden I, Liden C et al (2006) Self-reported skin exposure–validation of questions by observation. Contact Dermatitis 55(3):186–191

BAUA (2008) TRGS-401. Risks resulting from skin contact – determination, evaluation, measures. http://www.baua.de/en/Topics-from-A-to-Z/Hazardous-Substances/TRGS/pdf/TRGS-401.pdf?__blob=publicationFile&v=4. Accessed 15 Dec 2010

Berndt U, Hinnen U et al (1999) Role of the atopy score and of single atopic features as risk factors for the development of hand eczema in trainee metal workers. Br J Dermatol 140(5):922–924

Bryld LE, Hindsberger C et al (2003) Risk factors influencing the development of hand eczema in a population-based twin sample. Br J Dermatol 149(6):1214–1220

Bryld LE, Hindsberger C et al (2004) Genetic factors in nickel allergy evaluated in a population-based female twin sample. J Invest Dermatol 123(6):1025–1029

Coenraads PJ, Diepgen TL (1998) Risk for hand eczema in employees with past or present atopic dermatitis. Int Arch Occup Environ Health 71(1):7–13

Crowther JM, Sieg A et al (2008) Measuring the effects of topical moisturizers on changes in stratum corneum thickness, water gradients and hydration in vivo. Br J Dermatol 159(3):567–577

Diepgen TL, Coenraads PJ (1999) The epidemiology of occupational contact dermatitis. Int Arch Occup Environ Health 72(8):496–506

Diepgen TL, Sauerbrei W et al (1996) Development and validation of diagnostic scores for atopic dermatitis incorporating criteria of data quality and practical usefulness. J Clin Epidemiol 49(9):1031–1038

Egawa M, Tagami H (2008) Comparison of the depth profiles of water and water-binding substances in the stratum corneum determined in vivo by Raman spectroscopy between the cheek and volar forearm skin: effects of age, seasonal changes and artificial forced hydration. Br J Dermatol 158(2):251–260

Egawa M, Hirao T et al (2007) In vivo estimation of stratum corneum thickness from water concentration profiles obtained with Raman spectroscopy. Acta Derm Venereol 87(1):4–8

Elsner P (2007) Protection from combination exposure. Curr Probl Dermatol 34:111–119

Fartasch M (2009) Skin protection. From TRGS 401 to guidelines on "occupational skin protection products". Hautarzt 60(9):702–707

Fluhr JW, Lazzerini S et al (1999) Effects of prolonged occlusion on stratum corneum barrier function and water holding capacity. Skin Pharmacol Appl Skin Physiol 12(4):193–198

Fluhr JW, Akengin A et al (2005) Additive impairment of the barrier function by mechanical irritation, occlusion and sodium lauryl sulphate in vivo. Br J Dermatol 153(1):125–131

Flyvholm MA, Lindberg M (2006) OEESC-2005–summing up on the theme irritants and wet work. Contact Dermatitis 55(6):317–321

Flyvholm MA, Mygind K et al (2005) A randomised controlled intervention study on prevention of work related skin problems among gut cleaners in swine slaughterhouses. Occup Environ Med 62(9):642–649

Heese A, van Hintzenstern J et al (1991) Allergic and irritant reactions to rubber gloves in medical health services. Spectrum, diagnostic approach, and therapy. J Am Acad Dermatol 25(5 Pt 1):831–839

Held E, Mygind K et al (2002) Prevention of work related skin problems: an intervention study in wet work employees. Occup Environ Med 59(8):556–561

Jungbauer FH, Lensen GJ et al (2004a) Exposure of the hands to wet work in nurses. Contact Dermatitis 50(4):225–229

Jungbauer FH, van der Harst JJ et al (2004b) Skin protection in nursing work: promoting the use of gloves and hand alcohol. Contact Dermatitis 51(3):135–140

Jungersted JM, Hogh JK et al (2010) Skin barrier response to occlusion of healthy and irritated skin: differences in trans-epidermal water loss, erythema and stratum corneum lipids. Contact Dermatitis 63(6):313–319

Kappes UP, Goritz N et al (2001) Tandem application of sodium lauryl sulfate and n-propanol does not lead to enhancement of cumulative skin irritation. Acta Derm Venereol 81(6):403–405

Kartono F, Maibach HI (2006) Irritants in combination with a synergistic or additive effect on the skin response: an overview of tandem irritation studies. Contact Dermatitis 54(6):303–312

Kezic S, Nielsen J (2009) Absorption of chemicals through compromised skin. Int Arch Occup Environ Health 82(6):677–688

Kligman AM (2000) Hydration injury to human skin: a view from the horny layer. In: Kanerva L, Elsner P, Wahlberg JE, Maibach HI (eds) Handbook of occupational dermatology. Springer, Berlin, pp 76–80

Kralj N, Oertel C et al (2011) Duration of wet work in hairdressers. Int Arch Occup Environ Health 84(1):29–34

Lan CC, Tu HP et al (2011) Hand dermatitis among university hospital nursing staff with or without atopic eczema: assessment of risk factors. Contact Dermatitis 64(2):73–79

Lim YL, Goon A (2007) Occupational skin diseases in Singapore 2003–2004: an epidemiologic update. Contact Dermatitis 56(3):157–159

Loden M, Buraczewska I et al (2003) The irritation potential and reservoir effect of mild soaps. Contact Dermatitis 49(2):91–96

Meding B, Jarvholm B (2002) Hand eczema in Swedish adults – changes in prevalence between 1983 and 1996. J Invest Dermatol 118(4):719–723

Meding B, Wrangsjo K et al (2005) Fifteen-year follow-up of hand eczema: persistence and consequences. Br J Dermatol 152(5):975–980

Menon GK, Elias PM (1997) Morphologic basis for a pore-pathway in mammalian stratum corneum. Skin Pharmacol 10(5–6):235–246

Meyer JD, Chen Y et al (2000) Occupational contact dermatitis in the UK: a surveillance report from EPIDERM and OPRA. Occup Med (Lond) 50(4):265–273

Mirza R, Maani N et al (2006) A randomized, controlled, double-blind study of the effect of wearing coated pH 5.5 latex gloves compared with standard powder-free latex gloves on skin pH, transepidermal water loss and skin irritation. Contact Dermatitis 55(1):20–25

Nielsen J (1996) The occurrence and course of skin symptoms on the hands among female cleaners. Contact Dermatitis 34(4):284–291

Nielsen JB, Nielsen F et al (2007) Defense against dermal exposures is only skin deep: significantly increased penetration through slightly damaged skin. Arch Dermatol Res 299(9):423–431

Norlen L, Emilson A et al (1997) Stratum corneum swelling. Biophysical and computer assisted quantitative assessments. Arch Dermatol Res 289(9):506–513

Rajka G, Aly R et al (1981) The effect of short-term occlusion on the cutaneous flora in atopic dermatitis and psoriasis. Acta Derm Venereol 61(2):150–153

Ramsing DW, Agner T (1996a) Effect of glove occlusion on human skin (II). Long-term experimental exposure. Contact Dermatitis 34(4):258–262

Ramsing DW, Agner T (1996b) Effect of glove occlusion on human skin. (I). short-term experimental exposure. Contact Dermatitis 34(1):1–5

Rippke F, Schreiner V et al (2002) The acidic milieu of the horny layer: new findings on the physiology and pathophysiology of skin pH. Am J Clin Dermatol 3(4):261–272

Rippke F, Schreiner V et al (2004) Stratum corneum pH in atopic dermatitis: impact on skin barrier function and colonization with Staphylococcus aureus. Am J Clin Dermatol 5(4):217–223

Schliemann S (2007) Limitations of skin protection. Curr Probl Dermatol 34:171–177

Slotosch CM, Kampf G et al (2007) Effects of disinfectants and detergents on skin irritation. Contact Dermatitis 57(4):235–241

Thyssen JP, Johansen JD et al (2010) The epidemiology of hand eczema in the general population–prevalence and main findings. Contact Dermatitis 62(2):75–87

Uter W, Pfahlberg A et al (1999a) Hand dermatitis in a prospectively-followed cohort of hairdressing apprentices: final results of the POSH study. Prevention of occupational skin disease in hairdressers. Contact Dermatitis 41(5):280–286

Uter W, Pfahlberg A et al (1999b) Risk of hand dermatitis among hairdressers versus office workers. Scand J Work Environ Health 25(5):450–456

Van der Valk PG, Maibach HI (1989) Post-application occlusion substantially increases the irritant response of the skin to repeated short-term sodium lauryl sulfate (SLS) exposure. Contact Dermatitis 21(5):335–338

Verdier-Sevrain S, Bonte F (2007) Skin hydration: a review on its molecular mechanisms. J Cosmet Dermatol 6(2):75–82

Warner RR, Boissy YL et al (1999) Water disrupts stratum corneum lipid lamellae: damage is similar to surfactants. J Invest Dermatol 113(6):960–966

Warner RR, Stone KJ et al (2003) Hydration disrupts human stratum corneum ultrastructure. J Invest Dermatol 120(2):275–284

Warren R, Ertel KD et al (1996) The influence of hard water (calcium) and surfactants on irritant contact dermatitis. Contact Dermatitis 35(6):337–343

Weisshaar E, Radulescu M et al (2006) Educational and dermatological aspects of secondary individual prevention in healthcare workers. Contact Dermatitis 54(5):254–260

Wetzky U, Bock M et al (2009) Short- and long-term effects of single and repetitive glove occlusion on the epidermal barrier. Arch Dermatol Res 301(8):595–602

Willis I (1973) The effects of prolonged water exposure on human skin. J Invest Dermatol 60(3):166–171

Wulfhorst B, Schwanitz HJ et al (2004) Optimizing skin protection with semipermeable gloves. Dermatitis 15(4):184–191

Zhai H, Maibach HI (2002) Occlusion vs. skin barrier function. Skin Res Technol 8(1):1–6
Copyright information

© 2012 Springer-Verlag Berlin Heidelberg
About this entry
Cite this entry
Antonov, D., Schliemann, S., Elsner, P., John, SM. (2012). Wet Work and Occlusion. In: Rustemeyer, T., Elsner, P., John, SM., Maibach, H.I. (eds) Kanerva's Occupational Dermatology. Springer, Berlin, Heidelberg. https://doi.org/10.1007/978-3-642-02035-3_74
DOI: https://doi.org/10.1007/978-3-642-02035-3_74

Publisher Name: Springer, Berlin, Heidelberg

Print ISBN: 978-3-642-02034-6

Online ISBN: 978-3-642-02035-3

eBook Packages: MedicineReference Module Medicine