Abstract

Most metal-cutting operations require the use of cutting fluids, and even those operations that can be performed dry can often be carried out more efficiently by the use of cutting fluid. Cutting fluids are often referred to as metalworking fluids but can also be known as lubrication fluids, cooling emulsions or oils, and drilling fluids.
Keywords
Corrosion Inhibitor

Allergic Contact Dermatitis

Oleyl Alcohol

Irritant Contact Dermatitis

Cutting Fluid
These keywords were added by machine and not by the authors. This process is experimental and the keywords may be updated as the learning algorithm improves.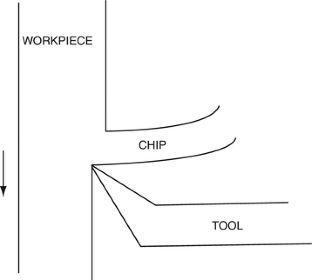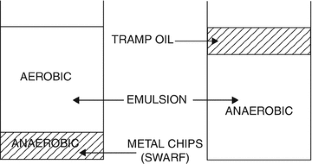 References
Adams RM (1981) P-chloro-m-xylenol in cutting fluids: two cases of allergic contact dermatitis in machinists. Contact Dermatitis 7:341–343

Alomar A, Conde-Salazar L, Romaguera C (1985) Occupational dermatoses from cutting oils. Contact Dermatitis 12:129–138

Bruze M, Hradil E, Eicksohn IL, Gruvberger B, Widstrom L (1995) Occupational allergic contact dermatitis from alkanolamine borates in metal working fluids. Contact Dermatitis 32:2424–2427

Calnan CD (1978) Chromate dermatitis from soluble oils. Contact Dermatitis 4:378

Coenraads PJ, Foo SC, Phoon WO, Lun KC (1985) Dermatitis in small scale metal industries. Contact Dermatitis 12:155–160

Crow KD, Peachey BDG, Adams JE (1978) Coolant oil dermatitis due to ethylenediamine. Contact Dermatitis 4:359–361

Dalquist I (1984) Contact allerty to cutting oil preservatives Bioban CS-1246 and P-1487. Contact Dermatitis 10:46

De Boer EM, Van Ketel WG, Bruynzeel DP (1989) Dermatoses in metal workers – (II) allergic contact dermatitis. Contact Dermatitis 20:280–286

De Boer EM, Scholten RJ, Van Ketel WG, Bruynzeel DP (1990) The irritancy of metal working fluids: a laser Doppler flowmetry study. Contact Dermatitis 22:86–94

Eachus AC, Sellck JR, Hunsucker JH (1978) Antimicrobial aspects of metal working fluids. Chem Times Trends 51:23–28

English JSC, Foulds IS, White IR, Rycroft RJG (1986) Allergic sensitization to the glycidyl ester of hexahydrophthalic acid in a cutting oil. Contact Dermatitis 15:66–68

Fisher AA (1979) Allergic contact dermatitis of the hands due to industrial oils and fluids. Cutis 13:131–134

Foulds IS, Koh D (1990) Dermatitis from metal working fluids. Clin Exp Dermatol 15:157–162

Fregert S (1979) Colophony in cutting oil and in soap water used as cutting fluid. Contact Dermatitis 5:52

Grattan CEH, Foulds IS (1989) Outcome of investigation of cutting fluid dermatitis. Contact Dermatitis 230:377–378

Grattan CEH, English JSC, Foulds IS, Rycroft RJG (1989) Cutting fluid dermatitis. Contact Dermatitis 20:372–376

Gruvbeger B, Bruze M, Zimerson E (1996) Contact allergy to the active ingredients of BIoban P1487. Contact Dermatitis 35:141–145

Hamann KJ (1980) Forcide 78 – another formaldehyde releaser in a coolant oil. Contact Dermatitis 6:446

Hjorth N (1979) N-methylol-chloracetamide a sensitizer in coolant oils and cosmetics. Contact Dermatitis 5:330–331

Holtzman GH, Rossmore HW (1977) Evaluation of the action of a formaldehyde condensate germicide. Dev Ind Microbiol 18:753–758

Huner A, Fartasch M, Hornstein OP (1994) The irritant effect of different working fluids. Contact Dermatitis 31:220–225

Inola A, Estlander T, Jolanki R, Tarvainen K, Kanerva L (1993) Occupational allergic contact dermatitis due to coconut diethanolamide (Cocamide DEA). Contact Dermatitis 29:262–265

Itschner I, Hinnen H, Elsner P (1996) Skin risk assessment of metal working fluids: a survey among Swiss suppliers. Dermatology 193:33–35

Jarvholm B, Ljungkvist G, Lavenius B (1995) Acetic aldehyde and formaldehyde in cutting fluids and their relation to irritant symptoms. Ann Occup Hyg 39:591–601

Johnson MI, Wilson HTH (1971) Oil dermatitis: an enquiry into its prognosis. Br J Ind Med 28:122–125

Keczkes K, Brown PM (1976) Hexahydro-1,3,5-tris(2-hydroxyethyl)-5-triazine, a new bacteriocidal agent as a cause of allergic contact dermatitis. Contact Dermatitis 2:92–98

Key MM, Ritter EJ, Arndt KA (1966) Cutting and grinding fluids and their effects on the skin. Am Ind Hyg ASSoc J 27:423–427

Koch P (1995) Occupational allergic contact dermatitis from oleyl alcohol and monoethanolamine in a metal working fluid. Contact Dermatitis 33:273

Lama L, Vanni D, Barone M, Patrone P, Antonelli C (1986) Occupational dermatitis to chloroacetamide. Contact Dermatitis 15:243

Matos J, Mariano A, Goncalo S, Freitas JD, Olivera J (1988) Occupational dermatitis from colophony. Contact Dermatitis 18:53–54

Meding B (1996) Occupational contact dermatitis from tertiary butyl hydroquinone (TBHQ) in a cutting fluid. Contact Dermatitis 34:224

Mirabelli MC, Zock JP, Bircher AJ, Jarvis D, Keidel KH, Norback D, Olivieri M, Plana E, Radon K, Schindler C, Schmid-Gredelmeier P, Toren K, Villani S, Kogevinas M (2009) Metalworking exposures and persistent skin symptoms in the ECRHS II and SAPALDIA 2 cohorts. Contact Dermatitis 60:256–263

Niklasson B, Bjorkner B, Sunbert K (1993) Contact allergy to a fatty acid ester component of cutting fluids. Contact Dermatitis 28:265–267

Pilger C, Nethercott JR, Weksberg F (1986) Allergic contact dermatitis to 5-chloro-2-methyl-4-isothiazolin-3-one. Contact Dermatitis 14:201–204

Pryce DW, Irvine D, English JSC, Rycroft RJG (1989) What happens to patients with soluble oil dermatitis? Br J Dermatol 21:28–35

Robertson MH, Storrs FJ (1982) Allergic contact dermatitis in two machinists. Arch Dermatol 118:997–1002

Rossmoore HW (1981) Antimicrobial agents for water based metal working fluids. Occup Med 23:247–251

Rycroft RJG (1978) Is Grotan BK a contact sensitiser? Br J Dermatol 99:346–348

Rycroft RJG (1979) Bacteria and soluble oil dermatitis. Contact Dermatitis 6:7–9

Rycroft RJG (1980a) Allergic contact dermatitis from dipentine in honing oil. Contact Dermatitis 6:325–329

Rycroft RJG (1980b) Allergic contact sensitization to Epoxide 7 in grinding oil. Contact Dermatitis 6:316–320

Rycroft RJG (1981) Soluble oil dermatitis. Clin Exp Dermatol 6:229–234

Scerri L, Dalziel KL (1996) Occupational contact sensitization to the stabilized chlorinated paraffin fraction in neat cutting oil. Am J Contact Dermat 7:35–37

Sprince NL, Palmer JA, Popendorf W, Thorne PS, Selim MI, Zwerling C, Miller ER (1996) Dermatitis among automobile production machine operators exposed to metal-working fluids. Am J Ind Med 30:421–429

Wigger-Alberti W, Hinnen U, Elsner P (1997) Predictive testing of metal working fluids: a comparison of two cumulative human irritation models and correlation to epidemiological data. Contact Dermatitis 36:14–20

Zugerman C (1986) Cutting fluids, their use and effects on the skin. Occup Med 1:245–258
Copyright information

© 2012 Springer-Verlag Berlin Heidelberg
About this entry
Cite this entry
Foulds, I.S. (2012). Cutting Fluids. In: Rustemeyer, T., Elsner, P., John, SM., Maibach, H.I. (eds) Kanerva's Occupational Dermatology. Springer, Berlin, Heidelberg. https://doi.org/10.1007/978-3-642-02035-3_64
DOI: https://doi.org/10.1007/978-3-642-02035-3_64

Publisher Name: Springer, Berlin, Heidelberg

Print ISBN: 978-3-642-02034-6

Online ISBN: 978-3-642-02035-3

eBook Packages: MedicineReference Module Medicine