Abstract
The miospore record suggests that land plants, also called embryophytes, first colonized the continental biotas during Early Ordovician times, some 480–470 million years ago. Unambiguously macrofossil evidence of plants is of mid-Silurian age, about 430 million years ago. Plants then rapidly evolved and diversified. As soon as in Late Silurian/earliest Devonian times, the number of genera dramatically increased. Most of our knowledge on those earliest land plants comes from the current Northern Hemisphere (China, Europe, USA), where paleobotanical investigations began during the nineteenth century. The early land plant record of the Southern Hemisphere has been less investigated. Recently, Brazil has become an exception. The extensive Early Devonian flora from the Paraná Basin is being today actively studied. It is exceptionally rich and various and includes some of the largest specimens of early land plants known to date. In this chapter, we put a special emphasis on this exceptional flora and describe and illustrate several exceptionally large or rare specimens of embryophytes. The paleogeographical implications of the Early Devonian taphofloras from the Paraná Basin are discussed.
Philippe Gerrienne: deceased.
To Philippe Gerrienne, You were my friend and my colleague, and you were also the friend of a lot of people. You were one of the most brilliant palaeobotanists of the Devonian. Worldly recognized and respected by all of your colleagues. Our discipline has lost a famous scientist, and more importantly, we have lost a man of heart. Philippe passed away on June 29th 2019 – Philippe Steemans.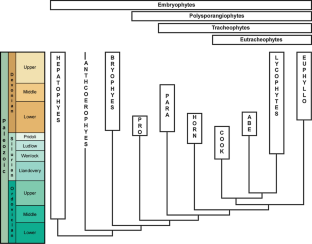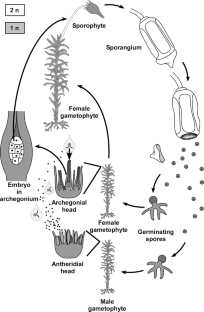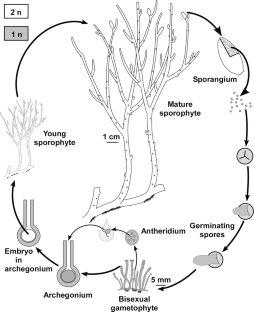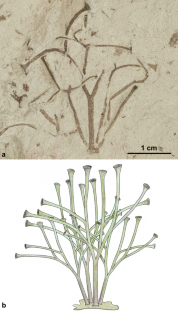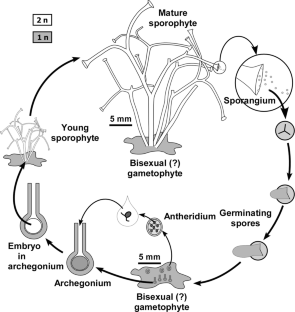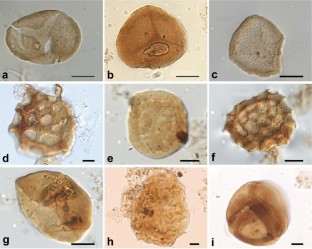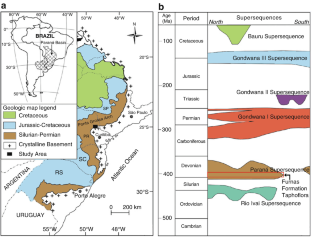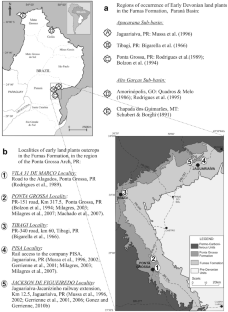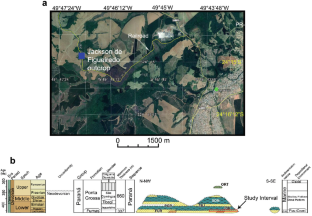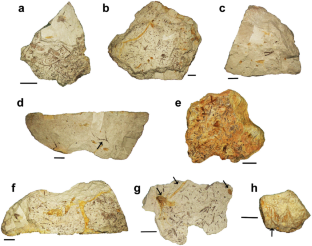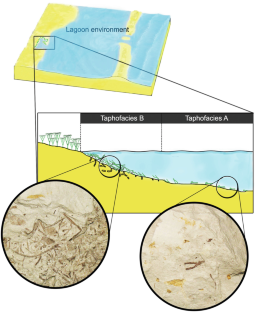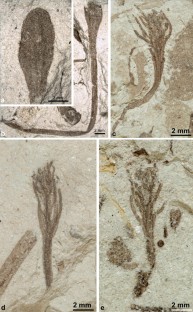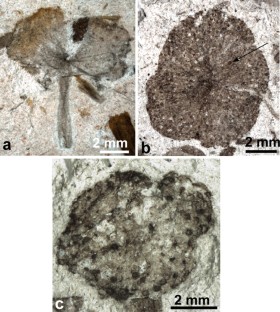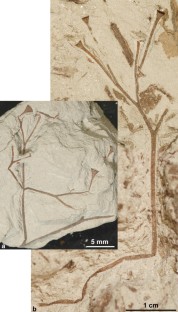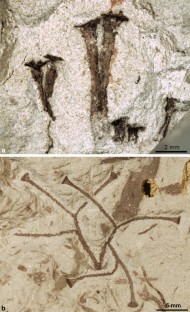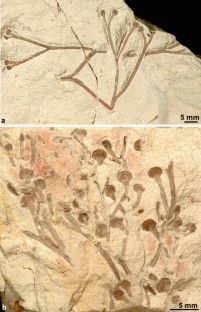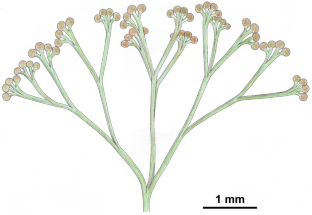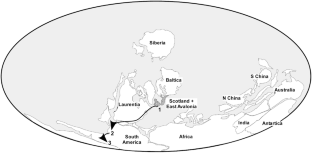 References
Assine ML (1996) Aspectos da estratigrafia das sequências pré-carboníferas da Bacia do Paraná no Brasil. IG-USP, Universidade de São Paulo, Tese de Doutorado

Balme BE (1995) Fossil in situ spores and pollen grains: an annotated catalogue. Rev Palaeobot Palynol 87:81–323

Banks HP (1968) The early history of land plants. In: Drake E (ed) Evolution and environment. Yale University Press, New Haven/London

Banks HP (1975) Reclassification of Psilophyta. Taxon 24:401–413

Banks HP (1992) The classification of early land plants – revisited. Palaeobotanist 41:36–50

Bergamaschi S (1992) Análise sedimentológica da Formação Furnas na faixa de afloramentos do flanco norte do arco estrutural de Ponta Grossa, Bacia do Paraná, Brasil. Unpubl. Master Thesis. Universidade Federal do Rio de Janeiro

Bigarella JJ, Marques Filho PL, Salamuni R (1966) Estruturas e texturas da Formação Furnas e sua significação paleogeográfica. Bol Univ Fed Paraná 18:114

Bolzon RT, Assine ML, Guerra-Sommer M (1994) Ocorrência de Cooksonia Lang, 1937 na Formação Furnas, Estado do Paraná. In: Reunião de Paleobotânicos e Palinólogos, 8, São Paulo, 1994. Resumo das Comunicações, São Paulo, USP, p 11

Boucot AJ (1999) Southern African phanerozoic marine invertebrades: biogeography, paleoecology, climatology and comments on adjacent regions. J Afr Earth Sci 28:129–143

Boureau E (1967) Masson et Cie (eds) Traité de Paléobotanique, Tome II: Bryophyta, Psilophyta, Lycophyta, Paris

Breuer P, Steemans P (2013) Devonian spore assemblages from northwestern Gondwana: taxonomy and biostratigraphy. Spec Pap Palaeontol 89:1–163

Buatois L, Mángano MG (2011) Ichnology: organism-substrate interactions in space and time. Cambridge University Press, Cambridge

Cascales-Miñana B, Steemans P, Servais T et al (2019) An alternative model for the earliest evolution of vascular plants. Lethaia. https://doi.org/10.1111/let.12323

Dalziel IWD, Dalla Salda LH, Gahagan LM (1994) Paleozoic Laurentia-Gondwana interaction and the origin of the andean-appalachian mountains system. Geol Soc Am Bull 106:243–252

Dawson JW (1859) On fossil plants from the Devonian rocks of Canada. Quart J Geol Soc 15:477–488

Dawson JW (1871) The fossil plants of the Devonian and upper Silurian formations of Canada. Geol Surv Can 1:1–92

Dino R, Rodrigues MAC (1995) Palinomorfos Eodevonianos da Formação Furnas – Bacia do Paraná. Na Acad Brás Ci 67(1):107–116

Edwards D, Edwards DS (1986) A reconsideration of the Rhyniophytina Banks. In: Spicer RA, Thomas BA (eds) Systematic and taxonomic approaches in palaeobotany. Clarendon Press, Oxford

Edwards D, Feehan J (1980) Records of Cooksonia-type sporangia from late Wenlock strata in Ireland. Nature 287:41–42

Edwards D, Richardson JB (1996) Chapter 14A – review of in situ spores in early land plants. In: Jansonius J, McGregor DC (eds) Palynology: principles and applications. American Association of Stratigraphic Palynologists Foundation, Salt Lake City

Edwards D, Richardson JB (2004) Silurian and lower Devonian plant assemblages from the Anglo-Welsh Basin: a palaeobotanical and palynological synthesis. Geol Mag 39:375–402

Edwards D, Davies KL, Axe L (1992) A vascular conducting strand in the early land plant Cooksonia. Nature 357:683–685

Edwards D, Wellman CH, Axe L (1999) Tetrads in sporangia and spore masses from the upper Silurian and lower Devonian of the welsh borderland. Bot J Linn Soc 130(2):111–156

Edwards D, Morel EM, Paredes F et al (2001) Plant assemblages from the Silurian of southern Bolivia and their Paleogeographic significance. Bot J Linn Soc 135:229–250

Fairon-Demaret M (1986) Stockmansella, a new name for Stockmansia. Taxon 35:334

Fanning U, Richardson JB, Edwards D (1988) Cryptic evolution in an early land plant. Evol Trend Plant 2(1):13–24

Gastaldo RA, Pfefferkorn HW, DiMichele WA (1995) Taphonomic and sedimentologic characterization of roof-shale floras. Geol Soc Am Mem 185:341–351

Gerrienne P, Bergamaschi S, Pereira E et al (2001) An early Devonian flora, including Cooksonia, from the Paraná Basin (Brazil). Rev Palaeobot Palynol 116:19–38

Gerrienne P, Gonez P (2011) Early evolution of life cycles in embryophytes: A focus on the fossil evidence of gametophyte/sporophyte size and morphological complexity. J Syst Evol 49:1–16

Gerrienne P, Milagres IM, Bergamaschi S (2002) Quelques specimens exceptionnels de premieres plantes terrestres decouvertes au Brésil (Bassin du Paraná, Devonien basal). Geo Eco Trop 25:65–74

Gerrienne P, Dilcher D, Bergamaschi S et al (2006) An exceptional specimen of the early land plant Cooksonia paranensis, and a hypothesis on the life cycle of the earliest eutracheophytes. Rev Palaeobot Palynol 142(3–4):123–130

Gonez P, Gerrienne P (2010a) A new definition and a lectotypification of the genus Cooksonia Lang 1937. Int J Plant Sci 171(2):199–215

Gonez P, Gerrienne P (2010b) Aberlemnia caledonica gen. Et comb. nov., a new name for Cooksonia caledonica Edwards 1970. Rev Palaeobot Palynol 163:64–72

Grahn Y, Melo JHG (2003)+ Silurian – Devonian chitinozoan biostratigraphy along the Urubu, Uatumã and Abacate rivers in the western part of the Amazonas Basin, northern Brazil Bull Geosc 78:373–391

Grahn Y, Loboziak S, Melo JHG (2003) Integrated correlation of late Silurian (Pridoli s.l.) – Devonian chitinozoans and miospores in the Solimões Basin, northern Brazil. Acta Geol Pol 53:283–300

Grahn Y, Breuer P, Bosetti EP et al (2010a) The Furnas/Ponta Grossa contact and the age of the lowermost Ponta Grossa formation in the Apucarana sub-basin (Paraná Basin, Brazil): integrated palynological age determination. Rev Bras Paleontol 13:89–102

Grahn Y, Mendlowicz Mauller P, Pereira E, Loboziak S (2010b) Palynostratigraphy of the Chapada group and its significance in the Devonian stratigraphy of the Paraná Basin, South Brazil. J S Am Earth Sci 29:354–370

Gray J, Chaloner W, Westoll T (1985) The microfossil record of early land plants: advances in understanding of early terrestrialization, 1970–1984 [and discussion]. Phil Trans R Soc Lond B Biol Sci 309(1138):167–195

Greenwood DR (1991) The taphonomy of plant macrofossils. In: Donovan SK (ed) The processes of fossilization. Belhaven Press, London

Hass H, Remy W (1991) Huvenia kleui nov. gen., nov. spec. ein Vertreter der Rhyniaceae aus dem höheren Siegen des Rheinischen Schiefergebirges. Argum Palaeobot 8:141–168

Høeg OA (1930) A psilophyte in South Africa. Kong Norske Vidensk Selsk 3:92–94

Høeg OA (1967) Psilophyta. In: Boureau E (ed) Traité de Paléobotanique, vol II. Masson et Cie, Paris

Holz M, Simões MG (2002) Elementos Fundamentais de Tafonomia. Editora Universidade/UFRGS, Porto Alegre

Kenrick P, Crane PR (1991) Water-conducting cells in early fossil land plants: implications for the early evolution of Tracheophytes. Bot Gaz 152:335–336

Kenrick P, Crane PR (1997a) The origin and early diversification of land plants. A cladistic study, Smithsonian Institution press, Washington/London

Kenrick P, Crane PR (1997b) The origin and early evolution of plants on land. Nature 389:33–39

Kenrick P, Remy W, Crane PR (1991) The structure of water-conducting cells in the enigmatic early land plants Stockmansella langii Fairon-Demaret, Huvenia kleui Hass et Remy and Sciadophyton sp. Remy et al 1980. Argum Palaeobot 8:179–191

Kerp H, Trewin NH, Hass H (2004) Rhynie Chert gametophytes. Trans R Soc Edinb Earth Sci 94:411–428

Kidston R, Lang WH (1917) On Old Red Sandstone plants showing structure, from the Rhynie Chert Bed, Aberdeenshire Part I Rhynia gwynne-vaughani Kidston. Lang Trans R Soc Edinb Earth Sci 51:761–784

Kidston R, Lang WH (1920a) On Old Red Sandstone plants showing structure, from the Rhynie Chert Bed, Aberdeenshire Part II Additional notes on Rhynia gwynne-vaughani, Kidston and Lang; with descriptions of Rhynia major, n sp, and Hornea lignieri, n g, n sp Trans R Soc Edinb Earth Sci 52:603–627

Kidston R, Lang WH, (1920b) On old red sandstone plants showing structure, from the Rhynie Chert Bed, Aberdeenshire Part III Asteroxylon mackiei, Kidston and Lang Trans R Soc Edinb Earth Sci 52:643–680

Kidston R, Lang WH (1921) On Old Red Sandstone plants showing structure, from the Rhynie Chert bed, Aberdeenshire Part IV Restorations of the vascular cryptogams, and discussion of their bearing on the general morphology of the Pteridophyta and the origin of the organisation of land plants. Trans R Soc Edinb Earth Sci 52:831–854

Kidwell SM, Fürsich FT, Aigner T (1986) Conceptual frameworks for the analysis and classification of fossil concentrations. PALAIOS 1:228–238

Kotyk M, Basinger JF, Gensel PG, De Freitas TA (2002) Morphologically complex plant macrofossils from the late Silurian of Arctic Canada. Am J Bot 89:1004–1013

Kraft P, Pšenička J, Sakala J, Frýda J (2019) Initial plant diversification and dispersal event in upper Silurian of the Prague Basin. Palaeogeogr Palaeoclimatol Palaeoecol 514:144–155

Kräusel R (1938) Psilophytinae. In: Verdoorn F (ed) Manual of pteridology. Martinus Nijhoff, The Hague

Kräusel R, Weyland H (1930) Die Flora des Deutschen Unterdevons. Abh Preuss Geol Landesmuseum NF 131:5–90

Lang WH (1937) On the plant-remains from the Dowtonian of England and Wales. Philos Trans R Soc Lond B 227:245–291

Libertín M, Kvaček J, Bek J et al (2018) Sporophytes of polysporangiate land plants from the early Silurian period may have been photosynthetically autonomous. Nat Plants 4(5):269–271

Martins GPO, Rodrigues-Francisco VMC, Rodrigues MAC et al (2018) Are early plants significant as paleogeographic indicators of past coastlines? Insights from the taphonomy and sedimentology of a Devonian taphoflora of Paraná Basin, Brazil. Palaeogeogr Palaeoclimatol Palaeoecol 505:234–242

Matsumura WMK, Iannuzzi R (2019) Plant diversification through the middle Devonian in Brazil. This volume

Matsumura WMK, Iannuzzi R, Bosetti EP (2014) Histórico e evolução do conhecimento sobre a paleoflora do Devoniano na Bacia do Paraná. Terra Plural 7:25–42

McManus HA, Qiu Y-L (2008) Life cycles in major lineages of photosynthetic eukaryotes, with a special reference to the origin of land plants. Fieldiana Botany 47:17–33

Mendlowicz Mauller P, Machado Cardoso TR, Pereira E et al (2007) Palynostratigraphic results on the Devonian of the Alto Garças Sub-basin (Paraná Basin – Brazil). In: Carvalho I de S, Cassab RCT, Schwank C, et al. (eds) Paleontologia: Cenários de Vida, Vol. 2. Editora Interciência Ltda, Rio de Janeiro

Milagres IM (2003) Caracterização das tafofloras de plantas vasculares primitivas registradas na região do Arco de Ponta Grossa (Bacia do Paraná, Brasil) e na região de Tarija (Subandino da Bolívia) e suas implicações paleogeográficas. MsD thesis, Universidade do Estado do Rio de Janeiro

Milagres I, Pereira E, Bergamaschi S et al (2007) O registro da tafoflora devoniana observada no arco de Ponta Grossa, Bacia do Paraná, e suas implicações paleogeográficas. In: Carvalho I de S, Cassab RCT, Schwank C et al (eds) Paleontologia – Cenários de Vida. Interciência Ltda, Rio de Janeiro

Milagres IM, Pereira E, Bergamaschi S et al (2018) Early Devonian taphoflora record in Ponta Grossa arch, Paraná Basin (southern Brazil) and its palaeogeographic implications. J Sedim Environ 3(2):93–107

Milani EJ (1997) Evolução tectono-estratigráfica da Bacia do Paraná e seu relacionamento com a geodinâminca fanerozóica de Gondwana sul-ocidental. Unpubl. Doctoral Thesis. Universidade Federal do Rio Grande do Sul

Milani EJ, Melo JHG, Souza PA et al (2007) Bacia do Paraná. Boletim Geociências Petrobrás 15:265–287

Mizusaki AM, Melo JHG, Vignol-Lelarge ML et al (2002) Vila Maria formation (Silurian, Paraná Basin, Brazil): integrated radiometric and palynological age determinations. Geol Mag 139:453–463

Morel E, Edwards D, Rodriguez MI (1995) The first record of Cooksonia from South America in Silurian rocks from Bolivia. Geol Mag 132:449–452

Morris JL, Edwards D, Richardson JB et al (2012) Further insights into trilete spore producers from the early Devonian (Lochkovian) of the welsh borderland, U.K. Rev Palaeobot Palynol 185:35–63

Mussa D, Borghi L (1993) A Presença do Gênero Horneophyton Barghoorn & Darrah na Formação Furnas, Bacia do Paraná. An Acad Bras Cienc 65(2):214–215

Mussa D, Borghi L, Bergamaschi S et al (1996) Estudo preliminar da tafoflora da Formação Furnas, Bacia do Paraná, Brasil. An Acad Bras Cienc 68(1):65–89

Mussa D, Borghi L, Bergamaschi S et al (2002) New taxa from the Furnas formation, Paraná Basin, Brazil – an approach and revalidation of names. Bradea 8(45):303–309

Niklas KJ, Kutschera U (2009a) The evolutionary development of plant body plans. Funct Plant Biol 36:682–695

Niklas KJ, Kutschera U (2009b) The evolution of the land plant life cycle. New Phytol 185:27–41

Oliveira EP (1912) O terreno devoniano do sul do Brasil. Annaes da Escola de Minas de Ouro Preto 14:31–41

Parry SF, Noble SR, Crowley QG et al (2011) A high-precision U–Pb age constraint on the Rhynie Chert Konservat-Lagerstätte: time scale and other implications. J Geol Soc 168:863–872

Pereira E, Carneiro CDR, Bergamaschi S et al (2012) Evolução das sinéclises Paleozoicas: Províncias Solimões, Amazonas, Parnaíba e Paraná. In: Hasui Y et al (eds) Geologia do Brasil. São Paulo, Beca

Petri S (1948) Contribuição ao Estudo do Devoniano Paranáense. DNPM Bol Divis Geol Mineral 129:125

Pratt LM, Phillips TL, Dennison JM (1978) Evidence of non-vascular land plants from the early Silurian (Llandoverian) of Virginia. USA Rev Palaeobot Palynol 25(2):121–149

Pryer KM, Schneider H, Smith AR et al (2001) Horsetails and ferns are a monophyletic group and the closest living relatives to seed plants. Nature 409(6820):618–622

Quadros LP, Melo JHG (1986) Ocorrência de Restos Vegetais em Sedimentos Continentais do Paleozóico Médio do Estado de Goiás. An Acad Bras Cienc 58(4):611

Remy W, Remy R (1980a) Devonian gametophytes with anatomically preserved gametangia. Science 208:295–296

Remy W, Remy R (1980b) Lyonophyton rhyniensis n. gen. et nov. spec., ein Gametophyt aus dem Chert von Rhynie (Unterdevon, Schottland). Argum Palaeobot 6:37–72

Remy W, Remy R, Haas H et al (1980) Sciadophyton Steinmann – ein Gametophyt aus dem Siegen. Argum Palaeobot 6:73–94

Remy W, Gensel PG, Hass H (1993) The gametophyte generation of some early Devonian plants. Int J Plant Sci 154:35–58

Richter M, Bosetti EP, Horodyski R (2017) Early Devonian (late Emsian) shark fin remains (Chondrichthyes) from the Paraná Basin, southern Brazil. An Acad Bras Cienc 89:103–118

Rodrigues MAC, Pereira E, Bergamaschi S (1989) Ocorrência de Psilophytales na Formação Furnas, borda leste da Bacia do Paraná. Boletim IG-USP Publicação Especial 7:35–43

Rubinstein CV, Melo JHG, Steemans P (2005) Lochkovian (earliest Devonian) miospores from the Solimões Basin, northern Brazil. Rev Palaeobot Palynol 133:91–113

Rubinstein CV, Gerrienne P, de la Puente GS et al (2010) Early middle Ordovician evidence for land plants in Argentina (eastern Gondwana). New Phytol 188(2):365–369

Salamon MA, Gerrienne P, Steemans P et al (2018) Putative late Ordovician land plants. New Phytol 218:1305–1309

Schubert G, Borghi L (1991a) Sobre a Ocorrência Inédita de uma Tafoflora Devoniana na Região de Chapada dos Guimarães (Bacia do Paraná – MT). Ana Acad Bras Ciênc 63(1):95–96

Schubert G, Borghi L (1991b) Sobre a ocorrência inédita de uma tafoflora devoniana na região da Chapada dos Guimarães (Bacia do Paraná, MT). An Acad Bras de Ciên 63(1):96–97

Scotese CR (2000) Paleomap Project (2000). http://wwwscotesecom/pzanimhtm. Accessed 27 Mar 2018

Sedorko D, Netto RG, Savrdab CE et al (2017) Chronostratigraphy and environment of Furnas formation by trace fossil analysis: calibrating the lower Paleozoic Gondwana realm in the Paraná Basin (Brazil). Palaeogeogr Palaeoclimatol Palaeoecol 487:307–320

Steemans P (1989) Palynostratigraphie de l'Eodevonien dans l'Ouest de l'Europe. Service Géoologique de Belgique. Mémoires pour servir à l'explication des cartes géologiques de Belgique 27:453

Steemans P (2000) Miospore evolution from the Ordovician to the Silurian. Rev Palaeobot Palynol 113:189–196

Steemans P, Rubinstein C, Melo JHG (2008) Siluro-Devonian miospore biostratigraphy of the Urubu River area, western Amazon Basin, northern Brazil. Geobios 41(2):263–282

Steinmann G, Elberskirch W (1929) Neue bemerkenswerte Funde im ältesten Unterdevon des Wahnbachtales bei Siegburg. Sb Naturh Ver Preuss Rheinlde C 21-22:1–74

Streel M, Higgs K, Loboziak S et al (1987) Spore stratigraphy and correlation with faunas and floras in the type marine Devonian of the Ardenne-Renish regions. Rev Palaeobot Palynol 50:211–229

Strother P, Al-Hajri S, Traverse A (1996) New evidence for land plants from the lower middle Ordovician of Saudi Arabia. Geology 24:55–58

Taylor TN, Kerp H, Haas H (2005) Life history biology of early land plants: deciphering the gametophyte phase. Proc Natl Acad Sci-Biol 102:5892–5897

Torsvik TH, Cocks LRM (2011) The Palaeozoic palaeogeography of Central Gondwana. In: Van Hinsbergen DJJ, Buiter SJH et al. (eds) The formation and evolution of Africa: a synopsis of 3.8 Ga of earth history. Geological Society, London, Special Publications, vol 357, pp 137–166

Wang Y, Fu Q, Xu HH et al (2007) A new plant with complex branching from late Silurian in Xinjiang. China Alcheringa 31:111–120

Wellman CH (2009) Ultrastructure of dispersed and in situ specimens of the Devonian spore Rhabdosporites langii: evidence for the evolutionary relationships of progymnosperms. Palaeontology 52(1):139–167

Wellman CH, Gray J (2000) The microfossil record of early land plants. Philos Trans R Soc B 355:717–732

Wellman CH, Osterloff PL, Mohiuddin U (2003) Fragments of the earliest land plants. Nature 425(6955):282–285

Wellman CH, Steemans P, Vecoli M (2014) Chapter 29 Palaeophytogeography of Ordovician-Silurian land plants. Geol Soc Lond Mem 38:461–476

Xue J, Wang Q, Wang D et al (2015) New observations of the early land plant Eocooksonia Doweld from the Pridoli (upper Silurian) of Xinjiang, China. J Asian Earth Sci 101:30–38
Copyright information
© 2020 Springer Nature Switzerland AG
About this entry
Cite this entry
Gerrienne, P. et al. (2020). Earliest Evidence of Land Plants in Brazil. In: Iannuzzi, R., Rößler, R., Kunzmann, L. (eds) Brazilian Paleofloras. Springer, Cham. https://doi.org/10.1007/978-3-319-90913-4_2-1
DOI: https://doi.org/10.1007/978-3-319-90913-4_2-1

Received:

Accepted:

Published:

Publisher Name: Springer, Cham

Print ISBN: 978-3-319-90913-4

Online ISBN: 978-3-319-90913-4

eBook Packages: Springer Reference Biomedicine & Life SciencesReference Module Biomedical and Life Sciences