Sleep Medicine and Sleep Disorders in Saudi Arabia and the Arab World
Living reference work entry
Abstract
Sleep disorders are prevalent in the Saudi population, and the demand for sleep medicine services is expected to increase significantly. The prevalence of various sleep disorders in the Kingdom of Saudi Arabia (KSA) is comparable to that in Western countries. The practice of sleep medicine in the KSA began in the mid to late 1990s and continued to expand since. Clear guidelines for accrediting sleep medicine specialists and technologists were developed recently. Nevertheless, there remain numerous challenges to the progress of this specialty, including the lack of trained technicians, specialists, and funding. To meet these challenges, two training programs that provide structured training and certification in sleep medicine have been established. Additionally, special training programs and courses are organized for sleep technologists. In this chapter, we address the current structure of sleep medicine practice in the KSA and the Arab world, the prevalence of sleep disorders, and the strategies needed to overcome the current challenges that hamper the progress of sleep medicine as a specialty in the country.
Keywords
Barriers 
Developing countries 
Education 
Polysomnography 
Saudi Arabia 
Sleep medicine 
Arab 
Introduction
Interest in sleep and sleep disorders has existed in all cultures since the beginning of humankind. For Arabs and Muslims, sleep has a unique value as it is frequently mentioned in the Holy Qu'ran, including a verse that says, "And among His signs is your sleep by night and by day" (Sūrah 30, Ar-rūm, verse 23) (BaHammam and Gozal 2012). Additionally, Muslim scholars developed an interest in sleep as a sign of the greatness of the Creator and explored sleep and dreams in their writings. They had significant contributions to the understanding of sleep and dreams during the Middle (medieval) Ages (BaHammam et al. 2018). Nevertheless, sleep medicine as a modern medical specialty is new in the Kingdom of Saudi Arabia (KSA) and Arab countries.
The development of sleep medicine is sufficient to place it as an independent specialty (BaHammam 2011). In the early and mid-1990s, pulmonologists in the KSA used overnight pulse oximetry to diagnose obstructive sleep apnea (OSA) and titrated continuous positive airway pressure (CPAP) therapy blindly to comfort patients and eliminate repetitive dips in oxygen saturation (Al-Mobeireek et al. 2000). Additionally, in the 1990s, the lack of designated sleep disorders clinics in hospitals led to patients with sleep disorders occupying hospital beds that could otherwise have been used to treat acutely ill patients needing inpatient care (BaHammam and Rahman 2000). In 1998, BaHammam and Rahman demonstrated that in the absence of proper sleep disorders treatment facilities, the average hospital stays for patients with OSA needing CPAP titration were 4.5 nights at a cost of ~ SR 6750 (~$2000 USD) per patient (BaHammam and Rahman 2000). Recent awareness of sleep medicine as a medical specialty in the KSA has led to the opening of several sleep disorders centers in different regions of the country; however, the services still face many challenges.
Sleep Medicine Education
Sleep medicine clinics need qualified sleep medicine specialists and sleep technologists. The number of sleep medicine specialists and technologists does not currently meet the increasing demand for this service (BaHammam and Aljafen 2007). Two academic centers in the KSA have recognized this shortage of sleep specialists in the KSA and have put into place sleep medicine fellowship programs. The King Saud University (KSU) in Riyadh took an important step by developing the first structured fellowship program in sleep medicine in 2009. This program focuses on the clinical sciences of sleep medicine, the research skills needed for sleep medicine, and the management of sleep disorders centers (University Sleep Disorders Center 2009). The program is a 2-year fellowship program, where the first year includes combined pulmonary medicine and sleep medicine training, while the second year focuses on sleep medicine training (Almeneessier and BaHammam 2017). A recent diploma program in sleep medicine was introduced in 2016 at the King Abdulaziz University (KAU) in Jeddah, with ongoing plans to establish a national interdisciplinary training program to serve the entire country under the umbrella of the Saudi Commission for Health Specialties (a Saudi Board of Sleep Medicine).
Two national surveys revealed that a "lack of trained sleep technologists" was one of the main obstacles facing the establishment of sleep medicine service in the country (BaHammam and Aljafen 2007; BaHammam et al. 2014a). To overcome this problem, intensive courses and workshops are organized to train more sleep technologists. These 3- and 6-month structured training programs for sleep technologists are held at KSU and KAU (Almeneessier and BaHammam 2017).
National Accreditation of Sleep Medicine Specialty
Sleep medicine was not accredited as a specialty in the KSA until 2012, when the Saudi Commission for Health Specialties published clear guidelines for accrediting sleep medicine specialists and technologists (BaHammam et al. 2013c; Montserrat et al. 2015; Gozal 2013). This step allowed for guidelines for expected competencies in practicing sleep medicine and for sleep technologists. The licensing of sleep medicine practitioners and technicians implies that the local health authorities recognize sleep medicine as a distinct medical specialty. The recognition of sleep medicine as a distinct specialty will enhance the growth of sleep medicine as a medical specialty while maintaining a high standard of care.
Major Challenges Facing Sleep Medicine in KSA
Several challenges continue to face sleep medicine and its practitioners in the KSA, as illustrated in Fig.
1
which summarizes the data from two national surveys (BaHammam and Aljafen
2007
; BaHammam et al.
2014a
). These obstacles are summarized below:
1.

Shortage of qualified doctors and trained sleep technologists

The number of trained and accredited sleep medicine specialists in the country continues to be relatively low (n = 37) (BaHammam et al. 2014a). The shortage of trained sleep technologists is the primary obstacle facing sleep medicine service in the KSA (BaHammam and Aljafen 2007; BaHammam et al. 2014a). More than 80% of hospitals surveyed confirmed that a lack of trained sleep technologists was the main barrier to the establishment of a sleep disorders center (BaHammam and Aljafen 2007; BaHammam et al. 2014a).

 

2.

Knowledge and awareness of healthcare workers about sleep disorders

In general, sleep medicine is not included in the curricula of medical schools in the KSA (Almohaya et al. 2013), as also reported in Egypt (Zaki et al. 2016). Similarly, postgraduate medical doctors do not receive adequate structured education on sleep disorders during their residency training (BaHammam 2011). Likewise, practicing general physicians have limited knowledge about sleep disorders. Several studies report that the practicing physicians' knowledge on sleep disorders is limited (Alotair and BaHammam 2008; Saleem et al. 2017; BaHammam 2000; BaHammam 2004b, c). Collectively, this lack of education on sleep medicine and its disorders causes physicians to have limited knowledge about sleep disorders and so possibly leading to under-recognition of sleep disorders and delays the diagnosis.

 

3.

Insurance and costs for diagnosis and therapy

Sleep medicine does not appear to be a priority or core competency specialty by some decision-makers. A recent Saudi national survey revealed that "unconvinced administration" was one of the major obstacles facing the establishment of sleep disorder facilities in about 50% of the hospitals in the Kingdom (Fig. 1) (BaHammam et al. 2014a). A major barrier to the development of sleep medicine practice in the private sector is that most insurance companies do not cover the cost of sleep studies for patients with non-respiratory sleep disorders (such as narcolepsy) or for treatment with CPAP or mandibular advancement devices. However, some government-owned hospitals provide patients with sleep-related breathing disorders with positive airway pressure devices free of charge.

 

4.

Lack of freestanding/outpatient sleep laboratories

All sleep facilities in the KSA are hospital based. There are no efforts or regulations to support outpatient/freestanding sleep laboratories and clinics. In the USA, independent/stand-alone sleep laboratories represent 40–50% of sleep laboratory business (ResMed 2015).

 

5.

Technical support and after-sales service

As in most developing countries, an important limitation faced by sleep medicine practitioners in the KSA and Arab countries in general is the lack of technical support of diagnostic equipment, after-sales service, and education of the end users (Gitanjali 1998).

 

6.

Lack of medications

It is difficult to obtain commonly used controlled medications to treat insomnia and narcolepsy (e.g., modafinil, eszopiclone) because the manufacturers of these medications do not have a distributor network in the KSA and many Arab countries. Hence, these medications are obtained through a special request through the hospital, and as a result, patients with sleep disorders could experience long periods without treatment because of drug unavailability.

 

7.

Research

Although the last three decades have witnessed significant growth and evolution in sleep research worldwide, sleep research remains underdeveloped in Arab countries, which mirrors the underdevelopment in the clinical service overall. Regionally, the KSA was ranked fourth after Turkey, Israel, and Iran in sleep medicine publications (Robert et al. 2007). It is obvious that more sleep research is needed, particularly research that addresses the prevalence of different sleep disorders in the KSA and other Arab countries. Such research will educate healthcare providers and decision-makers to the size of the problem and help strategic health planners to estimate the number of sleep specialists and sleep facilities needed to meet the increasing demand. Academic centers should develop postgraduate research programs for clinical and basic sleep research. Collaboration among local centers and development of a national or regional registry for sleep disorders and affiliations with internationally renowned research centers will reflect positively on the volume and quality of published work.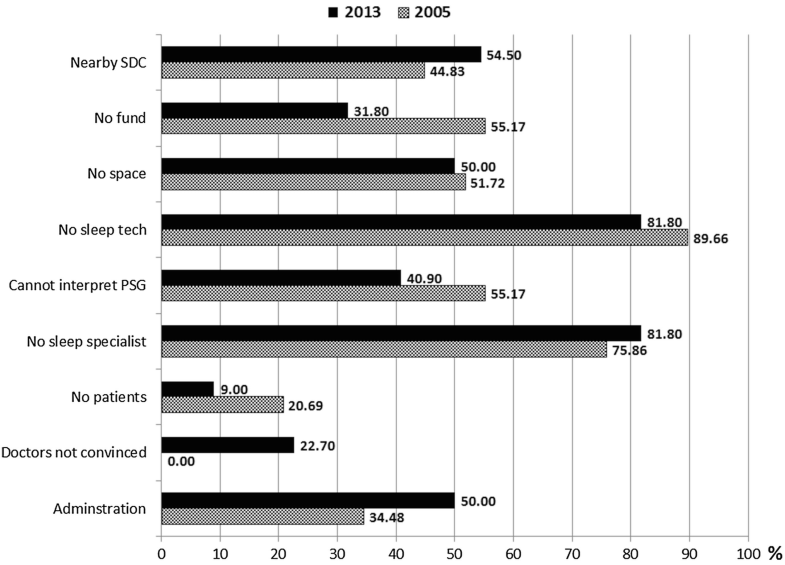 Conclusion/Summary
Sleep medicine practice and training is rapidly developing in Saudi Arabia and other Arab countries. However, several obstacles exist that hamper its progress, including a lack of adequate specialized medical and technical staff as well as a lack of awareness about sleep disorders and their consequences among healthcare workers, healthcare authorities, and insurance companies.
A major challenge for the future is educating students and physicians about the high prevalence and serious consequences of sleep disorders. Population and strategic planning studies are needed to help policymakers estimate the number of sleep specialist and sleep facilities needed to meet the increasing demands of the growing population.
Copyright information
© Springer Nature Switzerland AG 2019
Section editors and affiliations