Abstract
This chapter analyzes the student of color attainment gap in England from the perspective of equality, diversity, and inclusion's (EDI) failure to catalyze institutional anti-racist change. It sees EDI as key to the libidinal economies of racism that keep those racialized as white affectively sutured to white supremacy and maintains the illusion that universities are "post-race" meritocracies where student of color failure to achieve is based on individual/group pathology. EDI's "unconscious bias training" and tackling the "white curriculum" through reading lists keep whiteliness and colonial epistemicide as dynamics of institutional racism. At the affective level, shaming encounters hamper student success, whereas white guilt and grief make tackling the attainment gap impossible because these affects refuse the need for recognition of the operation of the coloniality of power, being, knowledge and affect within EDI influenced environments. The chapter concludes by thinking about decolonization and attainment.
Keywords
Institutional racism

Unconscious bias

Decolonize

Affect

Libidinal economy

White supremacy

Equality

Decolonization

Attainment gap

Post-race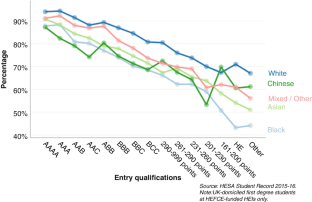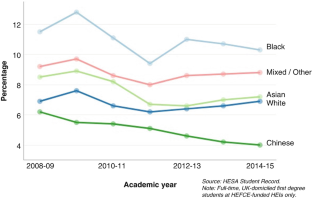 References
Ahmed, S. (2006). The nonperformativity of antiracism. Meridians: Feminism, Race, Transnationalism, 7(1), 104–126.

Attainment Gap. (2017). London: NUS. Retrieved from https://www.nusconnect.org.uk/liberation/black-students/equality-in-education/attainment-gap-2017

Bonilla Silva, E. (2010). Racism without racists: Color-blind racism and the persistence of racial inequality in the United States. New York, NY: Rowman and Littlefield.

Bouattia, M. (2018). Racist incidents at universities show they aren't as tolerant as we think. London, England: The Guardian. 11 Mar. Retrieved from https://www.theguardian.com/commentisfree/2018/mar/11/racist-universities-not-tolerant-rugaro-chisango-nottingham-trent

Bourdieu, P. (1988). Homo Academicus. Cambridge, MA: Polity Press.

Collins, P. (2008). Black feminist thought: Knowledge, consciousness and the politics of empowerment. New York, NY: Routledge.

Davis, A. (2011). Women, race and class. New York, NY: Random House.

de Sousa Santos, B. (2014). Epistemologies of the south: Justice against Epistemicide. New York, NY: Routledge.

Department for Education. (2015). A compendium of evidence on ethnic minority resilience to the effects of deprivation on attainment. https://www.gov.uk

Doharty, N. (2018). "I FELT DEAD": Applying a racial micro-aggressions framework to black students' experiences of Black History Month and Black History. Race Ethnicity and Education. https://doi.org/10.1080/13613324.2017.1417253

ECU. (2017). Degree attainment gaps. York, England: Advance HE. Retrieved from https://www.ecu.ac.uk/guidance-resources/student-recruitment-retention-attainment/student-attainment/degree-attainment-gaps/

Fanon, F. (1986). Black skin white masks. London, England: Pluto Press.

Goldberg, D. T. (2015). Are we all postracial yet? Debating race. Cambridge, MA: Polity Press.

Hall, S. (1996). Introduction: Who needs 'identity'? In P. du Gay & S. Hall (Eds.), Questions of cultural identity (pp. 1–17). London, England: Sage.

Higher Education Academy (HEA), & Equality Challenge Unit (ECU). (2011). Improving the degree attainment of minority ethnic students. York, England: HEA/ECU.

Higher Education Funding Council for England (HEFCE). (2017). Tackling inequality. Retrieved from http://www.hefce.ac.uk/sas/inequality/differential/

Joseph-Salisbury, R. (2018). Whiteness characterises higher education institutions- So why are we surprised by racism? Retrieved from http://theconversation.com/whiteness-characterises-higher-education-institutions-so-why-are-we-surprised-by-racism-93147

Lugones, M. (2008). The coloniality of gender. World and Knowledge Otherwise, Spring, 1–7.

Massaka, D. (2018). The prospects of ending epistemicide in Africa: Some thoughts. Journal of Black Studies, 49(3), 284–301.

Mignolo, W. (2002). The geopolitics of knowledge and colonial difference. Atlantic Quarterly, 101(1), 57–96.

Mills, C. (1997). The racial contract. Ithaca, NY: Cornell University Press.

Mills, C. (2017). Black rights/white wrongs: The critique of racial liberalism. New York, NY: Oxford University Press.

Morris, A. (2017). The scholar denied: W.E.B. Dubois and the birth of modern sociology. Oakland, CA: University of California Press.

Mountford-Zimdans, A., Sabri, D., Moore, J., Sanders, J., Jones, S., & Higham, I. (2015). Causes of differences in student outcomes. Report to HEFCE by King's College London, ARC Network and The University of Manchester. Retrieved from https://webarchive.nationalarchives.gov.uk/20180322111249/http://www.hefce.ac.uk/pubs/rereports/year/2015/diffout/

Neves, N., & Hillman, J. (2016). The student academic experience survey. York, England: Higher Education Policy Institute/Higher Education Academy. Retrieved from https://www.heacademy.ac.uk/system/files/student_academic_experience_survey_2016_hea-hepi_final_version_07_june_16_ws.pdf

Office for Fair Access (OFFA). (2015). OFFA topic briefing- BME Students. Retrieved from https://www.officeforstudents.org.uk/media/145556db-8183-40b8-b7af-741bf2b55d79/topic-briefing_bme-students.pdf

Probyn, E. (2005). Blush: Faces of shame. Minneapolis, MN: The University of Minnesota Press.

Purwar, N. (2004). Space invaders: Race, gender and bodies out of place. Oxford, UK: Berg.

Quijano, A. (2000). Coloniality of power, Eurocentrism and Latin America. Nepantla: Views from South, 1(3), 533–580.

Race Disparity Audit: Summary findings from the ethnicity facts and figures website. (2017). Retrieved from https://www.gov.uk/government/publications/race-disparity-audit. Accessed 4 June 2018

Reddock, R. (1994). Women, labour and politics in Trinidad and Tobago: A history. London, England: Zed.

Robinson, C. (1983). Black Marxism: The making of the black radical tradition. London, England: Zed.

Sedgwick, E. (2003). Touching feeling: Affect, pedagogy, performativity. Durham, NC: Duke.

Shepherd, J. (2009). White students do better than their Asian and black peers. London, England: The Guardian. 27 Oct. Retrieved from https://www.theguardian.com/education/2009/oct/27/white-students-black-asian-gap

Singh, G. (2011). Black and minority ethnic (BME) students' participation in Higher Education: Improving retention and success- a synthesis of research evidence. York, England: Higher Education Academy.

Smith, S. (2017). Exploring the Black and Minority Ethnic (BME) student attainment gap: What did it tell us? Actions to address home BME undergraduate students' degree attainment. Journal of Perspectives in Applied Academic Practice, 5(1), 48–57.

Stevenson, J. (2012). Black and ethnic minority ethnic student degree retention and attainment. Retrieved from https://www.heacademy.ac.uk/system/files/bme_summit_final_report.pdf

Tate, S. A. (2012). Racial affective economies, disalienation and 'race' made ordinary. Ethnic and Racial Studies, 37(13), 2475–2490. Published July 2013.

Tate, S. A. (2017a). Libidinal economies of black hair: Subverting the governance of strands, subjectivities and politics. Image and Text, 29, 95–111.

Tate, S. A. (2017b). The governmentality of black beauty shame: Discourse, iconicity, resistance. London, England: Palgrave.

Tate, S. A. (2017c). How do you feel? 'Well-being' as deracinated strategic goal in UK universities. In D. Gabriel & S. A. Tate (Eds.), Inside the ivory tower: Narratives of women of colour surviving and thriving in British academia. Stoke on Trent, UK: Trentham Books.

Tate, S. A., & Bagguley, P. (2017). Building the anti-racist university. Race, Ethnicity and Education, 20(3), May (Special Issue), 289–299

Tate, S. A., & Page, D. (2018). Whiteliness and institutional racism: Hiding behind unconscious bias. Ethics and Education, 13(2018), 141–155.

Wekker, G. (2016). White innocence: Paradoxes of colonialism and race. Durham, NC/London, England: Duke.

Wilderson, F. (2010). Red, white and black: Cinema and the structure of US antagonisms. Durham, NC: Duke.

Wynter, S. (2003). Unsettling the coloniality of being/power/truth/freedom: Towards the human after man, its overrepresentation- an argument. The New Centennial Review, 3(3), 257–337.

Wynter, S. (2006). ProudFlesh inter/views: Sylvia Wynter. ProudFlesh: New Afrikan Journal of Culture, Politics and Consciousness, 4, 1–35.

Yancy, G. (2008). Black bodies white gazes: The continuing significance of race in America. New York, NY: Rowman and Littlefield.

Yancy, G. (2012). Look a white! Philosophical essays on whiteness. Philadelphia, PA: Temple University Press.

Yancy, G. (2015). Introduction: Un-Sutured. In G. Yancy (Ed.), White self-criticality beyond anti-racism: How does it feel to be a white problem? (pp. xi–xxvii). London, England: Lexington books.

Zwysen, W., & Lough, S. (2016). Labour market disadvantage of ethnic minority British graduates: University choice, parental background or neighbourhood? Institute for Social Research, 2016–2.
Section Editor information
Copyright information
© 2019 Springer Nature Switzerland AG
About this entry
Cite this entry
Tate, S.A. (2019). The Student of Colour Attainment Gap in Higher Education and the Institutional Culture of Equality, Diversity, and Inclusion. In: Papa, R. (eds) Handbook on Promoting Social Justice in Education. Springer, Cham. https://doi.org/10.1007/978-3-319-74078-2_21-1
DOI: https://doi.org/10.1007/978-3-319-74078-2_21-1

Received:

Accepted:

Published:

Publisher Name: Springer, Cham

Print ISBN: 978-3-319-74078-2

Online ISBN: 978-3-319-74078-2

eBook Packages: Springer Reference EducationReference Module Humanities and Social Sciences