Ableism and Ageism
Living reference work entry
DOI:
https://doi.org/
10.1007/978-3-319-69892-2_581-1
Definition
Since Robert N. Butler (1969) introduced the term ageism to research, a number of attempts to define and conceptualize the phenomenon have been proposed (Iversen et al. 2009). Most have followed Butler in defining ageism as prejudice and discrimination based on age, with older people as the victimized category (See "Self reported ageism"). Some definitions describe ageism as affecting people of all ages, and in fact, investigations show that younger people are most affected by negative treatment that they ascribe to their age (Bratt et al. 2018). The definitional ambiguity has resulted in confusion on the causes of ageism; it is likely that different types of dynamics are present for persons of different ages. The present text will focus on ageism – and ableism – as a problem for older people.
The concept of ageism has been used to cover a wide range of phenomena, from skewed knowledge and intolerant values to attitudes and behaviors toward older people. Ageism has been described as the "denial of basic and civil rights of elders" and has been qualified as an ideology (Estes 2011, p. 300). Commonly age discrimination has been described as the manifestation of ageist attitudes and prejudice, specified as hostile forms of discrimination (e.g., neglect or mistreatment), but also in more compassionate, subtle ways (e.g., patronizing and "elder speech"), and even positive discrimination (Cary et al. 2017; Chonody 2016; Palmore 2015). This line of thought is pursued through the use of the attitude concept that is divided into a cognitive, an affective, and a behavioral component (Iversen et al. 2009): discrimination is the behavioral manifestation of individual or societal attitudes on age. Within the constantly growing field of research on ageism (Levy and Macdonald 2016), much interest has been devoted to different arenas where ageism appears (e.g., Ayalon and Tesch-Roemer 2018) and texts and tools for discovering and combating ageism have been provided (e.g., Palmore 1990, 2015; Levy 2016).
Less frequent and elaborated in gerontological literature is the concept of ableism. Ableism could be defined as the devaluation and discrimination of people based on perceived functional inability. The phenomenon has been devoted explicit interest in disability studies (e.g., Goodley 2014; Burch and Sirotkin 2018). According to Renee Butts (2017), in the Salem Press Encyclopedia, the concept was probably coined in the 1980s and refers to the discrimination of people with disabilities, conveying that they are of lesser value than the "able-bodied." This definition is useful when identifying discrimination of persons with disabilities but as it rests on the dichotomy able-bodied – disabled – it downplays the fact that ableism has its roots in a greater societal order. Simply put, the logical counterpart to devaluation based on functional inability is the valuing of people based on ability, a principle that people in general tend to support in many situations (the system of education, the labor market, sports, and so on).
Overview
Ageism and ableism are in many cases interdependent, and typically, when older people are devalued since they are perceived to be ineffective, unproductive, and dependent due to age-related reduced physical and mental capacity (See "Age stereotypes"). Much of today's cultural understanding of ageing, and of older people as a category, is based on biomedical perspective that stresses ageing as an irreversible process toward increasing physical, bodily frailty ending with death.
Following a series of investigations on attitudes in the 1980s, Tornstam (1992) argues that negative feelings toward weakness, unproductiveness, and dependence result in pitying ageist attitudes toward older people, since people presume that these are also the characteristics of the old. In relation to the social devaluation of less productive and effective persons, Kuypers and Bengtson (1973, p. 191) have referred to such beliefs as the "commitment to the ethic of personal-worth-through-social-utility." These values are typical of midlife: a life phase that has been associated with productivity, independence, and functional ability while illnesses and impairments have been framed as untimely. In contrast, expectations of "normal illness" and disability during old age has resulted in older people having access to less medical treatment and less supportive services than that of younger ages (Williams 2000; Rogers et al. 2015; Jönson and Harnett 2016). The type of ageism, implicitly imbued with ableism, that has been described above will also affect the self-images and behaviors of the older population (Stewart et al. 2012). Kuypers and Bengtson describe a process of social breakdown where the "dominant functionalistic perspective of Western society" informs older people of their uselessness, incompetence, and low value. These images are then internalized, resulting in the decrease of self-confidence and competence. When explaining pitying attitudes toward people who are frail, Tornstam (1992) refers to the works of Norwegian philosopher Ofstad (1972), who claims that historical and contemporary Western societies are characterized by a deeply rooted contempt for weakness and that the Nazi regime was in fact a "heated" manifestation of this value system. Justifications of valuation/devaluation and inequalities that are based on functional ability are fundamental Nazi principles, according to Ofstad.
Key Research Findings
When it comes to ways of improving images and "solving the problem" of affected populations, the relation between ageism and ableism is uneasy, to say the least. Disability activists have used stereotypical age comparisons between people with and without disabilities of the same – non-old – age to fight discrimination and claim social rights: a teenager in a wheelchair should be enabled to engage in activities that are typical for youth, an adult should be able to live independently, and so on (Jönson and Taghizadeh Larsson 2009). This use of comparative reference groups has shifted focus from the functional (dis)ability of bodies, to the way that society makes available equal living conditions to its different citizens. In gerontology, such divisions of the life-course, manifested in the traditional age ladder, have been described as a fundament of ageism (Bytheway 1995; SOU 2003, p. 91). The category of older people is separated from other adults and regarded as essentially different. Anti-ageist activists and researchers have on their hand questioned the association between being an older person and being ill, impaired, and dependent (Taghizadeh Larsson and Jönson 2018). Discourses and concepts of healthy ageing, third age, and successful ageing are all part of an upgrading approach that has been used to fight ageism; they have been introduces as alternatives to the idea that old age is a period of functional impairment. To show that most people above the age of 65 live healthy and independent lives has been a trump card of anti-ageism, in the sense that "the truth" about functional capacity has disproven lagging images. The health, mental abilities, financial security, social activity, and life satisfaction of older people have increased, but "most people have not heard the good news" (Palmore 1990, p. 86). Whereas this approach has great advantages, it is also ableist in its character as it communicates the message that societal status is gained through health and functional ability. The problem has been acknowledged in critical gerontology, in relation to divisions between a third and fourth age and attempts to launch models of successful and healthy ageing by highlighting that this might contribute to further stigmatization of the less healthy and independent part of the older population (Holstein and Minkler 2003). Given the existing value system of Western societies, the same risk is associated with attempts to make chronological age an irrelevant concept. An attempt to shift policies of the Swedish labor market provides an example. During the 1950s and 1960s, Swedish researchers and policy makers hoped to arrange for a more flexible working life, with individualized retirement age. This would challenge a perception that was communicated by the fixed retirement age (67 years at that time) that older people in general were unable to work. The plan was to let company doctors decide when older workers were no longer fit to belong in the workforce. Chronological age would thus be replaced by individual abilities, as judged by a third party (Jönson 2002). A more recent suggestion made by Sweden's Committee on Older People highlights the same tendency: "Our claim is that political action must be directed towards the possibility of enabling new and more flexible patterns of the life course without further age divisions in society. Instead of dividing the life course further into chronologically defined blocks, possibilities must be increased to sandwich work, education, societal involvement, family life and free time from early youth until this is impossible due to illness or failing functional ability" (SOU 2003:91, p. 194). Where chronological age exits as a basis for exclusion of certain citizens, functional ability tends to enter as a replacement.
Examples of Application
Below, we will provide a simple typology of sameness and difference that could be used to investigate the underlying dynamics of ageism and ableism. The typology was originally suggested by Jönson (
1997
,
2002
) and is based on the way feminist strategies have defined equality for women as aligning or diverting from values or behaviors that are characterized as typical for men and masculinity (Hirdman
1986
). It is inspired by the type of critical discussions on midlife productiveness as a yardstick for valuing people that have been provided by Kuypers and Bengtson (
1973
), Tornstam (
1992
), Cole (
1992
), and others. In the typology, older people are either regarded as being essentially the same as or different from persons of the productive, independent, able-bodied midlife generation. This period of life, and its ableist characteristics (productivity, independence), is either regarded as a norm or not a norm for judging social worth. The concept of a norm is, in this context, used to signify normality. This typology has four basic positions (Fig.
1
).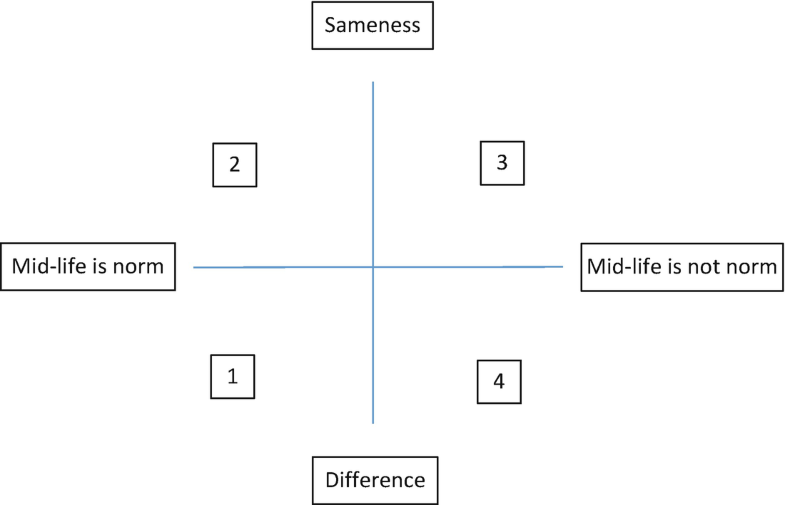 Position 1 in the typology reflects the ableist idea that social value is linked to characteristics like productivity and independence and older people are regarded as not displaying these characteristics – they are different. Ageism and ableism are interdependent. Old age is devalued, as it equals sick and dependent.
Position 2 confirms this social value, but it is argued that older people essentially have the same physical, mental, or social capacities as those of their younger peers. This approach focuses on activity, continuity in lifestyle, compensation, and adaptation.
The well-known controversy between disengagement theory and different activity approaches illustrate the tension between positions one and two. Disengagement theory was introduced in opposition to the "projection of the standard of middle-aged behavior onto that of the old" that was typical for the activity approach (Cumming and Henry 1961, p. 17). This is what has later become the hallmark of approaches that fight images of decline and loss by describing normal or successful aging as a prolonged midlife (See "Activity theory and Disengagement theory"). As an alternative, disengagement theory portrays older people as different, but this difference is in fact a form of dehumanizing othering, since old age is described as a mental and social preparation for death. Gruman (1979: preface) is right in suggesting that disengagement theory brings the knowledge about the certainty of death and the probability of decrement into a functionalist framework and thereby "provides ideological structure for present-day ageism." The oscillation between positions one and two could be regarded as the effect of a historical development. Traditional religious beliefs that every stage of the life-course has its particular meaning are mostly absent in modern society (Cole 1992).
Position three in the typology stresses sameness while denouncing midlife normality. This position is expressed in the principle of the menschenwürde (Nordenfelt 2004): all humans have equal value regardless of age or functional capacity. Older people should be valued for being the same as all other people, and in fact, being vulnerable and dependent on others are fundamental aspects of living in a society. These humanistic ideas are anti-ageist, anti-ableist, anti-racist, and so on. Old age could even be abandoned as a category, as Bytheway (1995) has suggested. While there is general support for the basic principle of equal human value, the lack of specificity in content within this position makes it vulnerable for invasion of established values, for instance those relating to value based on age or functional ability (Jönson and Taghizadeh Larsson 2009).
Specific content is present in approaches belonging to position four of the typology. Old age is described as different, but midlife or characteristics as productivity, independence, and health are not acknowledged as defining normality. This approach appears in some traditional religious beliefs and in theories that attribute differing values and potentials during the period of old age. In one version, this position has been expressed in calls to find new types of roles that could be used to define the competence and value of older people (Kuypers and Bengtson 1973). Another version has been developed in psychological theories on the life-course. The life cycle theory of Erikson (1982) is probably the most prominent example, in attributing a potential for wisdom and fullness during old age. Tornstam's (1992) gerotranscendence theory operates according to the same logic. While these approaches have been anti-ableist, theories on distinct life-stages could also be described as expressing a form of benevolent ageism. Older people are stereotypically associated with characteristics such as wisdom and transcendence. The popularity of these theories lies in their capacity to create a happy ending to the later part of life, a positive content to old age beyond the oscillation between positions one and two.
Summary and Future Directions of Research
Ableism is part of ageism when it is implied that older people have less value since they are sick and dependent. To claim that older people should be valued based on the fact that most are healthy and by that also productive is anti-ageist, but still ableist. There are also cases where ageism is not associated with ableism. Stereotypical beliefs that older people are wise and serene constitute a benevolent form, while beliefs that they are grumpy and narrow minded constitute a more sinister form. The humanistic idea that all humans have equal value is neither ageist nor ableist, so why is this idea so difficult to uphold? The reason is that society is fundamentally ordered in ways that makes it natural to judge people based on both age and function. This makes ageism and ableism particularly difficult to identify and challenge, but such difficulties could also be regarded as incentives for research. The mission for research is perhaps not to show that older people are devalued through the stereotypical association to illness and dependence, because this is well known. The challenge lies in the intersection between age categorizations on the one hand and functional ability on the other. When are views and arrangements to be defended as "natural," "reasonable," or "functional" and when should they be criticized as being cases of ageism and ableism?
Copyright information
© Springer Nature Switzerland AG 2019
Section editors and affiliations