Urban-Rural Health Disparities at Older Ages
Living reference work entry
DOI:
https://doi.org/
10.1007/978-3-319-69892-2_516-1
Definition (of Entry Term)
"Rural" refers to places and communities of low human population density characteristic of areas outside of large metropolitan areas. "Urban" refers to places and communities of higher population density, generally those areas in cities and surrounding areas. Rural older adults are a population group that experiences notable differences in health outcomes compared to their urban counterparts. Urban-rural health disparities reflect the dichotomy of urban living versus rural living and the impact those have on economics, health, and other aspects of life.
Overview
Where someone lives is critical to determine their health and quality of life in numerous ways. Evidence that one's place of residence plays a critical role in determining health status comes from research both in the USA and in other countries across the globe. There has been an increasing interest in assessing place-based characteristics or individual and place-based social determinants of health to examine how small-area, place-based neighborhood characteristics influence health and quality of life and lead to potential disparities. Policies, demographics, natural resources, and economic conditions on the local level may affect availability and quality of resources, development, and economic opportunities (Braveman et al. 2011) and promote or hinder population health.
One key place-based characteristic to consider in assessing population health is urban-rural status or degree of "rurality" or "urbanicity" of a person's place of residence. Distinguishing "rural" from "urban" often suggests different characteristics, such as agricultural versus industrial landscapes, level of geographic isolation, population density, degree of remoteness, and access to resources and services (Hart et al. 2005). However, urban-rural status is multidimensional and takes into account many aspects of place, such as environmental factors, population distributions, economic factors, and proximity and access to resources (Koziol et al. 2015; Waldorf and Che 2010). Understanding urban-rural status and its impacts on health is important for older adults, whether they are aging in place or living in a group residence such as a nursing home or assisted living facility (Rosenthal and Fox 2000; Douthit et al. 2015; Wang et al. 2016). Rural older adults face geographic isolation, challenges with respect to proximity to healthcare providers, and unique environmental and other risk factors that require understanding and addressing the specific contextual factors that promote urban-rural disparities for this vulnerable population (Durazo et al. 2011).
Key Research Findings
Basic demographic characteristics and trends about aging in rural versus urban America are identified and described. Some of the key research findings, examples, and implications for research in gerontology concerning the urban-rural divide and its impacts on aging are also presented. There is a critical need to identify and address urban-rural disparities in health, healthcare access, and health behaviors, particularly among older adults (Eberhardt and Pamuk 2004). Before addressing health disparities, it is important to first describe some basic demographic patterns that may promote such disparities. Rural areas in the USA are disproportionately old compared to urban areas. As of the 2010 Census, nearly 15% of the nonmetropolitan or "rural" population was aged 65 or older, compared with just 11.9% of the metropolitan or "urban" population (US Census Bureau 2016). Although most Americans, regardless of age, live in urban areas, older adults are disproportionately concentrated in rural areas (Glasgow and Brown 2012; Cohen et al. 2018). Rural areas also are aging more rapidly than urban areas in the USA, further widening the gap in the proportion of the population aged 65 and over.
Health and Health Behaviors
Although the urban-rural divide has been used extensively in the gerontology literature, there is still substantial need to understand and address urban-rural health disparities in the older adult population and to understand the potential structural and/or psychosocial mechanisms through which these place-based characteristics influence population health among older adults. Rural-urban status has been shown to have a direct association with population health. Aging in a rural setting magnifies many of the challenges of aging, including but not limited to finding caregiving and related assistance, transportation, social support, chronic disease management, and healthcare access (Dye et al. 2010). There are numerous health disparities between rural and urban older adults, as well. Older adults living in rural areas were more likely than those living in urban areas to have obesity, be physically inactive, and smoke and, among women, are less likely to have a mammogram or clinical breast exam (Kumar and Acanfora 2001). Rural older adults were also less likely than their urban counterparts to have dental insurance, report dental visits, and report good dental health (Vargas et al. 2003; Gaber et al. 2018).
However, urban-rural status also may act to indirectly affect health outcomes by potentially exacerbating the impacts of social determinants on health among older adults, including race/ethnicity, community blight, availability of services, transportation, crime, and environmental hazards (Smith et al. 2008). For example, a study found that differences in self-rated health by urban-rural status were attributable not to urban-rural status itself but rather to substantive differences by urban-rural status in the distributions of other social determinants of health, such as education, wealth, and employment status (Bethea et al. 2012).
Contributions of place of residence (rural versus urban) to the health, well-being, and quality of life of older adults are not limited to the USA. Several international studies provide a deeper understanding of some of the potential mechanisms through which urban-rural status directly or indirectly influences health, particularly for older adults. In China, older adults living in rural areas have increased amount of chronic diseases, "empty nest syndrome," psychological fatigue, and psychological problems compared to their urban counterparts. Living in rural areas may exacerbate these issues due to social isolation, feelings of loneliness, and, on a broader level, changes to cultural norms of multigenerational households in rural, farming communities in China which have existed for centuries (Liu et al. 2013), reducing quality of life. Substantial differences in health and mortality between urban and rural older adults in Poland were attributed to cultural and lifestyle differences between these two groups, including smoking, exercise, availability of healthy foods, and participation in social activities (Maniecka-Bryla et al. 2012). However, a study of Portuguese older adults found a rural health advantage in terms of psychological well-being, despite rural older adults being poorer and less educated than their urban counterparts. The authors postulated that these paradoxical results – more successful aging in rural areas than in urban areas – may be due, at least in part, to the observation rural elderly are, or at least perceive themselves to be, more autonomous and active (Paúl et al. 2003). Although these studies highlight a few of the numerous examples of how the urban-rural divide impacts health among older adults, there is much to learn with respect to measurement of urban-rural status and their applications to improving population health in gerontological studies.
Healthcare Access and Quality
Access to and availability of services in rural areas is considered one of the key drivers of urban-rural health disparities. Rates of utilization of preventive services and screening are lower in rural areas compared to urban areas, including preventive health examinations (Larson and Correa-de-Araujo 2006), cancer screenings (Harlan et al. 1991), and diabetes management (Hale et al. 2010). There are important challenges for providing health care to older adults living in rural areas. One fundamental issue is the limited number of geriatric medical care staff, including physicians, nurses, and other healthcare providers in rural areas (Cohen 2009). Many of the medically underserved communities in the USA are in rural areas (Petterson et al. 2013). Although there are programs designed to encourage medical professionals, such as physicians, nurses, nurse practitioners, physician assistants, and physical therapists to practice in rural areas, diffusion of such programs is not universal across all schools and universities. Expanding medical school and other clinical health professional curricula and programs proven to produce healthcare professionals who practice in rural areas, particularly in the field of gerontology, should be a strategic investment for education of health professionals and related future research (Goodfellow et al. 2016).
Another issue, likely due to lack of preventive and outpatient services, is that hospitalizations among older adults living in rural areas tend to be for more severe cases and result in greater mortality compared to those living in more urban or suburban areas (Probst et al. 2004). This is believed to occur due to the aforementioned factors of proximity to healthcare facilities and access to quality care, which could make older adults less likely to seek care for less severe medical conditions in rural areas (Naumova et al. 2009). A third issue is funding medical care services for rural older adults. Medicare, one of the primary payers for medical care for older adults, pays out 18% less per beneficiary for rural older adults than for urban older adults and contributes to lower service utilization (Rosenthal and Fox 2000). This may be partially explained by less extensive workups due to a lack of specialized services in rural areas. However, Tsai et al. (2015) found that even after controlling for these and other factors, Medicare reimbursements were still substantially lower among rural older adult compared to their urban counterparts.
Future Directions for Research
There are several important future directions for research which applies the urban-rural divide to assess health disparities among older adults. One fundamental issue at the center of studying urban-rural health disparities is how to actually best measure urban-rural status itself. As with many sociodemographic measures, there is no scientific consensus as to the most appropriate or accurate measure of urban-rural status in assessing health disparities in gerontological research. There are numerous measures to choose from, such as Rural-Urban Continuum Codes (RUCC), Urban Influence Codes (UIC), and Rural-Urban Commuting Areas (RUCA), percent urban population, population density, and household density, each with unique strengths and weaknesses that may critically change associations between urban-rural status and health (Hart et al. 2005). Compounding this issue is the geographic level of analysis in which urban-rural status is measured. For instance, some measures for measuring urban-rural status in the USA are only defined and available on a certain geographic level of aggregation, including some of the most common measures of urban-rural status, such as the RUCC, RUCA, and UIC, which are available only at specific levels of geography: the county level (RUCC and UIC) or census tract level (RUCA). Other measures, such as percent urban population, population density, household density, and related census-based measures, may be used at multiple geographic levels (Cohen et al. 2015). From a conceptual point of view, the assessment of urban-rural status depends heavily on the geographic level of aggregation used, as well.
A second future direction for research is to understand and refine both how the urban-rural divide or continuum is measured and how to interpret results of urban-rural analyses. Understanding these key urban-rural health disparities among older adults is critical to addressing such disparities and promoting health equity, particularly for vulnerable populations. Specifically, it is important to consider whether the urban-rural divide is more of a dichotomy (i.e., rural versus urban) or more of a continuum. Many of the above-referenced studies use dichotomous measures of urban-rural status. Some use ordinal measures, such as the UIC, RUCC, and RUCA. There is a growing interest in studies examining the health of older adults in rural areas to validate and use continuous, composite indices of urban-rural status that take into account multiple aspects of the urban-rural gradient (Naumova et al. 2009). One such measure is the Index of Relative Rurality (IRR) (Waldorf 2007), a continuous measure (0–1) of urban-rural status that takes into account four elements of urban-rural characteristics: population density, percent urban population (as defined by the US Census), actual population size, and proximity to the nearest metropolitan area. One advantage of the IRR and related measures is that it can be adapted for use on multiple geographic levels, including the state, county, county subdivision, census tract, and block group levels. Although the IRR and other related measures have clear strengths (continuous, multidimensional, and can be adapted different geographic areas), one notable limitation is its interpretation in the gerontological literature. For instance, a one-unit increase or decrease in IRR does not translate into a singular, tangible measure. In contrast, differences in other measures, such as population density and percent urban population, can be interpreted more easily. Increasing population density, for example, is something that can be measured and interpreted directly.
Another related direction for future research is to better understand what specific aspects of rural or urban life actually contribute to the observed urban-rural disparities among older adults and, if so, to what degree. A small, but growing body of research is beginning to examine this issue. For instance, there are notable examples of a rural health disadvantage for older adults (Bolin et al. 2015; Kelly et al. 2011; McLafferty and Wang 2009). However, in order to address these inequities and design interventions, programs, and policies to promote health equity across the urban-rural divide or continuum, we must first understand what elements of rural life drive the health disadvantage. One study assessed associations between specific characteristics of rural-urban life and several aspects of health (obesity, health behaviors, healthcare access, and general health) among adults age 65+ and had mixed findings (Cohen et al. 2018). Some aspects of rural life (e.g., proximity to metropolitan areas) were linked to more negative health outcomes, while other aspects (e.g., low population density) were associated with improved health outcomes among older adults. Understanding why such disparities occur and what elements of rural or urban life drive these health disparities is critical to promoting health equity and improving the rural health disadvantage for older adults. It is also important to note that there are other important social determinants, such as wealth, education, environmental factors, and others, intrinsically linked to urban-rural status that should be considered in assessing urban-rural disparities in older adults.
Summary
The urban-rural divide or continuum plays a significant role in the health of older adults. There are numerous potential pathways through which urban-rural status directly and indirectly influences population health. Place-based characteristics, such as urban-rural status, should be taken into account, where possible, as critical social determinants of health, particularly for vulnerable older adults. That said, several notable methodological challenges exist concerning the assessment of urban-rural health disparities, including the lack of consensus as to a "gold standard" measure or urban-rural status, the optimal geographic level (s) through which urban-rural status influences population health, and the specific aspects of the multidimensional notion of "rural" or "urban" that actually influence health and drive urban-rural health disparities. Understanding how and why these disparities occur is essential to reducing the impact of health disparities and informing sound, effective policies, programs, and interventions designed to lessen the influence of these potentially addressable factors (Fig.
1
).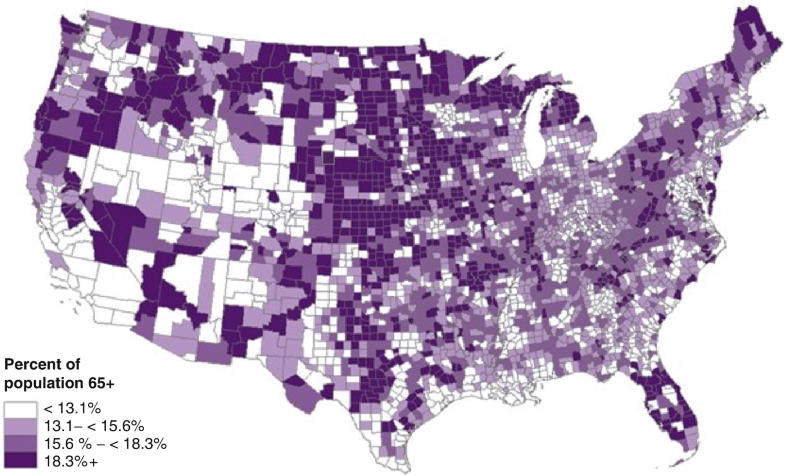 Copyright information
© Springer Nature Switzerland AG 2019
Section editors and affiliations