English Longitudinal Study of Ageing
Overview
The English Longitudinal Study of Ageing (ELSA) was established to address complex, policy-relevant questions within a rigorous scientific framework. ELSA tracks the multiple characteristics of participants as they move through middle to older ages, resulting in an invaluable source of high quality data. The broad research areas and questions motivating the design of the study include health trajectories, disability, and healthy life expectancy; the nature and determinants of economic position and resources in old age; the timing of retirement and postretirement labor market activity; the nature of social networks, social support and social participation at older ages; household and family structure and the transfer of resources; and most importantly, the linked dynamic relationships between all these domains. ELSA has been designed to maximize comparability with other international longitudinal studies on aging, such as the Health and Retirement Study (HRS) in the USA (See "Health and Retirement Study"), and the Survey of Health, Ageing and Retirement in Europe (SHARE) (See "Survey of Health, Ageing and Retirement in Europe"). ELSA is supported by UK government departments and the United States National Institute on Aging.
Study Design
The ELSA sample is selected to be representative of people aged 50 and older, living in private households in England. The study sample is periodically refreshed with new participants at younger ages enrolled to ensure that it remains representative of the full age spectrum. Each sample is drawn from households that had previously responded to the Health Survey for England (HSE), an annual cross-sectional survey that is designed to monitor the health of the general population. HSE households who had agreed to be recontacted at some time in the future containing adults 50 years or older provide the basis for the ELSA samples. Within households, two types of individual are eligible to take part in the study: "core" sample members and their cohabiting partners. Core sample members are individuals aged 50 and over living in private residential addresses in England at the time of the interview who took part in the relevant HSE assessment. The cohabiting partners include people who were not assessed in the HSE, individuals who were aged less than 50 years, and others. Cohabiting partners are offered a full interview to make it possible to carry out analyses of a representative sample of couples in which at least one spouse is 50 or older.
Sample
An overview of the sample sizes achieved for the complete study (core members and partners) is given in Fig.
1
. The main ELSA sample is formed of several cohorts who joined the study at different waves of data collection.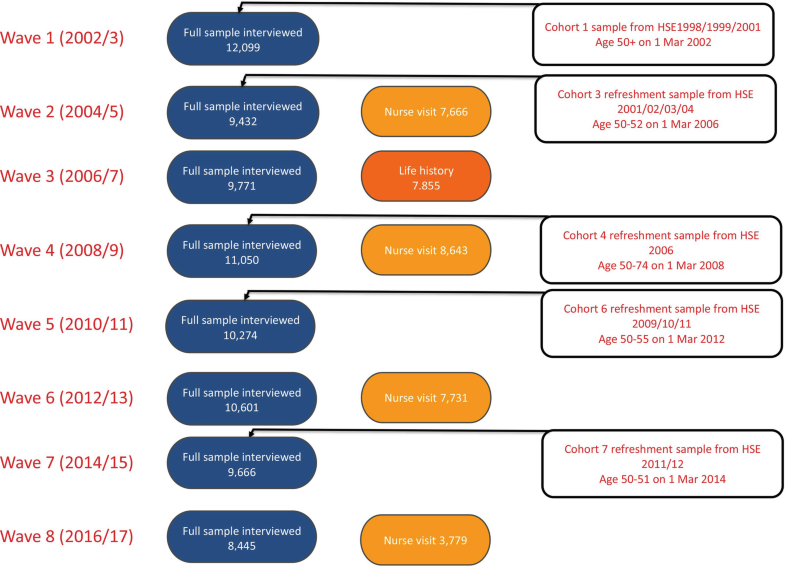 Data Collection Schedule
The first wave of ELSA took place in 2002/2003, and individuals are reinterviewed every 2 years. On every occasion, the survey comprises a computer-assisted personal interview (CAPI) and a self-completion questionnaire. On alternate waves, a nurse visit is carried out to collect biomarkers and more detailed measures of function. There is provision for collection of a reduced set of information by proxy where a sample member is unable to take part through poor health, or through physical or cognitive disability. Additional one-off assessments have also been made, and are discussed in Ad-Hoc Modules. To date, eight waves of data have been collected and are available for analysis. The ninth wave of the study is being collected in 2018/2019.
Response Rates
The analysis of response rates and attrition from ELSA is complicated because of variations in responses to different elements of the study, deaths, and differences between core and refreshment cohorts. Some participants may fail to respond to one wave but take part in later waves, and there is the additional issue of whether nonresponse to the original HSE survey from which the sample was drawn should be taken into account (Banks et al.
2018
). In Table
1
, the study response rates at each wave of the study are reported for each cohort. The number of deaths is also reported for each wave. It must be noted that information on deaths is periodically updated and numbers might differ from previously published data. To maintain the representativeness of the sample when carrying out analyses, cross-sectional and longitudinal weights are computed and made available with the main data set.
Table 1
ELSA achieved interview sample counts for core members and study response rates
Wave

1

2002–03

2

2004–05

3

2006–07

4

2008–09

5

2010–11

6

2012–13

7

2014–15

8

2016–17

Cohort 1 sample

11,391

8780

7535

6623

6242

5659

4894

4219

Response rates

67%

82%

73%

74%

69%

66%

61%

55%

Cohort 3 refreshment sample

–

–

1275

972

936

888

787

723

Response rates

–

–

61%

63%

75%

72%

65%

60%

Cohort 4 refreshment sample

–

–

–

2291

1912

1796

1606

1470

Response rates

–

–

–

–

85%

82%

75%

70%

Cohort 6 refreshment sample

–

–

–

–

-

826

661

582

Response rates

–

–

–

–

–

55%

82%

72%

Cohort 7 refreshment sample

–

–

–

–

–

–

301

229

Response rates

–

–

–

–

–

–

61%

77%

Number of deaths

–

281

748

1234

2216

2790

3382

3827
Content
The content of ELSA balances repeat measures of core issues to ensure a sustained time series across waves with new material introduced in each wave. Details of the exact measures can be found at www.elsa-project.ac.uk, but can broadly be divided into the content of the CAPI, self-completion questionnaire, and nurse visit. Most of the questions are asked at every wave, whereas some others are rotated to be asked every 4 or 6 years. Supplementary modules have been included at various points during the history of ELSA to address additional topics.
Core Face-to-Face Interview Topics
The CAPI questionnaire is divided into modules. In the household demographics module, information is collected (or updated) about everyone living in the household, including sex, age, and relationship, and about children living outside the household. In the individual demographics module, details are collected about respondents' legal marital status, parents' age and cause of death, and number of living children, number of grandchildren, great-grandchildren, and siblings, and the respondent's circumstances in childhood. In the health module, information is collected about self-reported general health, long-standing illness or disability, eyesight, hearing, dental health, specific diagnoses and symptoms, pain, difficulties with daily activities, smoking, physical activity, mental health, urinary incontinence, sleep, balance, falls and fractures, and quality of care for cardiovascular disease, depression, diabetes, falls, and osteoarthritis. Information has been collected on participation in national screening programs for breast and colorectal cancer. Topics covered in the social care module include the nature of care received, who it was received from, the amount received, and payments made for care. Additional questions about expectations around the funding of social care and questions on short stays in residential/nursing homes were also recently added. The use of public transports is covered in the social participation module.
A substantial portion of the CAPI focuses on economic and financial issues. Information is collected about current work activities, current and past pensions, reasons for job change, health-related job limitations, and working beyond the State Pension Age and state pension deferral. If the respondent is retired and receiving a pension, details are collected about pensions and amount received. As the state pension age is changing in the UK, questions have been added about respondents' knowledge of these issues. The income and assets module assesses the income that respondents received from a variety of sources over the last 12 months. It also collects details of financial and nonfinancial assets held, any income from these assets, regular transfers from nonhousehold members, and one-off payments in the last year. Questions about lifetime receipt of gifts and inheritances have been included in recent waves. In the housing module, information is collected about the current housing situation (including size and quality), housing-related expenses, adaptations to accommodation for those with physical impairments, ownership of durable goods and cars, and consumption.
Cognitive function is assessed in ELSA using a series of objective neurocognitive tests evaluating memory, speed, executive function, and mental flexibility. Numeracy and health literacy are also assessed. The expectations module collects information about expectations for the future in several dimensions, financial decision making, and relative deprivation. The effort and reward module gathers information about care provided to others and volunteering, and the reasons for these activities. In more recent waves, new questions about care provided to grandchildren have been added.
During the face-to-face interview, objective walking speed is also assessed for those aged 60 and over.
An End-of-Life module was introduced at wave 2 to collect information about a respondent who has died since their last interview. A close friend or relative is interviewed and asked the respondent's health, social, and economic circumstances in the last 2 years of their life, as well as their assets after they died. Details about the date, place, and circumstances of death are also collected.
Self-completion Questionnaire
Topics covered in the self-completion questionnaire vary between waves, but include measures of quality of life, social and cultural participation and social networks, loneliness, internet use, altruism, control at work, life satisfaction, subjective well-being, social networks, age discrimination, religion, and health behaviors such as consumption of fruit and vegetables and alcohol. Measures of time use have been added in recent waves. At wave 3, two supplementary self-completion questionnaires containing anchoring vignettes about disability and work were introduced. At waves 6 and 8, a detailed self-completion questionnaire was introduced to cover sexual experience, attitudes, and desire (Lee et al. 2016).
Nurse Visit
At alternate waves, the respondents are offered a nurse visit in their homes. The nurse visit involves measurement of physical functioning (balance and grip strength), anthropometric measurements, information about prescribed medications, and collection of blood samples for extraction of biomarkers and DNA. Detailed information of the content of the nurse visit is reported in Table
2
. In wave 8, half of the respondents were offered the nurse interview, with the other half of the nurse interviews being carried out at wave 9.
Table 2
Information collected at each nurse visit
Wave 2 (2004/5)

Wave 4 (2008/9)

Wave 6 (2012/13)

Wave 8 (2016/17)

Weight, height, waist

Weight, height, waist

Weight, height, waist

Weight (in main interview)

Waist (nurse visit)

Grip, balance, chair rise, tandem stand, leg raise, timed walk

Grip, balance, chair rise, tandem stand, leg raise, timed walk

Grip, balance, chair rise, tandem stand, leg raise, timed walk

Grip

Timed walk

Blood pressure, lung function

Blood pressure, lung function

Blood pressure, lung function

Blood pressure

Lipids, triglycerides, HbA1c, glucose

Lipids, triglycerides, HbA1c, glucose

Lipids, triglycerides, HbA1c, glucose

Lipids, triglycerides

HbA1c, glucose

C-reactive protein, fibrinogen

C-reactive protein, fibrinogen, white cell count

C-reactive protein, fibrinogen, white cell count

C-reactive protein, fibrinogen, white cell count

Hemoglobin, ferritin

Hemoglobin, ferritin

Hemoglobin, ferritin

Hemoglobin, ferritin

DNA

(DNA)

(DNA)

(DNA)

 

IGF-1, DHEAS

IGF-1, Vitamin D

Vitamin D

Apolipoprotein E

 

Cortisol, DHEA, cortisone, testosterone, progesterone (hair)

PAXgene tubes

N = 7666 (88%)

Bloods = 6231

N = 8218 (86%)

Bloods = 6438

N = 7699 (88%)

Bloods = 6180;

Hair = 2602

N = 3525

Bloods = 2762
Ad-Hoc Modules
In wave 3 of ELSA, a life history interview was administered to eligible ELSA sample members. The aim was to collect retrospective information in a number of areas including: children (natural and adopted); fertility; cohabiting and important noncohabiting relationships; housing and geographical mobility; living situation when they were 10 years old; jobs and earnings; health including injuries, childhood health, smoking and gynecological issues; relationship with parents when a child; and other important and difficult events in their lives.
An experimental module on "risk and time preferences" was administered to a subsample in wave 5 of ELSA. This behavioral economic module was designed to measure attitudes toward financial risk-taking and objective preferences for certainty versus risk and self-control.
In wave 9 of ELSA, a nutrition assessment was administered using the Oxford WebQ (Liu et al. 2011) dietary questionnaire. This is an internet-based self-administered tool specifically designed for use in large-scale prospective studies in the UK. The questionnaire collects information on the types and quantities of foods and beverages consumed in the previous 24 h from each of the 21 food groups; from this information, the nutrient intakes are automatically calculated. Participants are asked to complete this assessment for two separate 24 h periods.
The Harmonized Cognitive Assessment Protocol (HCAP)
The Harmonized Cognitive Assessment Protocol (HCAP) is a substudy carried out within ELSA to investigate dementia risk using a cognitive assessment battery standardized across aging studies. The HCAP has been designed to leverage the HRS international network of studies to produce comparable data on cognition and to provide research diagnoses of dementia and mild cognitive impairment. Interviews were carried out with 1274 men and women aged 60 and over in 2018, recruited using a stratified sampling procedure based on current cognitive ability. Release of these data to the UK Data Service is planned for 2019.
Auxiliary Data
Written consent has been obtained by ELSA respondents to link their data to official records. To date, the ELSA data has been successfully linked to Hospital Episode Statistics (HES) data, mortality and cancer registration records, and financial records including National Insurance contributions and state benefits.
Key Findings
Numerous analyses of ELSA data have been carried out by investigators across the world from several disciplines, and the information is also used by UK Government Departments for policy analyses. More than 300 peer-reviewed articles have been published since 2014, as detailed at www.elsa-project.ac.uk. As more waves of data are collected and available for analyses, the findings produced are increasingly based on complex modeling of longitudinal data to provide better evidence of the health trajectories of older people. Examples include studies on cognitive function and dementia. One study examined age-trajectories of cognitive function over an 8-year period and factors related to them. The results suggested cognitive function declined significantly over time, and the decline was steeper at older ages. Factors related to a steeper decrease in cognitive function included older age, dementia, low education, poor physical functioning, depression, and modifiable risk factors such as alcohol consumption, smoking, and physical inactivity (Zaninotto et al. 2018). Another study estimated age-specific dementia incidence in ELSA from 2002 to 2013, confirming the decline in incidence over recent years observed in other high income countries, while projecting substantial increases in prevalence over the next 20 years (Ahmadi-Abhari et al. 2017). Evidence on the factors related to dementia suggested that lower wealth in late life, but not education, is associated with increased risk of dementia (Cadar et al. 2018) and factors such as loneliness and hearing impairment are precursors of dementia (Rafnsson et al. 2017; Davies et al. 2017).
Flourishing in later life has been the focus of a series of ELSA-based studies. Eudemonic well-being and sustained enjoyment of life have been shown to be associated with increased survival (Steptoe et al. 2015; Zaninotto et al. 2016). Importantly, life skills (such as conscientiousness, emotional stability, determination, control, and optimism) and the sense of life being worthwhile in later life are related to economic success, higher well-being, and favorable health outcomes (Steptoe and Wardle 2017; Steptoe and Fancourt 2019).
In other studies, factors associated with extended working lives have been in focus, showing that good working conditions, such as higher levels of job control and autonomy and strong attachment to the labor market during adulthood encourage extended working (Carr et al. 2016; Wahrendorf et al. 2018). Furthermore, current and lifetime health influences the decisions and the ability to work beyond state pension age (Di Gessa et al. 2017).
Future Plans and Innovations
Plans to continue data collection of ELSA beyond 2019 are currently in place. The study is continuously evolving to cover current and future issues in aging. Innovations are being introduced both in terms of methods, such as mixed-mode data collection, and content. There are numerous policy and research priorities in the aging field, and ELSA endeavors to remain sufficiently flexible to respond to these challenges.
Data Access
The data set is available to all researchers for free upon registration through the UK Data Service at https://www.ukdataservice.ac.uk. The data are deposited as soon as possible after collection.
Copyright information
© Springer Nature Switzerland AG 2019
Section editors and affiliations