Ecosystem-Based Approach for Sustainable Agricultural Development in Addressing Food Security and Nutrition
Living reference work entry
DOI:
https://doi.org/
10.1007/978-3-319-69626-3_65-1
Definition
The ecosystem-based approach (EBA) is a strategy for the integrated management of land, water, and living resources that promotes conservation and sustainable use in an equitable way. It aims to restore or strengthen the self-sustaining capacity of human-natural relationships (Richter et al. 2015) and represents a framework of action under the Convention on Biological Diversity (CBD).
Introduction
The burgeoning world population is expected to rise from 7.6 to 9.8 billion by 2050. This will significantly increase the demands for food and land for housing and settlement with their corollary on land degradation, biodiversity habitat loss, and an increase in waste production (Hazell and Wood 2008; Godfray et al. 2010; Seto et al. 2012). In addition, studies have shown that 795 millions of people were still suffering from hunger in 2017 even though the actual world food production was beyond the calorific requirement of its population (FAO et al. 2015). These people are distributed in developing countries where poverty prevails and where large-scale farming is not well developed. Consequently, statistics have shown that the actual world food production should experience a 70–110% increase in order to feed the world population in 2050 (Wu et al. 2018). This poses serious challenges to most countries especially those from developing and least developed countries because of poor agricultural practices resulting to food insecurity and nutrition for rapidly growing population.
However, various strategies were put in place as a consequence to this food crisis during the implementation of Millennium Development Goals (MDGs), which further evolved into the Sustainable Development Goals (SDGs) through the adoption of the 2030 Agenda for Sustainable Development. The strategic interventions ranged from agricultural intensification and extension, animal husbandry, aquaculture, fisheries, and forestry-derived products. Unfortunately, this attempt to improve food production has been altered by the increasing soil infertility, pest infestation, climate change impacts, and poverty. They contribute to the decrease in productivity and the overexploitation of agricultural systems on one hand and the increasing use of chemicals such as fertilizers and pesticides with their corollary deleterious impacts on environmental health (soil, water, and air), human well-being, and biodiversity on the other hand. In this context of poorly performing agriculture, it is clear that the fight against hunger cannot be successful unless important behavioral changes are implemented toward change in food production and nutrition as envisioned in the adoption of 2030 Agenda for Sustainable Development.
The realization of Sustainable Development Goals (SDGs) and its 2030 targets has provided a framework for shared action for people, planet, and prosperity, to be implemented by all countries and all stakeholders, acting in collaborative partnership. The SDG 2 aspires to end hunger, achieve food security and improved nutrition, and promote sustainable agriculture as solution for food production and food security (Rockstrom et al. 2017).
Unlike conventional agricultural systems that focus mainly on food production maximization, sustainable agricultural systems seek to unsure a balance between a range of agricultural and environmental goods and services. They promote the best use of technology, nature, and local knowledge for an effective management of socio-ecosystem in order to improve the economic, social, and environmental outcomes while considering the resilience and persistence of the systems. Such sustainable agricultural systems therefore relate to the way food is produced, its availability and use, and the way it impacts on ecosystems in general and the livelihoods in particular.
In recent years, several approaches to sustainable agricultural development have been experimented, among which the ecosystem-based approach (EBA). The EBA has been found to be highly beneficial as it aims to restore or strengthen the self-sustaining capacity of socio-ecosystem such as agricultural systems through the integrated management of land, water, and living resources that promotes conservation and sustainable use in an equitable way. As a holistic approach, it requires transdisciplinary actions engaging actors from diverse fields, as well as the implementation of adequate policies. This approach is increasingly being used to achieve sustainability in food production with minimum impacts on ecosystem. Whenever an ecosystem-based approach is adopted and implemented adequately in agriculture, it guarantees a sustainable agricultural development and ensures sustainability in food production, its availability, and consumption (Fig.
1
).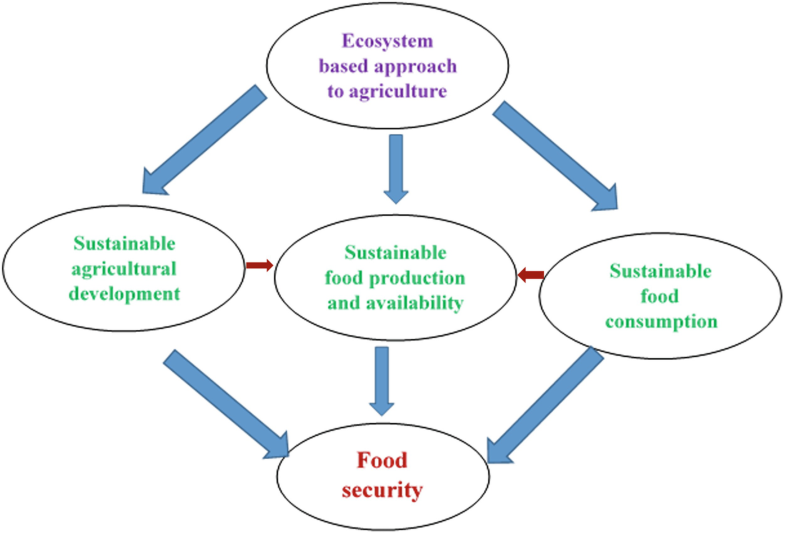 It is in this context that the application of an ecosystem-based approach to agriculture represents one of the key alternatives that link the development of agroecosystems and sustainable food consumption to the faith for better productivity and availability of food. Thus, the contribution of this approach to food security is very important because it does not only increase the productivity of agro-systems and reduces their impact on the environment, but also contributes to the reduction of food waste through a change in behavior (Soto et al. 2008). This entry therefore synthesizes the contribution of the ecosystem-based approach in sustainable agricultural development to address food security and nutrition. It also evaluates the challenges of an ecosystem-based approach in improving food production and nutrition in the context of Sustainable Development Goals.
Contribution of the Ecosystem-Based Approach to Food Security and Nutrition
The contributions of the ecosystem-based approach to food security have been highlighted by several scientists and can further be categorized into the EBA contributions to the establishment of sustainable agricultural system, the EBA contributions to improved food production and availability, and the EBA contributions to sustainable consumption (Table
1
).
Table 1
Thematic areas and contributions of EBA to food security and nutrition as derived from the literature
Authors

Thematic areas of interest

Ecosystem-based approach for sustainable agriculture

Sustainable agricultural system

Improved food production and availability

Sustainable consumption

EBA/food security

Ahmed et al. (2016)

Integrated pest management

 

X

 

X

Alexandratos and Bruinsma (2012)

Irrigated agriculture

 

X

 

X

Ayantunde et al. (2005)

Quality and quantity of fodder for livestock

X

 
 

X

Bakhoum et al. (2012)

Natural-assisted regeneration

X

 
 

X

Bale et al. (2008)

Integrated pest management, sustainable food production

 

X

 

X

Blanchard et al. (2012)

Integration livestock-agro

X

 
 

X

FAO (2012)

Improved food system for sustainable diet

 

X

X

X

FAO et al. (2015)

Food insecurity

 
 
 

X

Galford et al. (2013)

Sustainability

X

 
 

X

Godfray and Garnett (2014)

Sustainable intensification, food security

X

 
 

X

Godfray et al. (2010)

Food security

 
 
 

X

Hazell and Wood (2008)

Drivers of change

 
 
 

X

Hemme and Otte (2010)

Sustainable food availability, income generation

X

 
 

X

Idrissa et al. (2017)

Ecosystem disturbance

X

X

 

X

Larwanou et al. (2006)

Natural regeneration

X

X

 

X

Lasco et al. (2014)

Adaptation to climate risk, agroforestry

 

X

 

X

Liu et al. (2017)

Integrated pest management

 

X

 

X

McLaughlin and Kinzelbach (2015)

Food security, sustainable resource management

X

 
 

X

Mercati (2016)

Organic agriculture, food sustainability

X

 
 

X

Mofidian and Sadeghi (2015)

Integrated farming system

X

 
 

X

Moomaw et al. (2012)

Global food consumption, sustainable food system

 
 

x

X

Reisch et al. (2013)

Sustainable food consumption

 
 

x

X

Richter et al. (2015)

Opportunity, challenges of EBA

 
 
 

X

Rockström et al. (2009)

Water availability, global food production

X

 
 

X

Rockström et al. (2009)

Sustainable intensification of agriculture, global sustainability

X

 
 

X

Scarano (2017)

Ecosystem-based adaptation, climate change

X

 
 

X

Schafer et al. (2007)

Sustainable nutrition

 
 

x

X

Segnon et al. (2015)

Diversified farming system, local knowledge

X

 
 

X

Seto et al. (2012)

Global forecasts of urban expansion

 
 

x

X

Singh et al. (2017)

Integrated pest management

X

 
 

X

Soto et al. (2008)

EBA to aquaculture, fisheries

X

 
 

X

Vall et al. (2017)

Sustainable intensification, multiple crops, and livestock association

X

 
 

X

Vall et al. (2012)

Ecological intensification

X

 
 

X

Vermeir and Verbekeb (2008)

Sustainable food consumption, behavior

 
 

x

X

Vignola et al. (2015)

EBA adaptation

 
 
 

X

Wu et al. (2018)

Global cropping intensity gaps, increased food production

 

X

 

X
An Ecosystem-Based Approach Toward the Establishment of Sustainable Agricultural Systems
Agriculture is changing rapidly all over the world, and intensification, diversification, energy efficiency, water management, soil restoration, integrated pest management, sustainability, and climate change are key issues for farmers: yet the best solutions reside in applying an ecosystem-based approach to agriculture through multidisciplinary applications of alternative techniques and behaviors to farming. This approach denotes that the establishment of agricultural systems based on services provided by the ecosystem and the forecasting of farm activities depending on their resilience reduce significantly the impacts of anthropogenic activities on the environment.
Sustainable farming systems are indeed multifunctional, integrated production systems that guarantee ecological integrity and social well-being, especially in developing countries where food crisis is recurrent and where small-scale farmers are found to be the key for the hunger alleviation (Vignola et al.
2015
). Nevertheless, these sustainable farming systems improved the yield and therefore the constant availability of products (Rockstrom et al.
2017
). To achieve sustainability in small-scale farming system, strategies for ecological intensification (Vall et al.
2017
) and ecological adaptation to climate change have been put in place in developing countries (Vignola et al.
2015
). According to Vignola et al. (
2015
), these ecosystem-based adaptations can only be considered suitable for the smallholder farmers when they progressively satisfy three dimensions as follows:
The ecosystem baseness on the conservation, restoration, and sustainable management of biodiversity and/or that of functions and processes (such as nutrient cycling, soil formation, water infiltration, carbon sequestration, etc.).

The adaptation benefits that contribute in the improvement of agricultural systems productivity, in the reduction of biophysical impacts of externalities, and in the reduction of crop pest and disease in face of climate variability and climate change.

Ensure livelihood security such as food security, diversification of income generation, use of local knowledge, and affordable implementation cost.
In western Burkina Faso and southern Mali, for instance, producers have developed farms based on an association of agriculture and livestock (Vall et al. 2012; Blanchard et al. 2012). This farm model which incorporates both crops and livestock in the same land is known to have several advantages. Animals such as cattle are fed with crop residues and serve as animal energy in ploughing and transportation. As they produce organic manure, these animals also contribute in return to soil fertilization and hence increase soil productivity. In fact, organic manure has been recognized for its important contribution to soil fertility restoration in agro-system through its carbon content. It consequently reduces the use of fertilizers which greatly pollute both soil and water and increase the risk of biodiversity depletion. This simultaneous presence of livestock and agriculture minimizes the economic and the food insecurity risks through a diversification of sources of income and the reduction of food waste. The integration of livestock in agroecosystem will provide quality and quantity of fodder for livestock, especially when the latter represent a major constraint to livestock productivity among smallholder farmers (Ayantunde et al. 2005). It also contributes to poverty alleviation as livestock is increasingly viewed as important pathways for rural households to escape poverty (Hemme and Otte 2010).
However, when this integration is not applied adequately, it can contribute to a decline in some ecosystem services, especially in unstable, dynamic ecosystem such as the Sahel-Sahara transition zone. In the region of Diffa in Niger, this transition zone provides land for agropastoral and rangeland activities, where the quality and quantity pasture as well as water availability is rain dependent. Since the arrival of refugees (due to Boko Haram attacks) and their livestock in this zone, there is a competition for forage, and as soon as the raining season finishes and the grasses get dry, the grasses are cut off and stored in houses either to feed the livestock or for commercial ends. The few trees that are encountered are also being cut off and sold for household activities and energy. With the increasing pressure from livestock and populations on one hand followed by the climatic variability and the Sahara desert advancement on the other hand, there is a great ecological impact on this ecosystem that will increasingly lead to land degradation and poor agricultural productivity (Idrissa et al. 2017).
Another successful example of the integration of animal and crop in farming system has been experimented in Southeast Asia where aquaculture in rice-based farming systems boosted the productivity of rice by increasing nutrient availability to the plants (FAO 2005). Fishes, through their fecal rejection rich in protein, provide micronutrients to rice plants. As they feed on insects and weed, they also indirectly contribute to the pest control in this rice field and reduce the proliferation of insects and diseases and therefore moderate the need for pesticides. Biological control of pest is an efficient type of integrated pest management that is low cost involving and also environmentally friendly when well planned (Bale et al. 2008). According to FAO (2005), rice-fish farming systems also improve the livelihoods of farmers who generate higher revenues than those who produce only rice. In China, Iran and some other developing countries, fishes are replaced by ducks (Mofidian and Sadeghi 2015; Liu et al. 2017). These rice-duck farming systems have several advantages such as pest reduction and increase in grain yield and also contribute to livelihood.
Further associations composed of forest, livestock, and crop are also another line of action based on an ecosystem-based approach to land restoration and pollution reduction. This low-carbon agricultural incentive (Programma Agriculture de Baixo Carbono) was experienced in Brazilia in order to rehabilitate 15 million ha of degraded pastures. This is supposed to ameliorate the fixation of biological nitrogen and the carbon sequestration (16–20 millions of CO2) and also the production of bioenergy (methane gas) produced based on the compost and also commercial forestry (Galford et al. 2013).
In this process of establishing adequate sustainable agro-systems, the ecological zone in which farmers are located and the local knowledge are determinant factors of the choice of farming systems to be established by farmers. In Benin, Segnon et al. (2015) found that the establishment of integrated crops-trees-livestock agricultural systems and agroforestry systems is correlated to farmer's ecological region and knowledge of agroforestry practices (Z = −2.007, p < 0.01) as well as their sociolinguistic groups (Z = −2.239, p < 0.05). Hence, building sustainable agricultural system will require taking into consideration local/traditional knowledge and local and regional socioeconomic drivers of change in agriculture development.
The Ecosystem-Based Approach and Improved Food Production and Availability
The use of EBA in the establishment of sustainable agriculture leads to improved agro-systems such as conservation agriculture, organic agriculture, and permaculture among others. These agricultural systems are based on ecosystem services and biodiversity to improve upon the productivity. Organic agriculture, for instance, augments ecological processes that foster plant nutrition yet conserve soil and water resources. Mercati (2016) found a 1.3% increase in the global revenue from organic products which values around €50 billion in 2012. This increase is most recorded in developed countries of North America and Europe where the consumption of organic products has quadrupled in 10 years with an average conversion of about 500,000 hectares per year to organic production.
These agro-systems' contribution to sustainable water management is also important in the face of climate variability and human population growth. In their analyses of the future water availability for global food production, Rockström et al. (2009) evaluated the potential of green water for increasing resilience to global change. Based on water requirements per capita per year for each person, they envisaged growing pressure on water resources, from human demand and rainfall variability and climate change, which will require adaptation to increasing water shortage in many countries. In countries such as Rwanda, Iran, and Pakistan with chronic water shortage (blue plus green <1300 m3 per capita per year), key adaptation and resilience building strategies can be based on food imports, social and financial insurance systems, and investments in unconventional water sources, while simultaneous strategies in irrigation development and water management in rain-fed agriculture can be adapted for countries with blue and green water freedom (blue water availability (>1,700 m3 per capita per year) and green water availability (>600 m3 per capita per year)) such as Togo, Niger, Senegal, Kenya, and South Africa. In fact, in semiarid areas characterized by water sustainable availability, irrigation can enhance agricultural productivity as it has been estimated that three million km2 of irrigated land could account for about 44% of all crop production which indicates that irrigated agriculture has about four times greater yield than rain fed agriculture (Alexandratos and Bruinsma 2012).
Another contribution of the ecosystem-based approach toward the increase in food production is its role in integrated pest management. According to Singh et al. (2017), crops and food plants are damaged by more than 10,000 species of insects, 30,000 species of weeds, 1000 species of nematodes, and 100,000 diseases (caused by fungi, viruses, bacteria, and other microorganisms). All these pests and diseases cause important economic losses to farmers and hence hinder the fight against hunger in several regions of the world. Henceforth, only selection, integration, and implementation of sustainable pest control tools can respond adequately to these threats and maintain pest status to an endurable level while ensuring environmental quality and good health (Ahmed et al. 2016), though integrated pest management, fertilizers, and pesticides are reduced to minimum.
Agricultural resilience to climate change and variability for improved food production and nutrition is another important contribution of the EBA without which achieving SDG2 will be an uphill task. The use of ecosystem-based management practices in agricultural systems and landscapes can help smallholder farmers adapt to climate change by providing benefits at both farm and landscape level (Vignola et al. 2015). Furthermore, in their review on climate risk adaptation by smallholder farmers, Lasco et al. (2014) identified trees and agroforestry practices as good adaptive strategies to environmental changes and having the potential to enhance the resilience of smallholders to current and future climate risks. They focus on improving ecological functions and socioeconomic values; indeed, ecosystem-based adaptation to climate change is the type of adaptation that aims to combine these outcomes simultaneously toward poverty alleviation. This is particularly pertinent to developing nations that safeguard most of the planetary biodiversity and healthy ecosystems (Scarano 2017).
The implementation of the EBA in agricultural development ensures, through the abovementioned contributions, increase in food production in one hand and food availability on the other. Food availability, an important aspect of food security, can be therefore assessed and influenced at three levels as follows: (a) quantity and quality food production; (b) accessibility of food: the population should have access to food either produced locally and sufficiently, or they should have enough resources to buy it; and (c) consumption of food. The latter which significantly impacts the food resources is influenced by several factors.
While agriculture cannot be practiced throughout the year in some areas due to unfavorable climatic conditions, other sectors can be alternative sources of food. That is the case of fish from aquaculture and fisheries, meat from livestock, and fruits and other forestry-related products that are readily accessible. Constant food availability will be guaranteed; therefore, food price volatility will also be controlled and lowered. Moreover, an EBA in agriculture provides quality food to low-income earning farmers and populations because food products from sustainable agriculture firms are known to be of better quality than those that are not sustainable. Moreover, when an ecosystem is managed sustainably, it has direct effect on food availability, especially when local populations have adaptive consumption according to the period and to the goods provided by the system. In southern Niger, farmers were sensitized to leave regeneration of tree in their farms (Larwanou et al. 2006; Bakhoum et al. 2012). The innovative action improved the density of valuable trees on their lands and consequently improved upon five million hectares while producing more than 500,000 additional tonnes of food per year resulting in improved food security for about three million people (Rockstrom et al. 2017). Additional activities practiced by farmers in Karnataka, Southern India, are good examples, in terms of resources mobilization for food and others. In fact, in Karnataka, where water scarcity lead to the establishment of powerful solar system for underground water exploitation, farmers were able to sell excess electricity to the local electric company. In order to reduce excessive use of groundwater, the government incentive was to encourage the use of solar power as a "cash crop." The rationale is that if farmers can make money by selling excess power, then they will have an economic incentive to irrigate their crops efficiently, thus helping to conserve groundwater and energy use contrary to what has been experienced in driven groundwater depletion in western India (Rockstrom et al. 2017). Nevertheless, for sustainability to be achieved, decrease in food demand and food losses together with biotechnological advances should be envisioned (McLaughlin and Kinzelbach 2015).
Sustainable Consumption and Improved Income
Sustainable consumption represents one of the private consumption areas that have the highest impact on the environment and human health. When it is adequately used, it contributes to quality food availability; meanwhile, when consumption is unsustainable, it leads to an increase in food losses and wastage. Indeed, even though the global world food production is beyond the calorific demand, 1.3 billion tonnes of food is lost or wasted annually, hence reducing the overall availability of food for consumption (FAO 2012; Moomaw et al. 2012). Another parameter which hinders the availability of food is the preference of imported products. An analysis of the determinants of consumer behavior on young adults Belgians showed that consumption of local products has become an ethical issue (Vermeir and Verbekeb 2008).
Unfortunately, the contemporary food production and consumption continue to remain a challenge for food security (Schafer et al. 2007; Reisch et al. 2013). For sustainability in food consumption to be achieved, there is a need for integrative, cross-sectorial, and population-wide policies that address the full range of drivers (Reisch et al. 2013). These policies should be accompanied with change in diet and behavior. Meat and dairy products are known to have higher environmental impacts, so products such as organic fruits and vegetables should be widely encouraged. Nevertheless, sustainable agriculture could answer the basic need of population, and when the ecosystem-based approach is applied adequately to smallholder farmers, it contributes significantly to food security.
Conclusion and Recommendations
Challenges of EBA in Agricultural Development and Food Security
Even though the contribution of the ecosystem-based approach to food security and nutrition is undeniable, its application continues to face several challenges at different levels ranging from local to regional and from small-scale farming systems to large-scale farms. The fundamental challenge of an ecosystem approach lies first in the conceptualization of an ecosystem and its resilience level by farmers in other to limit anthropic interventions. In fact, an understanding of ecosystem structure and functions is key to its sustainable management. Unfortunately, scientific knowledge and findings on the EBA are not readily accessible by producers in developing countries or remote places where technical assistance is limited and where poverty prevails. Due to a high rate of illiteracy in such places and the limited technical assistance, farmers may not benefit from new scientific findings, and some of them may not even understand the impact of their actions beyond the productivity of their farms. Their vison of management does not necessarily include all aspects of their farm ecosystem.
In a multi-scale farming system, at a given ecosystem or at the landscape level, the diversity of actions represents the second challenge toward the implementation of an ecosystem-based approach in agriculture. Different land tenure and agricultural management practices can produce contra-productive associations. According to Richter et al. (2015), collaborations among various disciplines, actors, organizations, and communities should be encouraged and monitored, as they are fundamental, especially when the ecosystem-based approach is applied at the landscape or regional level. A synergy of actions should be therefore maximized in other to minimize negative externalities and scaled up through adaptive management.
Additional challenges in promoting transitions toward adaptation and sustainability have been equally mentioned by Scarano (2017). For the benefit of science and policy-making, research on the EBA should be integrated from both socio-ecological systems framework and socio-technical systems research. Furthermore, there is a gap between global and local researches and policy which limits the global appreciation of issues and therefore hinders scalability of actions and policies. Individual sectorial policies should be reinforced by cross-cutting policies at local, national, and international levels for larger impacts and integrated actions to promote the use of ecosystem-based approaches in agricultural development, climate change adaptation, and environmental strategies (Vignola et al. 2015).
In most developing countries, the adaptation deficit to climate variability and climate change hinders the establishment of a sustainable agriculture. Knowing the impacts of climate on human activities and that of human activities on climatic conditions, insufficient adaptation to climate is currently observed in poor developing countries and in poor people. It becomes therefore difficult to delineate where socioeconomic development ends and adaptation to anthropogenic climate change begins. With the inherent impacts of climate variability, the year-to-year adaptation strategies have several limits and are expected to push managed ecosystems beyond their natural climatic boundaries, requiring a greater rate and extent of adaptation than previously needed. In some parts of the world, low levels of investment have led to an adaptation deficit, and this deficit will need to be improved by full funding of development, without which the funding for adaptation will be insufficient (Parry et al. 2009).
Upscaling of EBA toward Food Security for Improved Food Production and Nutrition and Income
The ecosystem-based approaches enhance the resilience of local communities through adaptation and the mitigation of climate change impacts, increase in food availability, and the promotion of sustainable food consumption. However, even though the EBA makes it possible to improve the food production and to minimize its impact on the environment and the well-being of the population, its application is still hindered in many parts of the world by financial, political, and technical constraints, especially in small-scale farming which characterized the developing countries.
As suggested by Vignola et al. (2015), it is important to make inclusive policies that combine several strategies (climate change, environmental, agriculture, biodiversity) at all levels (local, national, and international) of decision-making. Furthermore, these strategies should be transdisciplinary and adaptive, and policies should be accompanied by adaptation strategies and implementation measures to assist farmers and other stakeholders in their daily activities. However, there are several limiting factors that drive agricultural adaptations, and researchers should work with farmers and rural communities to assess the most limiting factors and related adaptation practices for a given region and farm system (Niles et al. 2015). In their study, Niles et al. (2015) suggested that farmers' perception and response to climate change is partly due to their personal experiences with climate change and the limiting factors within their system. The latter indirectly mediate how farmers translate their past climate experiences into future behaviors. This shows how important local or traditional knowledge is, especially when building new or consolidating existing strategies.
Additional strategies can focus on a change in behavior in the fight against hunger, especially in the developing countries where 795 millions of people were still suffering from hunger in 2017 even though the actual world food production was beyond the calorific requirement of its population (FAO et al. 2015). Indeed, the behavior of people and food culture represent a real obstacle to the food security through an important food waste and refusal to consume local production. An important percentage of food is wasted every year; meanwhile, the recycling of food can contribute significantly in food resource availability. Societal adaptation is also another complementary line of action which can help achieve food security and nutrition. It can lead to changes together with people through social justice and sensitizing programs regarding the acceptance, and the consumption of local products can improve access to food and hence improve food security. New strategies can even combine fields such as agri-food industries, reproductive health, and education to respond to the shortcomings observed, as the level of education and family planning is insufficient and nutritional habits are also not quite commendable in some cases.
Food security comprises four dimensions without which simultaneous occurrence, no individual, household, nor nation can achieve food security (IUCN 2013). They are (1) the availability related to the supply of sufficient quality food; (2) the access or the ability of individuals, community, or nation to acquire food; (3) the utilization which represents the means by which individuals are able to gain energy and nutrition from food; and (4) the stability which is acquired when sufficient and adequate food is available, accessible, and utilizable on a reliable, sustainable basis. Hence the contribution of agriculture toward achieving food security has direct and indirect consequences. Indeed, agriculture contributes in hunger reduction worldwide. However, this can only be achieved through the application of ecosystem-based approaches in the establishment of a sustainable agricultural system. An EBA places the fight against hunger in a broader food system with improved and sustainable food accessibility and consumption but limited environmental impacts.
Copyright information
© Springer Nature Switzerland AG 2019
Section editors and affiliations