HIPK2
Reference work entry
DOI:
https://doi.org/
10.1007/978-3-319-67199-4_618
Historical Background
The homeodomain-interacting protein kinase 2 (HIPK2) was first described in 1998 as member of a novel protein kinase family (HIPK1-3) able to interact with homeodomain transcription factors of the NK-2 family and to enhance their repressor activity (Kim et al.
1998
). Over the next years, it was shown that HIPK2 very likely is an autophosphorylating Ser/Thr kinase which localizes to nuclear speckles (see Fig.
1
), and a number of interaction partners and putative targets such as the death receptor CD95, the corepressor Groucho, or a STAT3 peptide were identified. The HIPK2 genes were mapped to Chr. 7q32–42 in humans and to Chr. 6B in the mouse.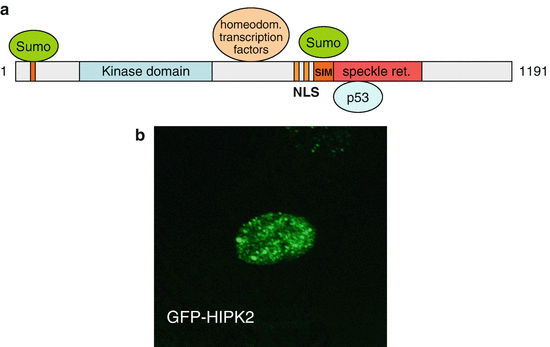 Copyright information
© Springer International Publishing AG 2018