SARA
Reference work entry
DOI:
https://doi.org/
10.1007/978-3-319-67199-4_598
Historical Background
The adaptor protein SARA was first identified as a novel serine protease-like molecule in human brain (Meckelein et al.
1998
), and then later characterized as an important regulator of TGF-ß1 signal transduction. SARA interacts with both the type I and type II TGF-ß1 receptors (TßRI and TßRII), and contains a Smad-binding domain (SBD) as well as a double zinc finger FYVE domain that localizes SARA to endosomal subcellular compartments (Tsukazaki et al.
1998
). SARA also contains a region homologous to the active site of trypsin-like serine proteases (Meckelein et al.
1998
) and a binding motif for the catalytic subunit of type 1 serine/threonine protein phosphatase (PP1c) (Bennett and Alphey
2002
). Three alternatively spliced transcripts encoding distinct isoforms have been found for this gene (Fig.
1
).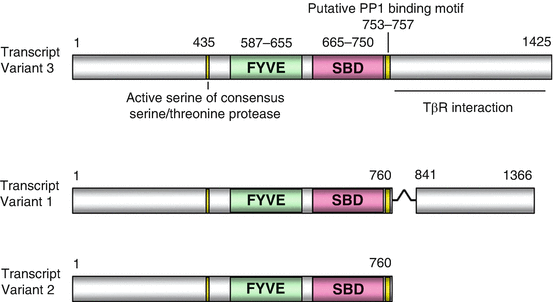 Copyright information
© Springer International Publishing AG 2018