PHLDA1 (Pleckstrin Homology-Like Domain, Family A, Member 1)
Reference work entry
DOI:
https://doi.org/
10.1007/978-3-319-67199-4_483
Historical Background
PHLDA1 (pleckstrin homology-like domain, family A, member 1) gene encodes for a member of an evolutionarily conserved pleckstrin homology-related domain protein family and was first identified as a potential transcription factor required for Fas expression and activation-induced apoptosis in mouse T cell hybridomes (Park et al. 1996). Further PHLDA1 homologs were identified and isolated in rat (Gomes et al. 1999) and human (Kuske and Johnson 2000) and sequencing comparison showed that mouse, human, and rat PHLDA1 cDNAs exhibit high level of identity. The genes encoding for the members of the pleckstrin homology-related domain protein family are located in different chromosomes, PHLDA1 (also named PHRIP/TDAG51/DT1P1B11/MGC131738; 12q21.2), PHLDA2 (also named IPL/BRWR1C/HLDA2/TSSC3; 11p15.4), and PHLDA3 (also named TIH1; 1q32.1), but have a similar simple gene structure with two exons (one coding exon) and a small intron (Frank et al. 1999).
Protein Structure and Biochemical Function
The human PHLDA1 gene encodes a 401 aminoacid protein containing plackstrin homologue (PHL) domain spanning aminoacids from 150 to 283 interrupted by a small proline/glutamine rich sequence (QQ) and protein-protein interaction domains in its carboxy-terminal region, as proline-glutamine (PQ) and proline-histidine-rich (PH) tracts (Fig.
1
). The PHL domains are evolutionary conserved and found in a wide range of eukaryotic proteins (Lemmon et al.
2002
). The PHL domains are composed of about 100–120 aa residues with properties to bind phosphatidyl inositol lipids (Lemmon et al.
2002
; Scheffzek and Welti
2012
). Many proteins containing PHL domains (such as IRS proteins) are found to interact with membrane components and participate in cell signaling transduction, vesicular trafficking, and cytoskeletal rearrangement (Lemmon and Ferguson
2000
). Polyglutamine (QQ), proline-histidine (PH), and proline-glutamine (PO) tracts are well-conserved motifs in eukaryotic proteins and were reported to be involved in transcriptional regulation and protein-protein interaction in the development of neurodegenerative diseases (Williamson
1994
; Butland et al.
2007
). In addition number variations of QQ repeats are associated with the development of neurodegenerative diseases (Butland et al.
2007
). Although the function of the members of the plackstrin homologue (PHL) domain protein family (PHLDA1, PHLDA2, and PHLDA3) in different types of human cells remain to be elucidate, PHLDA1 has been shown to be regulated by different stimuli and associated with cell proliferation, cell survival, and tumorigenesis.

Expression Regulation
PHLDA1 is expressed in several mammalian tissues displaying subcellular localization predominantly in the cytoplasm and nucleoli (Gomes et al.
1999
; Hinz et al.
2001
; Neef et al.
2002
; Oberg et al.
2004
; Xi et al.
2007
; Nagai et al.
2007
). PHLDA1 mRNA and protein expression is induced by different stimuli such as growth factors, differentiation agents, and ER-stress agents and has been associated with different biological processes, such as cell apoptosis, cell proliferation, and differentiation (Fig.
2
). In T cell hybridome, PHLDA1 is rapidly induced upon TCR activation (Park et al.
1996
). In rat neuronal cells, PHLDA1 is induced by fibroblast growth factor (FGF) and differentiation agent (Gomes et al.
1999
). Phorbolester (TPA)/ionomycin induce PHLDA1 expression in different transformed T cell lines (Hinz et al.
2001
). PHLDA1 was found to be induced by both PDGFβ and AKT activation in MERAKT cells (Kuhn et al.
2001
). IGF-1 induces PHLDA1 mRNA and protein in NIH-3T3 (NWTb3) cells through IGF-1R via p38MAPK pathway and in normal skin fibroblasts via PI3K pathway (Toyoshima et al.
2004
; Wu et al.
2010
). In MCF-7 breast cancer cells, PHLDA1 is upregulated by estrogen via estrogen receptor (ER) (Marchiori et al.
2008
). More recently, PHLDA1 was shown to be regulated by crosstalk between ER and inflammatory nuclear factor kB (NFkB) directly by transcriptional activation and indirectly by the repression of miR-181a and miR-181b expression, which directly target PHLDA1 (Kastrati et al.
2015
). PHLDA1 expression is also induced by ER stress-inducing agents, such as homocysteine, tunicamycin, and farnesol in different cell types (Hossain et al.
2003
; Joo et al.
2007
). In addition, a profiling study with SKBR3 breast cancer cells treated with lapatinib identified PHLDA1 as a novel downstream target in the ERBB2/EGFR pathway (Li et al.
2014
).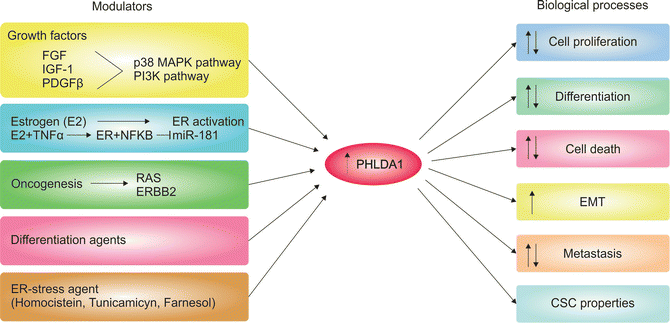 Role in Cell Death
Several experimental evidences consistently indicate that PHLDA1 is involved in cell death induction. The proapoptotic activity of PHLDA1 was first demonstrated in mouse T cell hybridome were PHLDA1 is required for Fas(CD95)-expression, that plays important role in TCR-induced apoptosis (Park et al. 1996). PHLDA1 expression was found to be dependent upon the activity of PKC, and PKC activation only induces Fas-expression in cells expressing wild type PHLDA1 (Wang et al. 1998). However, Rho et al. (2001) demonstrated that PHLDA1-/- mice express normal levels of Fas and had normal T-cell apoptosis, indicating that PHLDA1 is not essential for Fas-expression. Microinjection of differentiating H19-7 cells with a neutralizing antibody anti-PHLDA1 increases cell survival, and transient PHLDA1 expression decreases cell survival in both differentiating and nondifferentiating H19-7 cells, indicating that PHLDA1 acts as a mediator of differentiation-associated apoptosis in H19-7 hippocampal cells (Gomes et al. 1999). In 293T cells, PHLDA1 was found to interact with two mRNA binding proteins, eIF3-p66 and PABP, and PHLDA1 cotransfection with the luciferase gene leads to protein biosynthesis inhibition, a process important in the execution of apoptosis (Hinz et al. 2001). Overexpression of PHLDA1 in endothelial cells leads to changes in cell morphology, decreases cell adhesion, and promotes detachment-mediated cell death (Hossain et al. 2003). Knockdown of PHLDA1 abolish the ability of IGF-1 to prevent NIH-3T3 (NWTb3) cells from undergoing apoptosis in response to serum starvation (Toyoshima et al. 2004). Constitutive PHLDA1 expression in different melanoma-derived cell lines leads to reduced cell growth, reduced colony formation, and increased basal apoptosis (Neef et al. 2002). In human lung carcinoma cells, Joo et al. (2007) found increased expression of PHLDA1 during farnesol-induced apoptosis coupled with the activation of an ER-stress response that includes activation of the sensors IRE1 and PERK, dependent on activation of the MEK–ERK signaling pathway. Stress-induced heat shock proteins (Hsp70, Hsp110, and Hsp40) directly bind to the pleckstrin domain of PHLDA1 and suppress its proapoptotic function in MEF cells (Hayashida et al. 2006). The promoter region of the PHLDA1 has HSE binding sites where the heat shock transcription factor 1 (HSF1) binds and modulates PHLDA1 expression; in addition, HSF1 is able to directly bind to and activates PHLDA1 in response to heat shock in male germ cells (Hayashida et al. 2006). Moreover, during the time-course induction of cryptorchidism rat testis, Hsf1 and Phlda1 are strongly expressed, suggesting that the Hsf1/Phlda1 pathways play important role in the apoptosis of primary spermatocytes in cryptorchid testis (Liu et al. 2011). Treatment of HK-2 cells (an immortalized proximal tubule epithelial cell line) with ER-stress agents induces PHLDA1 expression, leading to morphological changes, β-catenin disruption, and increased apoptosis (Carlisle et al. 2012).
Role in Cancer
Evasion from apoptosis or programmed cell death, which is an active, energy-dependent process involving biochemical and molecular events regulated by a series of distinct genes is a hallmark of cancer (Hanahan and Weinberg 2000, 2011). Several experimental studies provided evidences that PHLDA1 plays a role in apoptosis induction and cell proliferation, cell adhesion, and migration. Alterations in the PHLDA1 mRNA and/or protein expression were observed in different types of tumors, such as melanomas, breast tumors, and intestinal tumors. Clinical and experimental evidences indicate that PHLDA1 has tissue-specific functions and might act as tumor suppressor gene or oncogene in the tumorigenic process. Decreased PHLDA1 protein levels were demonstrated in melanomas (Neef et al. 2002) and breast carcinomas (Nagai et al. 2007; Johnson et al. 2011), oral carcinoma (Coutinho-Camillo et al. 2013), and gastric adenocarcinoma (Zhao et al. 2015). On the other hand, PHLDA1 was found to be strongly expressed in human intestinal adenomas and the majority of intestinal carcinomas and PHLDA1 knockdown in colon cancer cells inhibits anchorage-independent cell growth and reduces cell migration (Sakthianandeswaren et al. 2011) and high expression of PHLDA1 has been associated with high metastatic potential in osteosarcoma cells (Ren et al. 2015).
PHLDA1 reduced expression was found in metastatic as compared with primary melanoma cells, suggesting that PHLDA1 downregulation may contribute to the progression of malignant melanomas (Neef et al. 2002). Constitutive PHLDA1 in different melanoma-derived cell lines leads to reduced cell growth, colony formation, increased basal apoptosis, and increased sensitivity to apoptosis induced by chemotherapeutic agents, doxorubicin and camptothecin (Neef et al. 2002). Expression profiling analysis identified the PHLDA1 transcripts to be overexpressed in hair follicular stem cells (Ohyama et al. 2006). A recent study identified consistent positive immunoreactivity for PHLDA1 in trichoepitheliomes and negative immunoreactivity in basal cell carcinomas, indicating that PHLDA protein expression may allow differential diagnosis between trichoepitheliomes and basal cell carcinomas (Sellheyer and Nelson 2011). PHLDA1 protein downregulation was a strong predictor of poor prognosis for breast cancer patients and patients with tumors showing reduced PHLDA1 expression and paucity for ER has the worse outcome (Nagai et al. 2007). Reduction of PHLDA1 expression in HME16C mammary epithelial cells during ras-mediated cellular transformation induces proliferation under anchorage-independent conditions and results in increase in ERK activation, suggesting that PHLDA1 opposes ERK-mediated proliferation in breast cancer cells (Oberst et al. 2008). Recently, a regulatory loop between Aurora-A and PHLDA1 was observed in breast cancer cells (Johnson et al. 2011). In MDA-MB-231 breast cancer cells, Aurora-A predominantly phosphorylates PHLDA1 at serine residue 98 (Ser98) leading to its degradation and PHLDA1 overexpression results in decreased levels of Aurora-A, suggesting that PHLDA1 acts as a negative regulator of Aurora-A-mediated breast oncogenesis (Johnson et al. 2011).
Summary
In summary, several reports provide evidence that PHLDA1 plays important role in apoptosis induction and cell proliferation inhibition leading to reduced cell survival; however little is known about the mechanisms or cell signaling pathways involved in the proapoptotic functions of PHLDA1 in different cell types. PHLDA1 is induced by different stimuli, including ER-stress agents, cell differentiation agents, and mitogenic agents, such as growth factors and estrogens, suggesting that PHLDA1 may play diverse roles in addition to apoptosis. Downregulation of PHLDA1 has been shown in skin cancer and breast cancer biopsies, indicating a tumor-suppressive function for PHLDA1; however new clinical studies are required to evaluate if this suppressive effect is restrict to certain types of tumors or is common to the majority of human tumors. In melanoma cells, PHLDA1 expression increases chemosensitivity to doxorubicin and camptothecin, it will be interesting to see if and how PHLDA1 improves efficacy to chemotherapeutic drugs in different cell types. Further experimental studies in vitro and in informative and testable animal models are required to improve the understanding of PHLDA1 mechanisms of action both in normal and cancer cells and its role as a prognostic and predictive factor in cancer.
Copyright information
© Springer International Publishing AG 2018