ATF2
Reference work entry
DOI:
https://doi.org/
10.1007/978-3-319-67199-4_101938
Historical Background
Activating transcription factor 2 (ATF2) is a member of the leucine zipper family of DNA-binding proteins located on human chromosome 2q32 and was discovered by Maekawa et al. in 1989 (Maekawa et al.
1989
). The ATF2 protein consists of 505 amino acids, with phosphorylation sites near the C-terminus at serine residues 472 and 480 in the mouse protein and serine residues 490 and 498 in the human protein. In response to double-stranded DNA breaks, the ataxia telangiectasia-mutant (Yosaatmadja et al.
2015
) protein kinase activates ATF2 (Bhoumik et al.
2005
). The ATF family of proteins includes seven subtypes based on sequence similarity: ATF1, ATF2, ATF3, ATF4, ATF5, ATF6, and ATF7 (Hummler et al.
1994
). A schematic of the ATF2 protein is shown in Fig.
1
.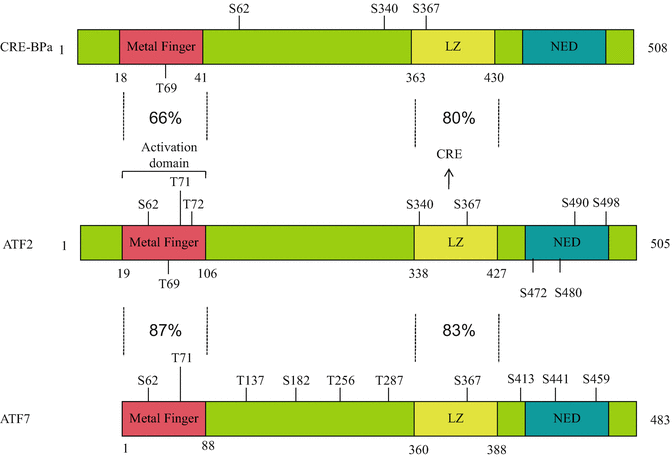 Copyright information
© Springer International Publishing AG 2018