Periostin (POSTN)
Reference work entry
DOI:
https://doi.org/
10.1007/978-3-319-67199-4_101932
Historical Background
Periostin (POSTN) is a gene encoding a secreted 90 kDa, disulfide-linked bone adhesive secretory protein of 836 amino acids, which was identified in a mouse osteoblastic cell line as a cell adhesion protein. As a nonstructural extracellular matrix (ECM) protein, originally it was known as osteoblast-specific factor 2 (OSF-2) with sequence similarity to the fasciclin family (Fas-I); being preferentially located in the periosteum, the term periostin had been coined (Tilman et al. 2007). It is an unique ECM protein secreted by fibroblasts, broadly expressed in the body, such as aorta, stomach, lower gastrointestinal tract, placenta, uterus, thyroid tissue, and breast. It is produced mainly in adult connective tissues and during ontogenesis and when exposed to mechanical load, such as in heart valves, skin, periodontal ligaments, tendons, and bones (Idolazzi et al. 2016). Mostly, periostin is found to be upregulated following an injury or inflammation, so assumed to play a key role in the healing processes after injuries. Its connotation with other extracellular matrix (ECM) regulators such as transforming growth factor-β (TGF-β), tenascin, and fibronectin enhances its function as a perilous regulator of fibrosis that plays a role by altering the deposition and attachment of collagen. Due to its structural coherence to insect Fas 1, it can be influenced by TGF-β and bone morphogenetic protein (BMP)-2 (Hwang et al. 2014). Periostin is known to be involved in various pathological processes, such as fibrosis, atherosclerosis, tumorigenesis, and metastasis, and can promote chronic inflammation (Idolazzi et al. 2016).
Structure
Periostin has been identified as a fasciclin-related gene, with five additional isoforms differing by their alternative splicing in the C-terminal region. It is also affiliated to the TGF-β superfamily and is highly conserved and located on chromosomes 3 and 13q, respectively. Periostin's structure is composed of an N-terminal and a C-terminal, with four internal FAS domains homologous to the insect cell adhesion protein fasciclin I that serve as ligands for integrins. The N-terminal region has two domains, a signal peptide (SP) for secretion and a cysteine-rich region (EMI domain) for promoting the formation of periostin multimers in nonreducing conditions. It regulates cell functions by integrin binding through the FAS domains (Takeshita et al. 1993; Horiuchi et al. 1999). The C-terminal region regulates the cell–matrix organization and interactions through binding of other ECM proteins through its hydrophilic domain (Norris et al. 2007). The structures of the first, second, and fourth Fas1 domains in periostin are similar to that of the fourth Fas 1 domain of TGFβIp. However, the structure of the third Fas 1 is similar to the NMR structure of fasciclin-like protein from Rhodobacter sphaeroides (Hwang et al. 2014).
Periostin and Various Systems
Bone: Periosteum and osteocytes show the highest expression of periostin production, controlled by mechanical stimuli, parathyroid hormone (PTH), growth factors (TGF-β, BMP-2), and cytokines like tumor necrosis factor-α (TNFα), interleukins(IL-4, IL-13), and likely platelet-derived growth factor (PDGF) enhancing or regulating bone remodeling. Periostin, acting as both structural and signaling molecule, interacts with integrin receptors and canonical Wnt-beta-catenin pathways to promote bone formation in various phases of bone repair and fracture healing, especially during the early inflammation phase, during osteoprogenitor recruitment, and osteoblasts differentiation too. Periostin knockout mice have already exhibited periodontitis and osteoporosis with low bone mineral density (BMD), altered microarchitecture, and decreased bone strength (Idolazzi et al. 2016).
Cardiovascular system: Periostin has been known to induce cardiac healing via proliferation of differentiated cardiomyocytes; facilitate the vascular lesion through overexpression; promote smooth muscle cell proliferation, migration, and differentiation; and facilitate aortic valve degeneration via tissue remodeling and angiogenesis (Hakuno et al. 2010).
Kidney: In type 2 diabetes, periostin levels are found to be increased in urine. Periostin has been involved in cell proliferation and interstitial fibrosis in polycystic kidney disease and can be related as a marker of progression of hypertensive nephropathy (Idolazzi et al. 2016).
Skin: Periostin acts as a main modulator of the wound-healing response, enhancing the transition of fibroblasts to myofibroblasts, the collagen fibrillogenesis, and the synthesis of extracellular matrix promoting wound repair. It also plays pathogenic roles in skin fibrosis and chronic allergic inflammation along with an important role in the epidermal hyperplasia process, shared by both atopic dermatitis and psoriasis (Idolazzi et al. 2016).
Respiratory system: As established periostin is involved in alveolar septation and in TGFβ-mediated fibrotic response in the upper and lower respiratory tract and IL-13-induced periostin is secreted toward the basal surface. It was also identified as an inflammatory key effector in asthma, as it is strongly associated with airways eosinophilia and is involved in three mechanisms: eosinophil recruitment, mucus secretion, and remodeling (Idolazzi et al. 2016).
POSTN and Tumorigenesis
Periostin is overexpressed in various human cancers such as ovary, colon, pancreas, thyroid, oral squamous cell carcinoma, etc. (Kudo et al.
2007
), and higher periostin expression levels have been correlated with increased tumor aggressiveness and poor survival in most of the tumors. It promotes increased cell survival, angiogenesis, invasion, metastasis, as well as epithelial–mesenchymal transition of tumor cells via binding to integrins. Integrins, which expressions are frequently altered in tumor cells, mediate cell–ECM interactions and alter cell behaviors promoting various conditions (Fig.
1a
). Periostin is known to promote integrin-dependent cell adhesion and motility and is frequently overexpressed in various cancers (Fig.
1b
,
c
). Periostin binding typically to the integrins activates the protein kinase B (Akt/PKB) and focal adhesion kinase (FAK)-mediated signaling pathways in tumor cells (Li et al.
2004
). Activation of the Akt/PKB survival pathway (central regulator of cell survival and proliferation) by periostin is mediated primarily through the α
v
β
3
integrin signaling pathway (Tilman et al.
2007
). As outlined in Fig.
2
, cancer cells secrete TGFβ3, which is a known promoter of invasion and metastasis, and it creates a cancer stem cell (CSCs)-supportive niche with periostin in the extracellular matrix. This periostin also acts as an effector mediating the pro-metastatic activity of TGF by augmenting the Wnt signaling pathway in CSC via its FAS1 domain (Kudo et al.
2006
). This further promotes the self-renewal of CSC, as well as the formation of metastatic deposits. In addition, periostin amplifies angiogenesis in a paracrine manner through the FAS1 domain, by enhancing the expression of vascular endothelial growth factor (VEGF) receptor Flk-1/KDR in endothelial cells, via integrin α
v
β
3
-FAK-mediated signaling pathway. These periostin–integrin interactions modulate and activate signaling pathways that promote cellular survival, angiogenesis, and resistance to hypoxia-induced cell death (Kudo
2011
). This leads to triggering of various other intracellular signaling including the activation of genes involved in tumor progression (Kudo et al.
2007
).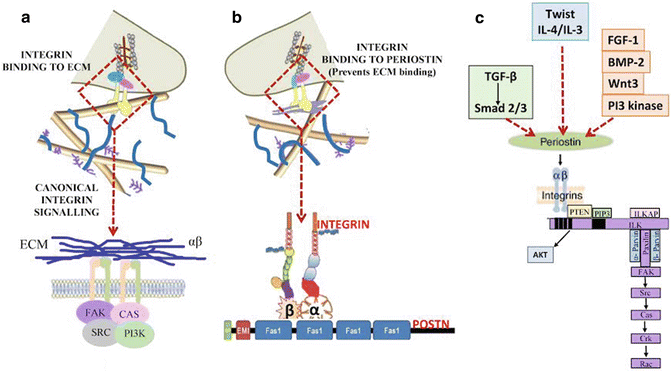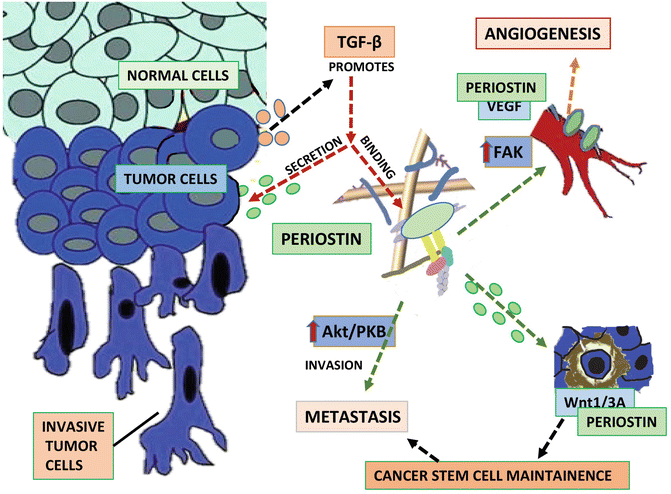 Summary
Periostin shows altered expression under stress and injury with its established effect in promoting repair in maximum tissues involved. Its overexpression has also been observed in inflammation, fibrosis, and tumorigenesis. Its significant role in carcinogenesis and its correlation with biological behavior of various tumors enables its role as a novel diagnostic and prognostic biomarker. Still the exact role of periostin in epithelial–mesenchymal transition (EMT) and tumor microenvironment needs to be clarified to fully elucidate the pathophysiological function of this molecule.
Copyright information
© Springer International Publishing AG 2018