PECAM
Reference work entry
DOI:
https://doi.org/
10.1007/978-3-319-67199-4_101772
Historical Background
Platelet endothelial cell adhesion molecule (PECAM) is a 130-kDa membrane glycoprotein and a member of the immunoglobulin (Ig) gene superfamily. PECAM was initially found in platelets (Newman et al. 1982); subsequently, it was also identified in endothelial cells (Newman et al. 1990) and leukocyte subtypes (Dangerfield et al. 2002). Because of its abundant expression in endothelial cells, PECAM is also recognized as an endothelial cell marker for immunohistochemical analyses. PECAM is a multifunctional signaling molecule regulating platelet function, thrombosis, vascular integrity, leukocyte transmigration, and leukocyte immune response (Newman and Newman 2003; Woodfin et al. 2007). In addition, as a critical mechanosensor protein, endothelial PECAM senses fluid shear stress for vascular remodeling (Osawa et al. 2002).
PECAM Structure
The extracellular domain of PECAM is composed of six Ig domains and several N-linked glycans. PECAM mediates homophilic interaction, which is essential for concentrating PECAM at endothelial intercellular junctions (Wong et al.
2000
). Mutagenesis studies indicate that PECAM's amino-terminal Ig domain 1 is involved in homophilic binding (Newton et al.
1997
). The crystal structures for human PECAM Ig domains 1 and 2 have recently been determined, showing that both domains participate in the trans-homophilic-binding interface (Paddock et al.
2016
). Interestingly, each of three N-linked glycosylation sites within these domains is located at a homophilic-binding interface. Given that PECAM exhibits a binding affinity to sialylated N-linked glycan (Kitazume et al.
2014a
), sialylated glycans within PECAM itself may also participate in homophilic PECAM interactions (Fig.
1
) (Kitazume et al.
2014b
; Lee et al.
2014
; Lertkiatmongkol et al.
2016
). In addition to PECAM Ig domains 1 and 2, the membrane proximal region of the protein seems to be involved in heterophilic cellular-binding interactions (Osawa et al.
2002
) with integrin α
V
β
3
(Buckley et al.
1996
; Piali et al.
1995
), ADP-ribosyl cyclase (Deaglio et al.
1998
; Sachs et al.
2007
), and neutrophil-specific antigen CD177 (Sachs et al.
2007
). The cytoplasmic region of PECAM has two immunoreceptor tyrosine-based inhibitory motifs (ITIMs), which serve as docking sites for signaling molecules, including SH2-containing phosphatases 1 and 2 (SHP-1 and SHP-2). Ligation of PECAM-1 can induce phosphorylation of tyrosine and serine/threonine residues of the intracellular regions of PECAM, leading to the recruitment of these phosphatases (Woodfin et al.
2007
).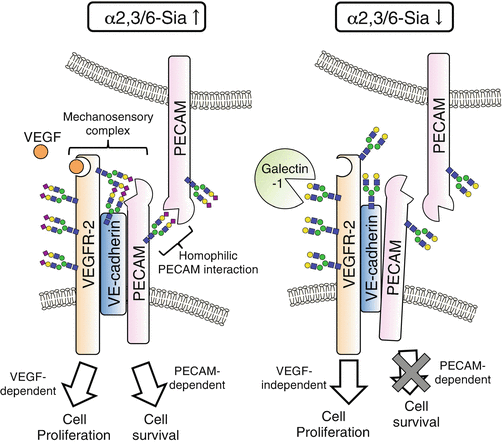 Endothelial PECAM
There is growing evidence that PECAM transduces signals that suppress programmed cell death, thereby contributing to vascular remodeling and integrity. Homophilic PECAM interactions prevent mitochondria-dependent apoptosis in endothelial cells (Bird et al. 1999; Gao et al. 2003). In PECAM-deficient mice, although physiological vascularization is normal, tumor angiogenesis (Cao et al. 2009) and retinal vascular development (Dimaio et al. 2008) are attenuated. The molecular basis for how PECAM accomplishes its anti-apoptotic role has yet to be elucidated. Various disease models show that loss of PECAM enhances vascular permeability (Biswas et al. 2006; Carrithers et al. 2005; Graesser et al. 2002).
Hematopoietic PECAM
Earlier studies show that PECAM is required for the transendothelial migration of leukocytes (Muller et al. 1993). However, accumulating evidence indicates that the ability of PECAM-1 to mediate leukocyte transmigration appears to be stimulus specific and can be governed by the genetic background of the experimental animal (Woodfin et al. 2007). Recent studies demonstrate the multiple regulatory roles of PECAM, including inhibiting platelet activation (Rathore et al. 2003), inhibiting dendritic cell maturation (Clement et al. 2014), and regulating T-cell immunity and tolerance (Ma et al. 2010; Ross et al. 2011). PECAM transduces inhibitory signals to the cell by recruiting, via its two ITIMs, SHP-1 (Clement et al. 2014) or SHP-2 (Newman et al. 2001).
Mechanosensing Role of PECAM
The ability of endothelial cells to sense fluid shear stress from blood flow is critically important for vascular remodeling; impaired vascular remodeling causes vascular diseases, including atherosclerosis. PECAM-1 is necessary for flow-induced vascular remodeling (Chen and Tzima 2009). PECAM forms a mechanosensory complex with vascular endothelial cadherin and the vascular endothelial growth factor (VEGF) receptor (Tzima et al. 2005). Fluid shear stress leads to tyrosine phosphorylation of PECAM (Osawa et al. 2002), which in turn activates integrin and causes changes to elements of the cytoskeletal architecture, such as vimentin (Collins et al. 2012; Conway et al. 2013).
Summary
Extensive studies reveal that PECAM is a multifunctional molecule. Extracellular PECAM is important for homophilic PECAM-PECAM interactions that transduce survival signals to endothelial cells and is also important for heterophilic PECAM interactions that inhibit the activation of dendritic cells and CD4+ T cells. Such interactions induce PECAM oligomerization – leading to tyrosine phosphorylation within PECAM's ITIM motif and subsequently to the recruitment of phosphatases to transduce inhibitory signals into the cell.
Copyright information
© Springer International Publishing AG 2018