Art-Based Teaching on Sustainable Development
Living reference work entry
DOI:
https://doi.org/
10.1007/978-3-319-63951-2_195-1
Definition
Art-based teaching for sustainable development encompass a range of philosophical stances and practices which are deployed intentionally for educational outcomes relevant to sustainability and sustainability development. Such teaching philosophies and practices are typically deployed because of the form of knowledge and knowing they promote, which can be described as experiential, integrative, holistic, complex, anticipatory, and passionate.
Introduction
The connections between art, art-making, education, and responsibility in relation to the wider natural and social world have been given increasing attention over the last 30 years. For example, there have been a variety of journal special issues dedicated to art, education, and ecology (Krug 1997), social justice and social change (Bolin 1999), community and responsibility (Carpenter 2004), ecology and responsibility (Stout 2007), health and well-being (Haywood-Rolling 2017), and human rights (Kraehe 2017). Such a rise has been linked to trends in the human search for meaning and significance among (and resistance against) globalization, domination of market forces, and an increasingly complex and chaotic environment (Taylor and Ladkin 2009).
The connections between art, education, and sustainable development have also been recognized in various UNESCO initiatives such as the Road Map for Arts Education (UNESCO 2006) and The Seoul Agenda: Goals for the Development of Arts Education (UNESCO 2010). The Road Map, for example, asserted the role of arts education in (1) upholding the rights of individuals to participate in education and culture; (2) developing a wide range of capabilities including "creativity and initiative, a fertile imagination, emotional intelligence and a moral "compass," a capacity for critical reflection, a sense of autonomy, and freedom of thought and action" (UNESCO 2006: 4); (3) enhancing systems of education; and (4) promoting cultural diversity.
Similarly, the Seoul Agenda echoed these sentiments but was perhaps more explicitly linked to sustainable development, articulating a commitment to "apply arts education principles and practices to contribute to resolving the social and cultural challenges facing today's world" (UNESCO 2010 p. 8). UNESCO's International Arts Education Week has since explicitly promoted the connectedness of art, education, and sustainable development through the themes of "Arts for Peace" and "Arts Education for Sustainable Development." The role of art and art-based teaching methods in sustainable development is therefore increasingly recognized as significant and especially so in the influential spaces of higher education.
Within this wider landscape of context, this chapter therefore explores and exemplifies the role of art-based teaching in the context of sustainable development in higher education and maps out some suggested future developments. It does this by articulating the nature of art-based knowledge, knowing and outcomes in the context of higher education, and then exploring the ways in which these aspects manifest and are implemented in higher education practice across the globe.
Art-Based Knowledge, Knowing, and Outcomes
Art-based teaching does not draw solely on the epistemology of logic and rationality, the conceptualization of knowledge, and knowing which has dominated many forms of learning, teaching, and research in the twentieth century (Taylor and Ladkin 2009). Instead, art-based teaching draws from an epistemology where knowledge and knowing are derived from the senses or sensual knowing. This is the realm of aesthetics and aesthetic inquiry, a realm of inquiry attuned to the reconciliation of the sensual and rational dimensions of human experience (Schiller 1910) or the integration of thinking, feeling, and doing (Dewey 1934). Within this realm, art "provides a grasp of new affinities and contrasts, cuts across worn categories to yield new organization, new visions of the worlds we live in" (Goodman 1976: p. 5). Or, as Shrivastava et al. (2012, p 28) explain "art yields an opportunity for every individual human being to learn more about their intense emotional life… to create a harmonious and balanced life for people". As such, it is intimately inclusive.
Understood in this way, and within the context of higher education, art – as a particular form of knowledge and knowing – is a highly relevant and generative space for complex, higher-order learning often characterizing sustainable development. Indeed, art has been understood as a counter-response to an overreliance on cognitive understanding, toward a more "holistic, physical and emotional engagement with sustainability issues" (Shrivastava 2010, p 443). As such, art-based teaching can be seen as a pathway to facilitate a reorientation from external spaces to internal spaces of the human mind and emotions (ibid). Specifically, such a reorientation has been described to evoke a more passionate (rather than dispassionate) relationship with nature, thereby framing any sustainable development (or broader) action-taking. In this way, "art offers an antidote to the mental and emotional pollution of commercialism, which eventually lead to the toxification of air, land, water, and the excessive consumption of carbon" (Shrivastava 2012: 32–33).
From this perspective, it is argued that art can evoke the "intense emotional and practical experiences" which are at the heart of "passion and emotion (and not cognitive understanding alone) that lies at the core of behavioural changes" (Shrivastava et al. 2012: 27). Drawing from such a perspective, art-based teaching engages a wide range of the factors linked to deeper forms of learning relevant to sustainable development. These include, for example, developing conceptual and metaphoric perspectives, visualizing connections within broader conceptual frameworks, and actively reflecting in contexts of experiential learning (Warburton 2003).
Similarly, art and art-making are recognized as having a particularly efficacious role in promoting affective learning outcomes, such as (1) generating personal awareness in relation to sustainable development, (2) promoting sets of values aligned to responsibility and sustainable development, and (3) initiating and mobilizing action in relation to sustainable development (Reid et al. 2006; Shephard 2008; Sauerwein et al. 2017). In this way, approaches to art-based teaching aspire to evoke more holistic and integrated understandings (such as people-planet-prosperity) which lead to action-taking. The next section identifies ways in which such underpinnings manifest in practice.
Art-Making Approaches and Processes
Art, outside of the context of sustainable development and higher education, has been integrated into educational settings in a diversity of ways, described by Bresler (1995) as four models: coequal (where art is part of the learning focus, e.g., learning how to draw landscapes as well as learning how to plot maps), subservient (where art is positioned as enabling the learning of other topics, e.g., learning drawing in order to plot maps), affective (where art enables learning and self-efficacy, e.g., learning how to draw to build confidence in learning how to plot maps), and social integration (where art facilitates the cultural celebration of communities, e.g., holding a community event where the community learn how to draw to map out the design of a new play area). There are subtle differences here, but they illustrate the intentions of the art activity. However, such subtleties are also evident in the context of art-based teaching for sustainable development in higher education, and each of these can be found in practice. To help exemplify such practices in higher education, Taylor and Ladkin's (2009) more contemporary model provides a pragmatic framework to plot the variety of art-based processes which can be adopted in the context of higher education: skills transfer, projective technique, illustration of essence, and making. Each of these is now discussed.
Participative Art-Based Teaching Approaches and Processes
Within the context of higher education, art and art-making processes have been utilized with multi-stakeholder groupings for the dual political goals of education and change, across a diverse range of sustainable development goals such as promoting health and well-being, gender equality, and environmental impact (Kagan 2011). Such participatory approaches have developed a variety of features and outcomes including (1) prompting and facilitating the exchange of ideas, (2) prompting and facilitating dialogue amongst multiple stakeholders, (3) building awareness and understanding of information and issues, (4) generating dissonance and concern, and (5) building a sense of place (Marks et al. 2016; Rossetti and Wall 2017).
Toward these aspirations and outcomes, participatory art-based teaching in higher education often promotes the capture of, and dialogue around, multiple and diverse personal and disciplinary perspectives through visual imagery (Haley et al.
2017
). Although there are potentially various ethical issues involved, such as using one (vulnerable) person's effort for some other (powerful) person's benefit, there are many practices which can enable positive outcomes for those considered to be vulnerable, or for all involved. For example, in relation to critical photographic practices, a number of approaches have been developed (Purcell
2009
) such as:
Photo-elicitation – to capture and then explore particular behaviors in community settings, in relation to identities, ethnicities, or in terms of memory and regaining sense of time and place. For example, the utilization of photographs with older persons or people experiencing dementia, to relocate a more familiar time and place.

Photo-novella – to "empower" members of the community to capture their own stories which enables them to explore the meaning and significance of their own stories. For example, enabling a deprived community to capture what it means and feels like to live in a particular place or space.

Photo-voice – where people (who may be considered vulnerable in some way) are given the equipment to record and reflect the day to day experiences, challenges, and tensions to a wider audience. For example, one practice is to give those who are experiencing poverty in some form a camera to capture their experiences from their own lived perspective. This might then be used in a wider setting where community stakeholders such as business owners and government officials respond to what is presented (e.g., The Poverty Commission in Scotland and England).
Participatory art-based practices can also be integrated into much larger-scale activities, linked to multiple political outcomes. For example, The Womanifesto Residency Programme in Thailand aimed to connect tradition and natural resources, utilizing art and artists to stimulate dialogue and debate. The program involved a range of art workshops and public art collaborations involving schools, colleges, universities, and a range of communities including farmers and artisans (ASEF 2012). Although the program developed art-making processes, it also tackled gender inequalities by positioning women as creators and collaborators (ibid). Similarly, the "Art Activism"-based initiative in Singapore brings together artists, activists, scholars, and students as a platform for art collaborations at the grassroots level in relation to sustainability. The format included exhibitions, public dialogue, and publications and involved professionals from various sectors including the arts, media, university, social entrepreneurs, environmentalists, and philanthropists (ibid).
More recently, art-based practices have also been combined with appreciative inquiry processes which aim to establish and maintain a positive psychological state of participants, to facilitate generative change and transition. Through such processes, diverse groups come together and utilize rich visual metaphor and imagery to (1) appreciate current achievements, (2) envision a sustainable and desirable future state, and (3) agree actions to achieve that future state (Wall et al.
2017
). For example, participants use visual metaphors and imagery to explore the following questions:
"Discovery": When did we work well together?

"Dreaming": What would be the ideal of us working well together look like?

"Designing": What do we need to prioritize to make this happen?
Wall et al. (
2017
) found that in exploring these questions, participants envisioned a new organizational culture which prioritized collective well-being and connection to nature. This was captured through imagery including
smiling faces
,
plants
,
clouds
,
sky
,
sunshine
,
trees
,
wind surfing
,
fish
,
ducks
,
sea life
,
friends/family/community
,
and house/home
. An example of a participant's drawing in the "dreaming" stage is depicted in Fig.
1
below. It importantly illustrates the sense of "dreamlike" freedom that such a collaborative task enabled and the embodiment of aesthetic fuzziness, color, and metaphoric meaning-making that is important to the form of aesthetic knowing central to art-based teaching.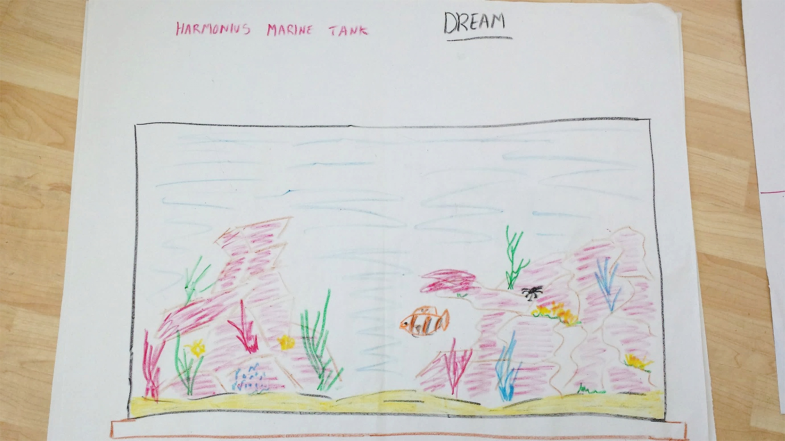 Conclusion and Future Directions
Though the relationship between art, responsibility, and education has developed over the last 30 years, there are still controversial undertones. For example, there are perspectives which want to keep the inherent value of art as sacred (i.e., art for art's sake) and do not approve of the "subservient" role of art for other functionalities (e.g., "art for earth's sake," Reid et al. 2006; Smilan 2016). Similarly, there are ongoing tensions in educational contexts when art and artefacts are subject to any form of assessment (Haanstra and Schönau 2007). Yet it seems, according to the evidence outlined in this chapter, that such controversies are not necessarily stopping the pace at which art-based teaching is being utilizing in the context of sustainable development (Gunn 2016).
Future directions of art-based teaching practice and research will continue to emerge which will explicitly combine and integrate embodied understandings of sustainable development, especially in the context of science, technology, engineering, and mathematics higher education (STEM). There has been a move to integrate art into this STEM agenda, and the new acronym has expanded to include the A of Art, to create the STEAM agenda. These emerging trends will continue to amplify and expand the STEAM agenda in higher education and will thereby create new and innovative pedagogical forms with sustainable development, change, and transformation as driving principles (Payton et al. 2017).
Copyright information
© Springer Nature Switzerland AG 2019
Section editors and affiliations