Abstract
Across the world, air pollution has emerged as one of the grave threats to public health. According to a report by The Energy Research Institute (TERI) and UC San Diego (University of California at San Diego) (2016), 80% of Indian cities are unable to meet the prescribed air quality standards and in almost 56% of these cities, the pollutant levels are nearly 1.5 times the permissible limits resulting in high mortality and morbidity. Managing India's air pollution requires a comprehensive national action plan with a focus on city level management plans. City level management requires stakeholder engagement, an informed city and trained personnel to deal with the complex issues of air quality monitoring as well as financial support.
Aurangabad city has been listed under the 17 nonattainment cities in Maharashtra based on the observation of exceedance with respect to National Ambient Air Quality Standards 2009 consecutively during 2011 to 2015. Particulate matter is a cause of concern for the city. Aurangabad's Air Quality Action Plan highlights action under various points.
Aurangabad currently has four monitoring stations for one million residents; it should have six monitoring stations within the city in commercial, industrial, and sensitive areas. City lacks display boards providing air quality information to public. Further the emission inventory and source apportionment studies need to be completed at the earliest in order to highlight the sources of pollution and their respective contribution to city's air quality. City also needs to urgently undertake research studies on the impact of air pollution on health, extensive drive against polluting vehicles, public awareness campaigns for air pollution control, vehicle maintenance and minimizing use of personal vehicles, and prevent parking of vehicles in congested areas. Provision of public transport needs to be ensured. District admisnistration must ensure unadulterated fuel and also provide clean fuel to city residents. AMC must implement various initiatives planned under the Smart City plan in a time bound manner for improving city's air quality.
Keywords
Air quality

Management plan

Aurangabad

City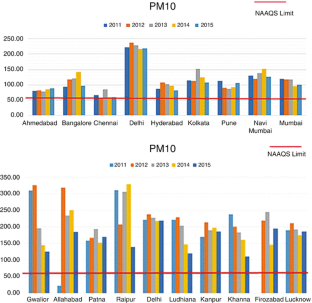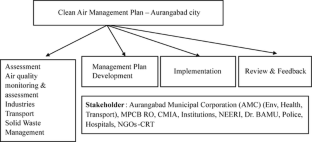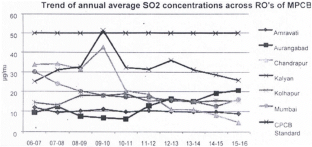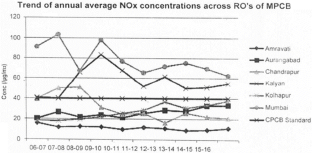 References
Apte JS, Kirchstetter TW, Reich AH, Deshpande SJ, Kaushik G, Chel A, Marshall JD, Nazaroff WW (2011) Concentrations of fine, ultrafine, and black carbon particles in auto-rickshaws in New Delhi, India. Atmos Environ 45(26)

Aurangabad City Census 2011 Data. http://www.census2011.co.in/census/city/360-aurangabad.html. Accessed 16 Feb 2017

Aurangabad Municipal Corporation (2015) Town planning plan for Aurangabad. Chapter 7. Aurangabad Municipal Corporation. http://www.aurangab016%20low%20resol/DP%20REPORT%20FINAL_5-216_statent%20Pdf.pdf. Accessed 16 Feb 2017

Brief Industrial Profile of Aurangabad District (2013–2014) Ministry of micro small and medium enterprises, Government of India

Chinchkhede N (2016) Aurangabad Municipal Corporation ups ante for Smart City Tag with 3 day cleanliness drive. http://timesofindia.indiatimes.com/city/aurangabad/Aurangabad-Municipal-Corporation-ups-ante-for-Smart-City-tag-with-3-day-cleanlinessdrive/articleshow/48689630.cms. Accessed 16 Feb 2017

CPCB (2012) National ambient air quality status & trends in India – 2010. http://cpcb.nic.in/openpdffile.php?id=UHVibGljYXRpb25GaWxlLzYyOF8xNDU3NTA1MzkxX1B1YmxpY2F0aW9uXzUyMF9OQUFRU1RJLnBkZg==

Dey S, Girolamo LD, Donkelaar AV, Tripathi SN, Gupta T, Mohan M (2012) Variability of outdoor fine particulate (PM2.5) concentration in the Indian subcontinent: a remote sensing approach. Remote Sens Environ 127:153–161

Diggikar R (2016) Marathwada gets air quality checking station. http://timesofindia.indiatimes.com/city/aurangabad/Marathwada-gets-air-quality-checking-station/articleshow/52580739.cms. Accessed 16 Feb 2017

Greenstone M, Nilekani J, Pande R, Ryan N, Sudarshan A, Sugathan A (2015) Lower pollution, longer lives: life expectancy gains if India reduced particulate matter pollution. Econ Polit Wkly 50(8). http://www.epw.in/journal/2015/8/special-articles/lower-pollution-longer-lives.html

Guidelines for National Ambient Air Quality Monitoring, NAAQMS (2003–2004). http://www.cpcb.nic.in/newitems/7.pdf. Accessed 16 Feb 2017

HEI (Health Effects Institute) (2007) HEI air quality database. http://hei.aer.com. Accessed 17 May 2017

http://www.aurangabadmahapalika.org/2015/town%20Planing/dp%20plan%20for%20website%20recd%20date%206.2.2016%20low%20resol/DP%20REPORT%20FINAL_5-216_statent%20Pdf.pdf. Accessed 16 Feb 2017

http://www.indiaspend.com/cover-story/introducing-breathe-the-indiaspend-air-quality-index-network-39580

http://www.indiaspend.com/cover-story/introducing-breathe-the-indiaspend-air-quality-index-network-39580

Institute for Health Metrics and Evaluation (2013) The global burden of disease 2010: Generating Evidence and Guiding Policy

Kaushik G, Borah P (2016b) Application of clean air scorecard tool to Aurangabad city. Royal Society of Chemistry – National Environmental Engineering Research Institute symposium on urban air pollution chemistry, 2–3 Dec 2016. NEERI, Nagpur

Kaushik G, Chel A, Shinde S, Gadekar A (2016b) Assessment of PM10 in Aurangabad city of Central India. Int J Environ 5(2):61–74

Lee SC, Cheng Y, Ho KF, Cao JJ, Louie PKK, Chow JC (2006) PM1.0 and PM2.5 characteristics in the roadside environment of Hong Kong. Aerosol Sci Technol 40:157–165

Motor Transport Statistics of Maharashtra 2010–2011. http://mahatranscom.in/pdf/STATISTICAL.BOOK.10-11.pdf

MPCB (2011) Proposed action plan for industrial cluster at Aurangabad. Chapter 1. http://mpcb.gov.in/CEPI/pdf/Action%20Plan%20CEPI-Aurangabad.pdfAurangabadMunicipal Corporation

MPCB (Maharashtra Pollution Control Board) (2013) Proposed action plan for industrial cluster at Aurangabad. Environmental status and action plan for prevention and control of pollution at Aurangabad. http://mpcb.gov.in/CEPI/pdf/Action%20Plan%20CEPI-Aurangabad.pdf

MPCB (2014) Air quality status of Maharashtra. http://mpcb.gov.in/ereports/pdf/Air%20Quality%20Report_MPCB_2013-14.pdf. Accessed 16 Feb 2017

National Ambient Air Quality Standards, Central Pollution Control Board, India, 18 Nov 2009, viewed on 20 Jan 2016. http://cpcb.nic.In/National_Ambient_Air_Quality_Standards.php

National Ambient Air Quality Status and Trends – 2012 (2014) Central Pollution Control Board, Ministry of Environment and Forests

Phadnis S (2016) Pollution watchdog initiates steps for clean air in 17 cities. http://timesofindia.indiatimes.com/city/kolhapur/Pollution-watchdog-initiates-steps-for-clean-air-in-17-cities/articleshow/53372684.cms. Accessed 16 Jan 2017

Proposed action plan for industrial cluster at Aurangabad. Environmental status and action plan for prevention and control of pollution at Aurangabad. Maharashtra Pollution Control Board. http://mpcb.gov.in/CEPI/pdf/Action%20Plan%20CEPI-Aurangabad.pdf

Tejankar A, Pathrikar RK (2017) Analysis and recycling of municipal solid waste: a case study of Aurangabad City, Maharashtra, India. Int J Sci Res Eng 2(1):1–7

TERI & UC San Diego (2016) Breathing cleaner air: ten scalable solutions for Indian cities, p 5. http://www-ramanathan.ucsd.edu/about/10solutions.pdf. Accessed 15 Feb 2017

The Indian Express (2014) At 28 places in Maharashtra air quality a cause for worry. http://indianexpress.com/article/india/maharashtra/at-28-places-in-maharashtra-air-quality-a-cause-for-worry/. Accessed 16 Feb 2017

The World Bank and Institute for Health Metrics and Evaluation (2016) The cost of air pollution strengthening the economic case for action

Times News Network (2016) http://timesofindia.indiatimes.com/city/aurangabad/City-gets-three- flyovers-and-a-maiden-tourist-centre/articleshow/52843729.cms

World Health Organization (2014) Global Health Observatory data repository, ambient (outdoor) air pollution database, by country and city
Section Editor information
Copyright information
© 2018 Springer International Publishing AG
About this entry
Cite this entry
Kaushik, G., Patil, S., Chel, A. (2018). Air Quality Status and Management in Tier II and III Indian Cities: A Case Study of Aurangabad City, Maharashtra. In: Hussain, C. (eds) Handbook of Environmental Materials Management. Springer, Cham. https://doi.org/10.1007/978-3-319-58538-3_156-1
DOI: https://doi.org/10.1007/978-3-319-58538-3_156-1

Received:

Accepted:

Published:

Publisher Name: Springer, Cham

Print ISBN: 978-3-319-58538-3

Online ISBN: 978-3-319-58538-3

eBook Packages: Springer Reference Chemistry & Mat. ScienceReference Module Physical and Materials Science